Story Progress
Back to home
Sweetcorn Cakes with Mango Salsa Recipe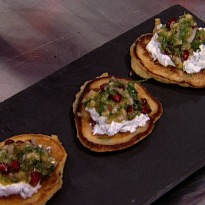 Fried sweetcorn cake served with a thick creamy hung curd and drizzled with mango salsa.

Ingredients of Sweetcorn Cakes with Mango Salsa
For the Cakes:
50 gm plain flour
40 gm gram flour
1/4 tsp baking powder
1 small egg
6-7 tbsp buttermilk
80g sweet-corn kernels
1 Tbsp bhuna masala
1/2 tsp chilli flakes
1 Tbsp chopped green Jalapeno
1 Tbsp chopped fresh coriander
2 spring onions, very finely chopped on the angle
1 Tbsp sunflower oil for frying
For the Hung Curd:
150 gm hung curd
1 tsp lemon or lime zest
1 Tbsp chives
For the Mango Salsa:
1 ripe, firm mango
1 red onion, very finely chopped
1 red finger chili, seeded and finely chopped
2 Tbsp fresh pomegranate seeds
4 Tbsp chopped fresh coriander
2 spring onions, very finely sliced
Juice of a lime
5 Tbsp light olive oil
Sea salt and freshly ground black pepper
1.
Heat a flat griddle pan to very hot. Heat a medium frying pan.
2.
Add the bhuna masala to the pan and heat through, then tip in the sweet-corn toss until each kernel is covered then tip into a bowl and allow cooling.
3.
Meanwhile for the cakes sieve the flour, gram flour and baking powder into a bowl. Then in a separate jug whisk the egg into the buttermilk.
4.
Make a well in the centre of the dry ingredients then pour in the wet ingredients until you have a smooth mixture.
5.
Tip the chili, Jalapeno, coriander and spring onions into the bowl with the sweet corn kernels and season really well.
6.
Fold the mixture into the dry ingredients until everything is really well combined.
7.
Brush the hot plate with some oil then ladle spoonfuls onto the hot griddle plate.
8.
Cook for about two minutes until bubbles begin to appear on the surface, then flip over and cook for a further minute until cooked through and golden.
9.
Repeat with the remaining ingredients.
10.
For the hung curd mix together all the ingredients in a small bowl then put in the fridge to set a little.
11.
Meanwhile make the mango salsa. Peel the mangoes and cut the flesh into 1 cm/1/2 inch dice.
12.
Place in a bowl with the red onion, chilli, coriander, spring onions, lemon juice and olive oil. Season to taste (with sea salt and freshly ground black pepper) and set aside at room temperature to allow the flavours to combine.
13.
Garnish with fresh pomegranate seeds.
14.
To serve place a sweetcorn cake on the centre of the plate top with a quenelle of hung curd and top with some mango salsa.