Story Progress
Back to home
Thuppa Denji Recipe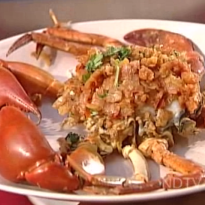 For all the sea food lovers, here's an exotic yet easy dish of roasted crab meat coated with a flavorsome tomato-onion paste.
Total Cook Time

1 hr 05 mins

Ingredients of Thuppa Denji
1 crab (legs plucked and shell removed)
A pinch of salt
A pinch of turmeric powder
2 Tbsp ghee (clarified butter)
2 Tbsp onions, finely chopped
1 tsp garlic paste
1 tsp ginger paste
2 Tbsp tomatoes, finely chopped
1/2 tsp garam masala
1/2 tsp red chilly powder
1/2 tsp salt
1.
Clean the crab and wash it thoroughly.
2.
Now boil the crab in water with a pinch of salt and turmeric powder.
3.
Once the crab is cooked, add 1 Tbsp ghee in a pan and roast the crab till done. This should take about 7-8 minutes. Take it out of the pan and set it aside.
4.
In the same pan add another Tbsp of ghee, onions, garlic paste, ginger paste, garam masala and chilly powder. Mix well.
5.
Now add the roasted crab into the pan. Add some salt.