Story Progress
Back to home
Tomato Chicken Recipe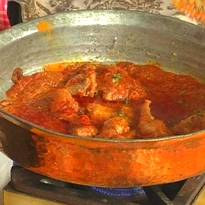 How to make Tomato Chicken
Chicken bits smeared generously with deep succulent tomato puree and added seasoning.
Total Cook Time

02 mins 01 seconds

Ingredients of Tomato Chicken
1 chicken, cut into pieces
1 kg tomato puree
2-3 Tbsp ghee
3 Tbsp browned onions
2 tsp ginger paste
2 tsp garlic paste
1/2 tsp turmeric powder
1/2 tsp red chilli powder
1 tsp chopped green chillies
Salt to taste
1.
First cook the tomato puree with a bit of oil and water for about 2 hours on a medium flame and keep aside.
2.
In a separate vessel, heat the ghee, add the onions and stir for a bit.
3.
Add the chicken, ginger paste and garlic paste.
4.
Cook for for 15 to 20 minutes while stirring all the time.
5.
Pour in the tomato puree and mix.
6.
Then add the turmeric powder, red chilli powder, chopped green chillies and salt.
7.
Stir, cover and cook for about 10-15 minutes.
8.
Garnish with coriander leaves and serve.