Story Progress
Back to home
Undhia Recipe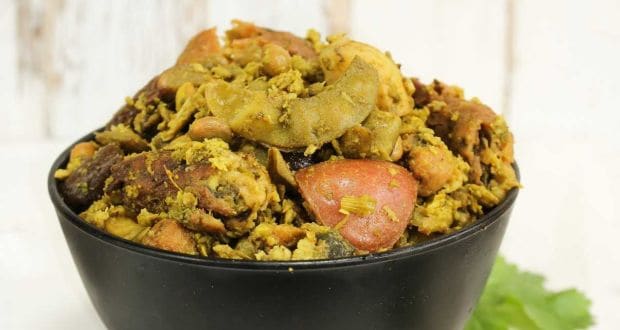 how to make Undhia
Yam, potatoes, brinjals, bananas, you have got to try this!
Total Cook Time

1 hr 10 mins

Ingredients of Undhia
300 Gram yam-cut into cubes
4 Cups papdi
250 gm sweet potatoes-thickly sliced
7-8 brinjals-small, whole
2 (cut into thick slices) bananas-raw and cut into thick slices
1 Cup green peas
2 Large potatoes, peeled
1/2 Cup coriander, chopped
8-10 muthias
3/4 Cups coconut-grated
1 Tbsp ginger, chopped
3-4 green chillies
1/2 Cup oil
1 Tbsp cumin seeds
3 Tbsp coriander powder
1 tsp chilli powder
1 tsp turmeric powder
3 Tbsp salt
1.
Grind together the coconut, ginger and green chillies.
2.
Remove stalks from brinjals and make 2 incisions, lengthwise but stopping just before it splits, in order to hold pieces together.
3.
Fill in the ground ingredients without over stuffing.
4.
Heat the oil, add cumin seeds and when it splutters, add remaining ground ingredients.
5.
Mix in the coriander, chilli powder, turmeric and salt.
6.
Stir-fry until the oil separates, add yam, papdi, brinjals, sweet potatoes, bananas, peas, potatoes and coriander leaves.
7.
Stir around occasionally over high flame, then reduce flame and let it cook until all the vegetables become tender.
8.
Add the muthias and simmer for 15 minutes.
9.
Remove from flame and serve.