Story Progress
Back to home
Wonton Soup Recipe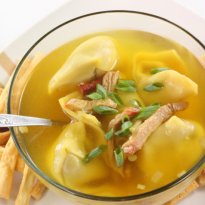 How to make Wonton Soup
Soft dough filled with your choice of filling and served in freshly made soup.
Total Cook Time

1 hr 05 mins

Ingredients of Wonton Soup
For the Dough:
1 Cup Flour
1 Egg
1 Tbsp Oil
To mix Cold water
For the Filling:
200 Gram Meat/Chicken/Cabbage(shredded)
2 Pieces Garlic
1/4 cm Ginger
1 Spring onion/Onion
1/4 tsp Black pepper, powdered
For the Soup:
6 Cups Clear stock
3 Lettuce leaves, sliced
1 Small Carrot, sliced
1 Tbsp Celery, chopped
1/4 tsp Ajino moto (optional)
2 tsp Salt
1.
Knead the wonton dough with the ingredients and leave to rest.
2.
Trim the fat and bone off the meat and place it on a chopping board with the spring onions, ginger and garlic and mince with a sharp knife till a well-blended mass of mince is formed. Shape this mixture into marble-sized balls and keep aside.
3.
Put the stock onto boil and then simmer.
4.
Roll the dough till translucent and cut into 5 cm squares.
6.
Place the ball of meat in one corner of the square piece of dough.
7.
Start rolling the meat in the cover till it reaches the center.
8.
Now pinch the two rolled sides thus formed, thereby sealing off the meat completely in the cover.
9.
In order to make the wontons vegetarian fill them with shredded cabbage.
10.
Keep throwing the wontons into the simmering stock as you fill them they are all done.
11.
Simmer till the wontons are cooked. They wrinkle up a little and the filling becomes firm. This generally takes about 15 minutes.
12.
Add the rest of the soup ingredients, except the lettuce.
13.
To serve, divide the lettuce into the bowls and pour the hot soup over.
Key Ingredients: Flour, Egg, Oil, Cold water, For the Filling:, Meat/Chicken/Cabbage(shredded), Garlic, Ginger, Spring onion/Onion, Black pepper, Clear stock, Lettuce leaves, Carrot, Celery, Ajino moto (optional), Salt