Restaurant Review: The Bombay Canteen, Mumbai
Harnoor Channi-Tiwary , NDTV | Updated: July 18, 2017 12:29 IST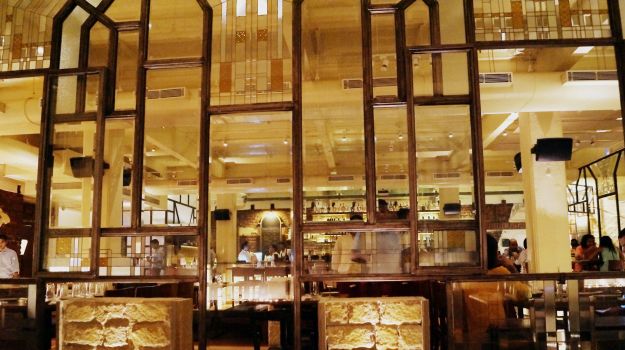 The Bombay Canteen opened its doors to hungry diners earlier this year but we waited a few months before we decided to review it. The food scene in India has been so dynamic in the past two years that restaurants open with great fanfare and very soon, get lost in the cacophony around. The standalone ones often can't bear the red balance-sheet, shutting down soon after and a few which are backed by deep pockets manage to stick around for a while. Thus, it is not a bad idea to go back to a restaurant after a few months of its opening, to see whether it has lived up to the hype and more importantly, whether it has been able to hold the diners' interest after the hullabaloo about the launch dies down.

The Bombay Canteen is the consequence of three culinary geniuses joining hands - Floyd Cardoz, Sameer Seth and Yash Bhanage. There are many cuisines they could have chosen to go with, when they decided to open shop in Mumbai. The decision to go ahead with Indian cuisine may have been a smart one as it is a crowd pleaser. But how they managed to steer clear of the Punjab Grills and the Urban Tadkas around was to create a little niche of their own. To put it simply – the food at The Bombay Canteen celebrates India. It takes local ingredients and builds them up into world-class dishes, served with a characteristic twist.

The interiors of this 4000 sq.ft. space have been inspired by the heritage bungalows in erstwhile Bombay (yes, apparently there was a time that they existed). The stone walls, stained glass windows and tall ceilings lend the restaurant a sense of timelessness. Whether you decide to drop in during lunch or dinner, this bright space is always buzzing and is alive with enthusiastic diners and staff serving with a smile.Restaurant Review: The Toddy Shop (Hauz Khas Village, New Delhi)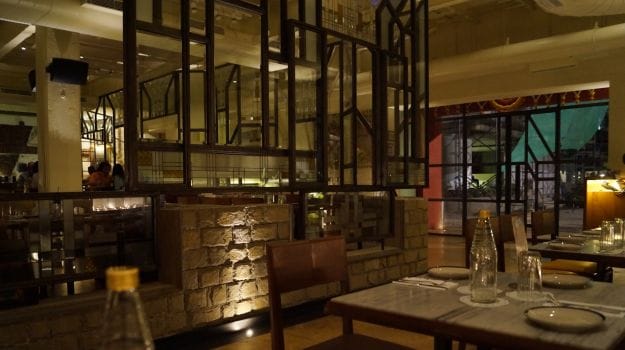 The menu is eclectic and a pleasure to skim through. The bar menu includes Indianised cocktails, many that unfortunately sound better than they taste. We tried the Dark Monsoon, an Old Monk based cocktail with ginger and Angostura bitters. Old Monk has never been hailed as a cocktail-friendly rum and this drink reinforced the perception. Thankfully, it was the only thing that let us down here. You can also choose to order a punch bowl, served in a brass 'matka'. The Bombay Canteen insists that the concept of punch comes from India and is named after 'paanch' ie. mixing five ingredients together to make a cocktail. The ones served here are brewed overnight and the Canteen Punch (vodka with kokum and rose tea besides other things) is worth trying and great for sharing.


The food menu is a delight. It is divided into din bhar (served between 12-7pm), canteen tiffin (served for lunch), chhota (appetisers), bada (main course) and patiala (massive dishes perfect for sharing and only served at dinner). The expansive menu also certifies that one should review a restaurant after it has been in the business for a while. When The Bombay Canteen opened its doors end of February 2015, it was only open for dinner. Eventually they introduced a limited lunch menu and now are open all day long with various food options to choose from. They even have a special monsoon menu served between 4-7 pm (till 31st August 2015) if you're craving hot and crispy bhajias to enjoy the crazy Mumbai rains.

(Jazzing it up: Indian Restaurants that Serve Contemporary Food with a Twist)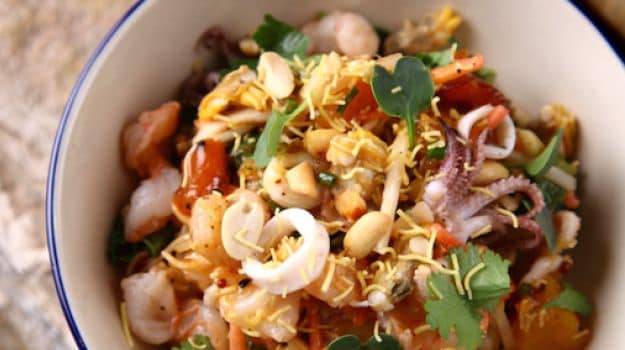 Chilled Seafood Bhel

For starters, we tried the Chilled Seafood Bhel (Rs 300), a play on Mumbai's famous local street food with plenty of shrimp and calamari, topped with kairi date chutney and crispy sev. Innovation knows no bounds here, as the Arbi Tuk (Rs 150) proves. With crispy arbi roundels serving as papdi, this version of sev puri is playful and delicious. We also tried the Methi Thepla Tacos with Pork Vindaloo (Rs 250) which people have been raving about but they failed to live up to the standards of the other two dishes.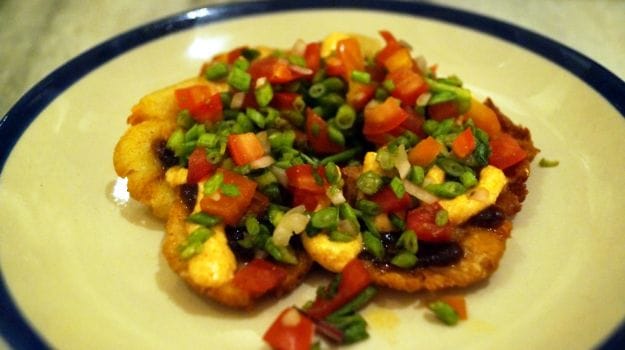 Arbi Tuk

The Charcoal Grilled Chilli Calamari (Rs.300), on the other hand, absolutely blew our minds. The smokiness played all the right notes and the pickled onion rings added a bit of drama to the dish. Another winner was the interestingly named Kejriwal Toast (no relation to the Chief Minister of Delhi). Inspired by the Eggs Benedict, the egg (fried, not poached) in this one is topped with a chutney made by emulsifying green chillies with coconut oil. It is not fiery (and food in this city can be so) but has just the right kick in it. Each part of this dish worked perfectly in tandem to deliver a range of complex flavours in every bite. A must try.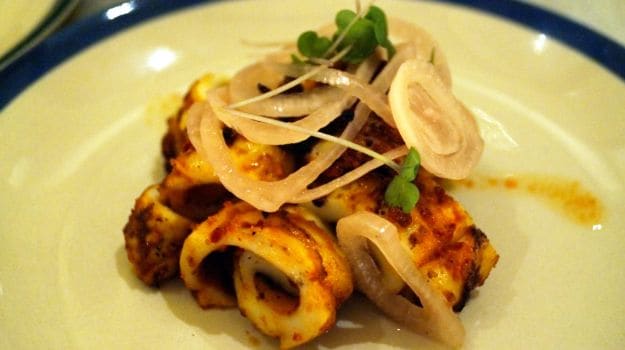 Charcoal Grilled Chilli Calamari

If you've been salivating all along this review, let me remind you that we hadn't even reached the mains yet. Already in love with the food served at The Bombay Canteen, we thought nothing could top the Kejriwal Toast or the Grilled Calamari but the Tandoori Pork Ribs (Rs 550) did just that. This is not a dish. It is a little party for your taste-buds. The char from the tandoor disguises how juicy the meat is inside. Served with a spicy jaggery glaze and green beans that add a crunch, the dish is the pièce de résistance here.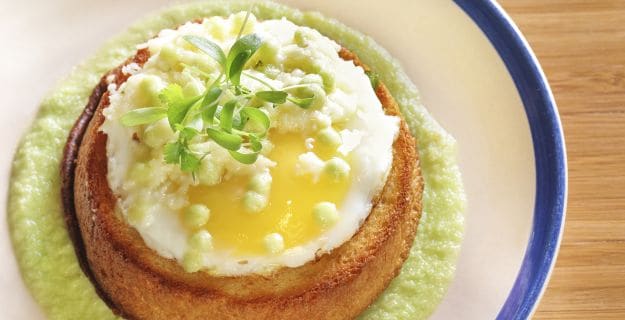 Kejriwal Toast

Chef Thomas Zacharias (formerly the executive chef of Olive Bar & Kitchen, Bandra) stays away from putting familiar tried and tested flavours on your plate and allows his imagination to take diners along on a magical gastronomical journey. His food celebrates local Indian ingredients and not once does it compromise on the global culinary standards that the owners of the restaurant are renowned for.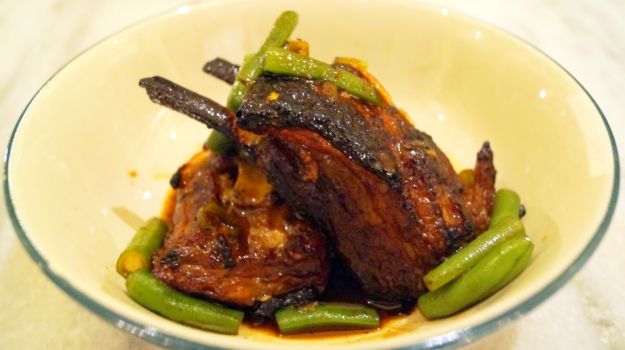 Tandoori Pork Ribs

In the crowded dining scene these days, restaurants come and go in a blink. Few manage to stand the test of time and even lesser manage to create a space in the hearts of diners. The Bombay Canteen is not about cutting edge techniques or fancy dining. It is about celebrating the food that we all are familiar with and serving it with characteristic warmth that keeps us going back for more. A great place for a meal, with friends, family or even for some me-time by yourself.

Meal for 2: Rs.1500

Location: Ground Floor, Process House, Kamala Mills, Near Radio Mirchi Office, S.B. Marg, Lower Parel, Mumbai

Rating: 4 on 5

Must Have: Tandoori Pork Ribs, Eggs Kejriwal and Grilled Calamari

What's New: They have recently opened a bakery counter (The Canteen Bakery) where you can pick up old-school sweet and savoury snacks all day long. We recommend the Mawa Cake with spiced plum jam (that will remind you of the legendary Kayani Bakery in Pune) and the Chicken Quiches.

Disclaimer: NDTV Food reviews anonymously and pays for meals.