Potatoes are typically considered bad for not just your weight, but your overall health. Consuming too much potato in your diet can lead to erratic blood sugar levels, weight gain and a number of other health-related complications. But, what if we told you that there is a potato diet for weight loss, which promises to make you lose weight, by eating only the starchy tuber for some days? The potato diet plan sounds bizarre and it probably is, but some people have sworn that they got the results they desired by just eating the one food, for the period of the diet. The diet is based on the nutritional health benefits that potatoes come with, including health carbohydrates and fibre, as well as some essential vitamins and minerals.


Potatoes are rich in vitamin C, which is nature's immunity pill, as well as good amounts of potassium. Moreover, sweet potatoes contain vitamin A and other important nutrients. So, what makes the potato diet effective in melting the fat away and making a person lose weight? Nothing special, it's just that the potato diet puts you on a calorific deficit, making you lose weight. However, this weight loss isn't sustainable and may not last for long, as you are bound to get back to your normal meals at some point, after the diet ends.


Also Read: Load Up On These Starchy Delights: 6 Ways To Use Sweet Potatoes
How Does The Potato Diet For Weight Loss Work?
The potato diet for weight loss gained traction after American filmmaker, comedian, actor and author Kevin Smith followed a regime that allowed him to eat just potatoes for two whole weeks, before introducing vegetable stews to his diet. The regime is detailed in the New York Times' bestseller 'Presto!: How I Made Over 100 Pounds Disappear' by Penn Jillette. Before him, former Australian sportsperson Andrew Flinders Taylor claimed to have followed the diet for an entire year and said that he lost 50 Kgs on it! The potato diet is pretty simple to follow and involves the dieter consuming the tuber for all three meals of the day. Taylor consumed all kinds of potatoes and consumed low-calorie potato dishes like mashed potatoes, baked and herbed potatoes for his meals.


Also Read: 6 Surprising Potato Juice Benefits And Uses For Skin And Health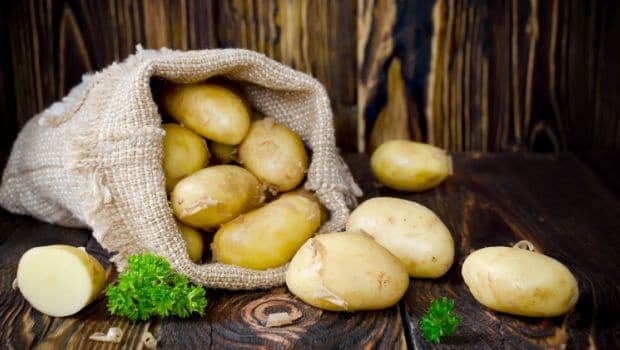 He claimed to have experienced a drop in his blood pressure as well as his blood sugar levels. But should you follow it? The diet obviously goes against everything that we've been taught about healthy eating and there are enough red flags in the plan for you to dismiss the diet as a fad diet.


On that note, potato has several other benefits like regulating blood pressure, improving digestion et al. Potatoes are an excellent source of vitamin C, Potassium, fibre, B vitamins copper, tryptophan, manganese and even lutein, notes the book 'Healing Foods' by DK Publishing. It also works wonders for curbing inflammation in the body and boost immunity and healthy blood circulation.


According to Macrobiotic nutritionist and Health Practitioner Shilpa Arora, "Potatoes have about 100 calories, but it is highly nutritious and it is only the way we cook potatoes that have given it a bad rep. It is great for people with high blood pressure and water retention coz it balances high sodium levels." Potatoes are also rich in chlorogenic acid and anthocyanins, chemicals that help lower blood pressure. The high fibre content of potatoes aids smoother digestion. Fiber supports digestion and promotes bowel regularity by adding bulk to stool. Potatoes can also help quick recovery from diarrhea. Potatoes are rich in potassium, a mineral that is excessively lost during diarrhea.


Here Are Three Aloo Recipes That You May Try At Home:


Gratin of Potatoes with Garlic Cream


Dig deep into the layers of thinly slices seasoned potatoes and cheese, baked golden brown. A meal that satisfies the soul!


Heeng Aur Dhaniye Ke Chatpate Aloo


Potatoes stir fried with aromatic masalas, lemon juice, ginger, chillies and the pungent taste of heeng. Perfect as a quick, hassle-free side dish.
For all the spice lovers! Potatoes cooked with the tang of tomatoes and the fire of chillies. Perk up your everyday meals with this fiery recipe.


There may be anecdotal evidence of the diet working for some people, but one should definitely not follow such extreme diets to lose weight.


Disclaimer: This content including advice provides generic information only. It is in no way a substitute for qualified medical opinion. Always consult a specialist or your own doctor for more information. NDTV does not claim responsibility for this information.