Who wouldn't love to eat at restaurants? Well, we all do; however, we know how these foods from outside can lead to weight gain. According to a study published in the journal of the American Dietetic Association, your chances of gaining weight increase when just one meal a week comes from takeout. It's best to avoid 'bahar ka khana' and instead eat home-cooked food, especially if you are willing to lose weight. Cooking your meals at home has various advantages that can help you shed kilos. We tell you why home-cooked food helps you cut the flab effectively, of course, when paired with exercises.


According to Macrobiotic Nutritionist and Health Coach Shilpa Arora, "Home-cooked food has quality ingredients, which means they are virtually devoid of trans-fats and artificial sugars and enhancers. Home-cooked food is simple and lighter, for example, dal-rice and subzi with chaach cannot be matched with the food we get outside, taking nutrition into consideration."


According to a study published in the journal Public Health Nutrition, people who eat more meals at home consume 200 fewer calories as compared to those who eat out on a regular basis.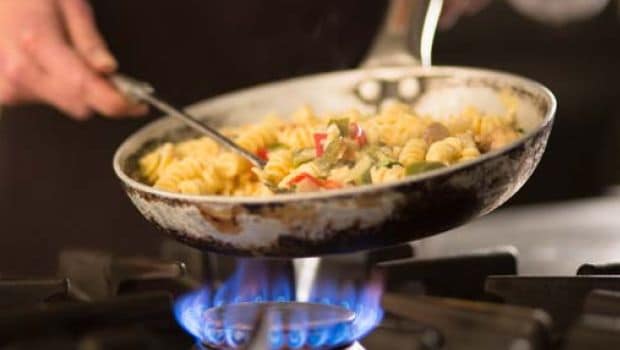 people who eat more meals at home consume 200 fewer calories
How Home-Cooked Meals Can Help You Lose Weight?
It is not only important to eat home-cooked food, but also cook them yourself. It gives you so much more control in terms of adding ingredients like salt and sugar, plus you will be able to count your calories well.
You can easily control the portion size at home. You tend to eat more as you are served larger portions at restaurants. Home-cooking gives you the ability to control portion sizes, which limits calories and helps you lose weight.
Any food that you order in a restaurant is processed and is high in salt, sugar and fat content, which tends to impact your weight. Home-cooked foods lets your prepare food within a limited quantity. Moreover, you can switch to low-fat cooking methods like steaming and baking instead of frying. You could also substitute fats with healthier choices, like replacing sour cream with yogurt, which barely any restaurant would do.
Restaurants give you choicest of food options, leaving you tempted to choose the tastiest (read heaviest) one. Who would want to choose steamed veggies if you have options like French fries with a burger after all? Cooking at home will enable you to pick and experiment with veggies, fruits, beans and whole grains that are loaded with nutrients. Picking healthy will only decrease calories and support efforts to lose weight.
Cooking food, which is a time-taking process, required you to start from the scratch. This process of making food causes to diminish the actual eating experience, which is due to constant smelling and tasting of food. This makes you eat lesser, further helping you to pack more calories, resulting in weight loss.
While it is a good practice to eat home-cooked food in order to lose weight, but it doesn't mean you prepare burgers and pastas to treat your palates at home. It only means you prepare healthy foods using limited ingredients that do not add to extra calories.