Spring is almost here. It is that time of the year when nature is at its best with bright sunshine and green all around. It is also the time to celebrate Basant Panchami - a festival to welcome the 'King of all seasons' Spring. Marked all over the country, this festival has different customs and traditions in different regions. While the eastern part of India observes Sarawati Puja on this day, the Southern states refer to this day as 'Sri Panchami'. Every year, Basant Panchami is marked on the fifth day of 'Magha', which typically falls between late January and February.
Basant Panchami 2021: Date And Time:
This year, Basant Panchami falls on February 16, 2021 (Tuesday).


Basant Panchami Muhurat: 06:58 am to 12:34 pm
Basant Panchami Madhyahna Moment - 12:34 PM


Panchami Tithi Begins - 03:36 AM on February 16, 2021


Panchami Tithi Ends - 05:46 AM on February 17, 2021


(source: drikpanchang.com)
Basant Panchami 2021: Significance And Why We Wear Yellow-Coloured Clothes On This Date:
Basant Panchami signifies the transition of the season - from winter to spring and subsequently summer. It also marks the advent of Holi, which is celebrated in the next 40 days. This day in most part of India is celebrated by worshipping Goddess Saraswati - the Goddess of knowledge. Small kids on this day are first introduced to the world of education with 'hate khori' (especially among Bengalis).


The colour yellow also plays a significant role during this festival. Yellow (or basanti) is the colour of spring (basant). It symbolises prosperity, optimism, energy and everything positive. Hence, people on this day, wear different bright yellow-coloured clothes.


Also Read: Why Do Bengalis Refrain From Eating Ber (Jujube) Fruit Before Saraswati Puja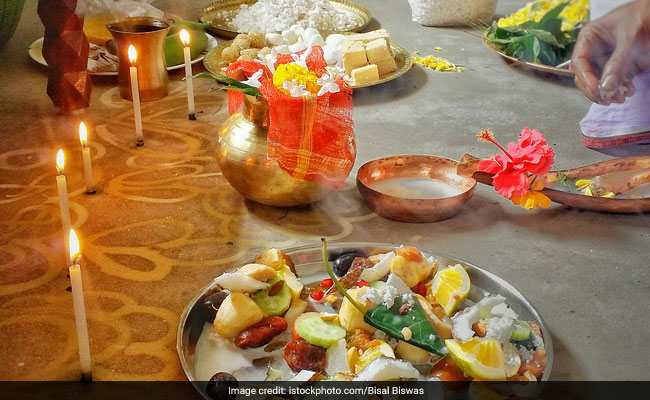 Basant Panchami 2021: 5 Traditional Recipes For The Festive Fare:
Food plays an equally important role in Basant Panchami (or Saraswati Puja) celebrations. People prepare different sweet and savoury dishes to offer to Goddess Saraswati and then relish those foods with friends and family.


Also Read: Basant Panchami Recipe: Dodhikorma, A Must Have During Saraswati Puja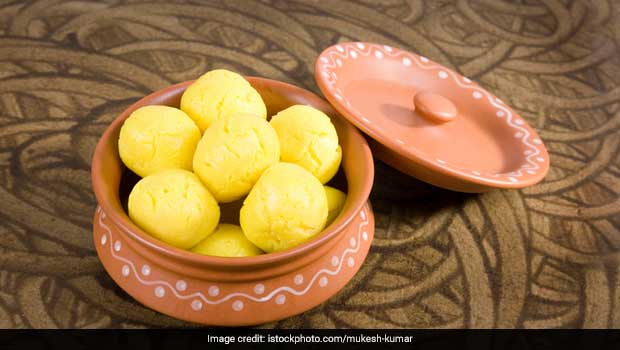 Here are 5 authentic recipes that remain a constant during Basant Panchami:
Khichdi:


Light and heart-warming khichdi, made with scented rice (gobinod bhog) and yellow moong dal, is a must-have during this festival. Paired with baingan (eggplant fritter) and labra (Bengali mixed-veg), khichdi (or khichuri) makes a perfect lunch on this day. Click here for the recipe.


Labra/Mixed Veg:


A quintessential Bengali mixed-veg sabzi, labra spells indulgence. It is made with different seasonal vegetables, panch phoron and a dash on ghee. Labra is a must-have for Bengalis during any Puja. Click here for the recipe.


Rice Kheer:


No traditional festival is complete without rice kheer. A perfect mix of rice, milk, sugar and dry fruits, kheer completes a festive lunch in the best way possible. Click here for the recipe.


Rajbhog:


A popular Bengali sweet dish, made with chhena dunked in sugar syrup, rajbhog is prepared during different types of celebrations. But, due to its yellow colour, rajbhog makes an important part of Basant Panchami festival. Click here for the recipe.


Boondi Ladoo:


Another popular yellow-coloured sweet is boondi ladoo. Bhog thaal is not complete without some sweet ladoos on it. Click here for the recipe.


Happy Basant Panchami 2021!


About Somdatta SahaExplorer- this is what Somdatta likes to call herself. Be it in terms of food, people or places, all she craves for is to know the unknown. A simple aglio olio pasta or daal-chawal and a good movie can make her day.