Wearing something body hugging fills you with fear? Pining for abs like Beyoncé, but too busy to head to the gym? Presenting: The Hula Hoop.No, seriously. You may not have touched it since you were 10, but did you know that it helps improve your core strength, tones your stomach, thighs and butt? And the best part? It's just as much fun as you recall, and it doesn't even feel like you're working out.It comes in various sizes, colours and weights. So knowing what you want from it will help you choose the right one. However, if you're not sure what your goal is - it's probably best to start with a standard hula hoop which measures over 1 m in diameter and weighs just under 1 kg. It is suited for every level, right from a beginner to the most advanced user.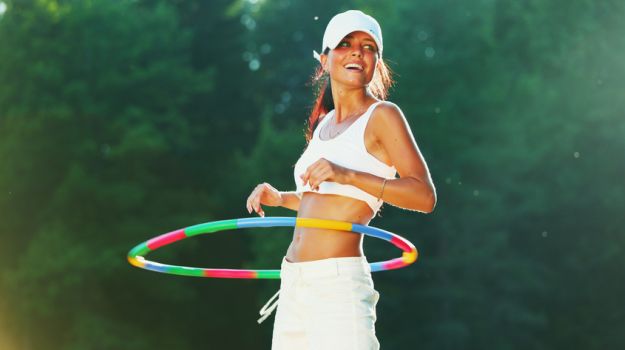 Did you know:
The smaller the hula hoop, the quicker you have to work to make it twirl. So it is easier to handle a larger and heavier hoop, but that doesn't mean you buy the heaviest hoop you find as it's not safe to use an excessively heavy hoop.So how does it make you shed those extra pounds? The repetitive movement helps tone your abdominal muscles. If you hula hoop for 10 minutes, you'll burn up to 100 calories per session. Learn the basics and top tricks such as twirling, whirling and wiggling, with not only one but two or even three hoops. The moves may throw you into a loop initially but remember: Practice makes perfect. You can start with the basic moves until you feel comfortable, then step up your game to more advanced ones, mixing and matching for your own personal head-to-toe tone-up. It's all about finding your own personal rhythm and once you've got it, it never goes.This may also be a safe and effective way to stay in shape while being pregnant. But you must check with your physician before starting such an exercise, as with any exercise routine during pregnancy.Go on, channel your inner child with the humble Hula Hoop and get the body you've always wanted!
Powered by BodyPower
Disclaimer:The opinions expressed within this article are the opinions of the author. NDTV is not responsible for the accuracy, completeness, suitability, or validity of any information on this article. All information is provided on an as-is basis. The information, facts or opinions appearing in the article do not reflect the views of NDTV and NDTV does not assume any responsibility or liability for the same.