Come summers or winters, there are certain concerns that don't leave our mind - weight loss is one of them. For some, giving up their favourite dishes can be challenging, whereas others look for interesting ways to still indulge in their beloved dishes. Surprised? Well, you can do the same if you practice moderation and tweak the recipe as per your diet. There are various ways to make the same dish - sugar-free, fat-free or even gluten-free. That being said, if you love almonds and almonds-based dishes, we give you some interesting ways to add this crunchy nut to your weight loss diet without thinking too much about the calorie intake.


Almonds are known to be rich in nutrients like magnesium, vitamin E and copper along with being a good source of dietary fibre and immunity-boosting antioxidants too. According to a Delhi-based weight management expert, Dr Gargi Sharma, it is beneficial to have a serving of soaked almonds if you are looking to shed those extra kilos. She points out "Soaking almonds release the enzyme lipase, which is beneficial for digestion of fats". And while the nip in the air may make us want to indulge in everything hot and greasy, you can easily replace ingredients in most recipes with almonds and make them weight loss friendly. Turn your winter diet into a weight-loss-friendly diet with these almond recipes.


(Also read: 5 Healthy Almond Recipes You Can Try At Home For A Nutritious Meal)
Here Are 5 Delicious Ways To Add Almonds To Your Weight Loss Diet:
1. Almond Chutney:
Have you noticed how our consumption of rich and heavy parathas increases with the fall in the temperature? While the steaming hot parathas may seem like the best breakfast to start your day, it is not the ideal weight-loss-friendly dish to have every single morning. But what if there was a healthy and delicious almond chutney to go with these parathas? This easy-to-make almond chutney will be your next best winter accompaniment with parathas and rotis, here is the recipe for you to try.
Make delicious almond chutney to pair with paratha
2. Roasted Badam:
Snacking on crunchy and savoury snacks with our evening tea is a must in all Indian homes. Now you can avoid the oily fried snacks and go for this flavorful; roasted badam instead. Golden and delicious, these roasted almonds are easy to make and extremely healthy, try it out today, with this recipe here.


3. Oats And Almond Biscuits:
Another tea-time essential, these homemade biscuits have a list of healthy ingredients in them. Atta, oats and almonds, sweetened by honey and baked into crisp biscuits, this recipe is healthy, filling and taste oh-so-delicious. Sprinkle some extra almond shavings on top of the biscuits for extra crunch. Click here for the recipe.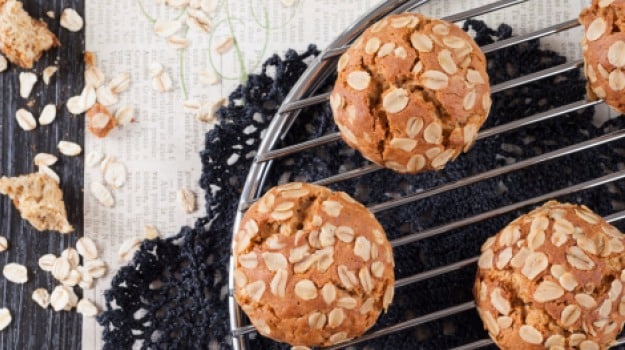 Healthy oat and almond cookies
4. Banana And Almond Porridge:
Looking for a comforting warm and delicious breakfast to start your day? We got you covered! Here is a bowl of porridge that will soothe your sweet cravings along with being healthy and nutritious. Loaded with weight loss friendly ingredients like chia seeds, honey and almonds, this breakfast recipe will give you just the boost of energy you need on those cold winter mornings!


5. Broccoli Almond Soup:
It is impossible to talk of any kind of winter diet and not mention soups in them, isn't it? Soups are anyway considered a major part of a weight loss diet because of how healthy and nutritious they are while also being low on calories and filling. However, this broccoli and almond soup is specifically what you need to warm up your winter nights if weight loss is in your mind. Click here for the recipe.
Broccoli and almond soup is delicious and healthy
(Also read: On A Diet? This Healthy Almond Snack May Be Ideal For Those Mid-Meal Cravings)


There you have it, try these delicious ways to include Almonds into your winter weight loss diet.


Disclaimer: This content including advice provides generic information only. It is in no way a substitute for a qualified medical opinion. Always consult a specialist or your own doctor for more information. NDTV does not claim responsibility for this information.