There are so many lip-smacking ways to enjoy cheese with bread, whether it's baked, fried, toasted, or sandwiched. We can always rely on the combination of bread and cheese to uplift our mood. If you're in need of some cheesy comfort, we've got you covered. We have a way to satisfy your cravings with minimum effort - by making cheese toast at home. To make your life easier, we have listed 5 different versions of cheesy toast with their recipes below. Each of them is delicious and easy to prepare. Try them all and let us know which one you prefer!
Do You Need An Oven Or Microwave To Make Cheese Toast?
No, you can also use a tawa or pan for making cheese toast at home. Be careful to grease the surface properly before you place the toast on it. In most cases, the toast has to be covered to concentrate the heat and melt the cheese. If you don't have a proper cover, use any dome-shaped vessel. Just ensure that it doesn't touch the toppings on the toast.
Which Bread Is Used For Making Cheese Toast?
You can use many different types of bread to make cheese toast at home. Regular sliced bread, brown bread, multigrain bread, French bread, etc., can be turned into delicious cheesy toasts. You can even use pav or bread buns. Simply slice them carefully and ensure they have adequate thickness (and no gaps) to hold the toppings.
Also Read: This Quick And Easy Veggie Cheese Toast Is Just The Indulgent Treat Your Kids Would Want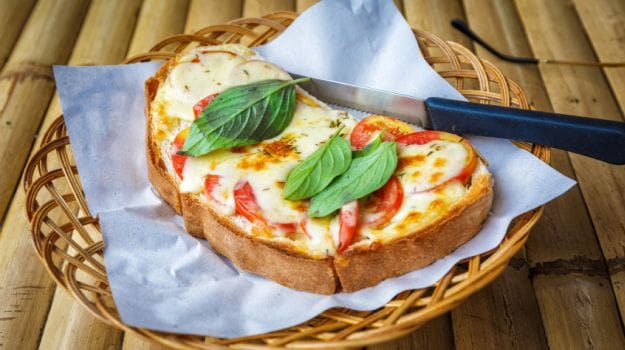 Here Are 5 Quick And Easy Cheese Toast Recipes You Must Try:
1. Cheese Garlic Toast
This classic is an all-time favourite you can whip up with minimal ingredients. A simple yet satisfying way to enjoy the cheese-garlic combination, this toast recipe never lets you down. Enjoy it plain or pair it with your soups and salads. Here's the complete recipe.
2. Chilli Cheese Toast
Another beloved snack, chilli cheese toast has legions of fans around the world. It's the perfect way to satisfy your cravings for something spicy and cheesy. You can easily re-create the café-style toast magic at home. Watch the recipe video here.


Also Read: Feeling Hungry? Try This 10 Minutes Cheese Chilli Toast Now
3. Masala Cheese Toast
Give your cheese toast a desi twist with this version. In masala cheese toast, a few chopped veggies and spices are used for the topping. The crunch and flavour they add make the toast extra delightful. Here's the detailed recipe.
4. Cheesy Pizza Toast
Want to eat pizza but don't have the base? No problem - just use regular bread instead! Also known as bread pizza, cheesy pizza toast is the perfect snack for your midnight binge, evening tea-time, or even a party. You can experiment with toppings and seasoning as you like. Check out the cooking tips and recipe here.
5. Masala Cheese French Toast
Why not give your regular French toast a cheesy upgrade as well? This unique toast promises an explosion of flavours - all the more enhanced by the addition of cheese. If you're tired of the same old breakfast dishes, this cheesy masala French Toast is sure to be a novelty. Find the full recipe here.


What is your favourite version of cheese toast? Let us know in the comments below.
About Toshita SahniToshita is fuelled by wordplay, wanderlust, wonderment and Alliteration. When she is not blissfully contemplating her next meal, she enjoys reading novels and roaming around the city.