I don't much care for food! What I am interested in is the preparation and presentation of it. I do not claim to know much about that either, I am not a foodie, in fact I am allergic to that word. I detest self-declared 'foodies' and though they seem to have replaced the 'Birkin' as the new status symbol, as much as possible, I avoid dining out with them or asking them for recommendations. I prefer to bungle around a menu and land on something that suits my tastes.(Recipe: Apple and Cream Cheese Stuffed French Toast)I am therefore possibly the last person who should be writing a food column, but someone on the editorial team believes otherwise, that or they wanted somebody to cut through the 'baloney' (yes there will be many food related puns) and appeal to those of you who don't know their black cod from plain old regular cod. Here is what to expect: a rudimentary knowledge of food groups, my opinions and thoughts, some fail safe recipes and a lot of fancy language, but I hope along the way I get to learn about food, because well, why the hell not?
(How to Make Perfect Cheese on Toast
)
Growing up, and vegetarian to boot, I subsisted on a diet of potatoes, too many types of green vegetables (that I shoved to the side of my plate) and soya nuggets. What I wanted to subsist on- instant noodles (et tu Brutus). Childhood is such a struggle between what your parents think is best for you and what you think in your infinite wisdom to be better! There was one exception to this rule of infantile mutiny, when you fell ill. Something happened to the steely make up of our progenitors when flu was impending or, if luck was on our side, a full blown case of Chicken Pox.(Recipe: Masala Cheese French Toast)There isn't a kinder soul on the planet than an Indian parent when their child has taken ill. Talk about indulgence. Not being particularly big on heavy or rich food, I looked forward to when I was unwell and my mother would let me off after a few sips of soup and some buttered bread. However, once convalesced with your appetite restored, plain old bread wasn't going to cut it, so my mother invented what is known in our house as 'Mamma Toast'.(Recipe: Chilli Cheese Toast)A simple toast topped with tomatoes, potatoes and cheese then grilled in the oven, and sprinkled with oregano - it was the ultimate comfort food, and a complete meal, all delicately balanced on a slice of bread. The ingredients being so basic and easily available meant it could be made anywhere, at any time. Even if the produce isn't fancy or the best quality, the simplicity of its preparation meant that it would taste just as delicious.Add to that the fact that it was quick to make, I'm surprised it's not a super food already. Though it's perfectly fine to make a meal out of 'Mamma Toast', I would recommend you eat it when homesick or recovering from an illness or heartbreak. Depending on the ingredients used, the taste could vary, but it always feels like a nice warm hug.
RECIPE - MAMMA TOAST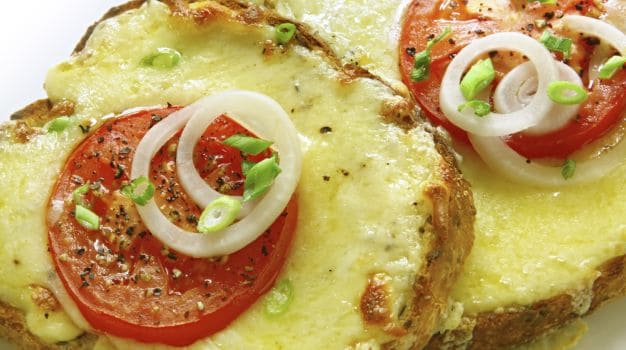 Ingredients:
1 slice of bread (lightly toasted)
1 blanched and peeled tomato sliced into rounds
1 boiled and peeled potato sliced into rounds
Butter
Cheese (we use cheddar or Gruyere but you can even use a slice of processed cheese)
Salt and Pepper to taste
Sprinkle of Oregano
Method:
1. Place the buttered slice of bread on an oven rack.2. Arrange the sliced tomatoes on it. Now, place the potatoes on top of the tomatoes and sprinkle salt and pepper (remember that the cheese will be already salty so avoid using too much).3. Cover the vegetables with a slice of cheese and put in the oven to bake till the cheese is just melted and has some colour (shouldn't be more than 15 minutes).4. Lightly sprinkle with oregano.
Ideally paired with a mug of hot chocolate topped with marshmallows, a cosy blanket and a nice movie!(Recipe: Mushroom Masala Toast)Disclaimer:The opinions expressed within this article are the personal opinions of the author. NDTV is not responsible for the accuracy, completeness, suitability, or validity of any information on this article. All information is provided on an as-is basis. The information, facts or opinions appearing in the article do not reflect the views of NDTV and NDTV does not assume any responsibility or liability for the same.