I never met a
cheese toast
I didn't love.
Bread
that's perfectly golden brown,
cheese
slowly oozing out… a masterpiece, indeed. You know even before you bite into a
grilled cheese sandwich
whether it's going to be transcendental or not. The crispy edges and the molten middle make it worthy of the enormous calorie load it packs. Pick it up, and you can taste the butter in the bread, while the crust is crisp, revealing a layer of tender crumb underneath. A thing of beauty, no doubt, with the ability to instantly transport you back to your childhood days. Growing up, the one thing my house was always famous for, was cheese toast – buttery, gooey and divine. It's the first thing I learned to cook on my own, the best midnight munchie or
evening snack
, the perfect pick-me-up and even a
brilliant hangover cure
. It's comforting in all the right ways.International versions have also existed for years, including toasties from Britain, toast from Israel and kasarli tost from Turkey. Other meatier versions such as the
French croque monsieur
, the Dutch tosti kaas, and Scottish roasted cheese thankfully exist too. But it is the basic grilled cheese toast that wins hands down every single time. So what's the secret to a perfect grilled cheese toast?First, never just plop down
butter
onto a hot pan, or else the butter will burn. Spread softened butter on a slice of bread evenly, and on top too for even cooking. Second, the
cheese is clearly the star of the show
so choose a semi-hard cheese such as Cheddar or Swiss, because if the cheese is too soft, it will just ooze out of the sides of the bread when you bite into it. Third, don't pick a bread that's too thick, choose one that will crisp up well from the outside. Quick tip: Griddle the bread on both sides and we assure you, it's a grilled cheese game changer! Not only will this get you better tasting bread infused with more butter, but it'll also give the cheese a head start on getting extra-melty. And in case you want to skip the white bread, opt for rye bread. It adds a nice caramelised flavour and the edges get a crispy crunch too (just the way I like it).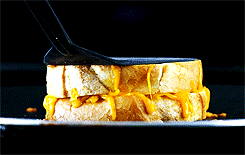 If you're in the mood to
experiment
, dress up your grilled cheese toast with a fantastic array of fillings such as tomato, bacon, ham and greens or
peanut butter
, cream cheese and
strawberry jam
or a
mushrooms
, garlic and
thyme
or balsamic roasted cherry,
dark chocolate
and brie. You can also just spread some
fig
jam, cranberry relish,
blueberry
chutney or olive tapenade for that extra zing. Even a basic grilled cheese with just a drizzle of maple syrup makes for the perfect sweet and savoury combination, especially for breakfast. There are endless combinations, really.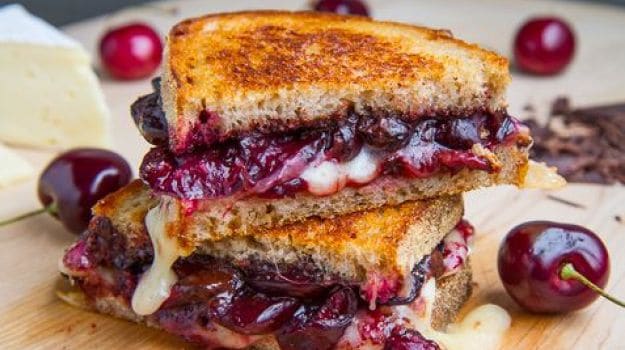 Grilled Cheese Toast with Bacon, Avocado & Tomato
Ingredients:
2 slices bacon, sliced half
2 slices bread
2 teaspoons butter
2 slices Cheddar cheese
2 slices tomato
1/2 a ripe avocado, thinly slicedInstructions:
1. Place bacon in a large nonstick and cook over medium-low heat, flipping occasionally, until crisp all over. Transfer bacon to a paper towel-lined plate, and keep bacon fat aside.
2. Wipe out the skillet and return to medium heat. Spread softened butter on both bread slices and place on pan, about 2 minutes.
3. Transfer to a cutting board toasted-side-up. Place one cheese slice on top of a slice of bread, followed by bacon, tomato, and avocado. Top with second cheese slice and close the sandwich.
4. Add half of the reserved bacon fat to skillet and heat over medium-low heat. Add sandwich and cook, swirling occasionally, until golden brown on both sides and the cheese is thoroughly melted (8 minutes approximately). Serve immediately.And our personal favourite?
Chilli Cheese Toast
This
Indian version
always feels like a nice warm hug,
flavoured with green chilli
and aromatic ginger. What's not to love?Ingredients:
4 slices of white bread
3-4 tbsp grated cheese
1 green chili, finely chopped
½ tsp minced ginger
softened butter (for spreading on the bread)
salt and pepper, to tasteInstructions:
1. Grate the cheese in a bowl, add chopped chilies and ginger. Also add salt and pepper as required, and mix well.
2. Slice the bread into triangular slices, and place on a tray and lightly grill in a pre heated oven at 200 degrees C for 5-6 minutes.
3. Remove and place the bread on a plate. Spread some butter evenly, and then spread the cheese-chili-ginger mixture.
4. Grill again for 10 mins till the cheese melts and the bread slices get golden and crisp. Serve immediately with tomato ketchup.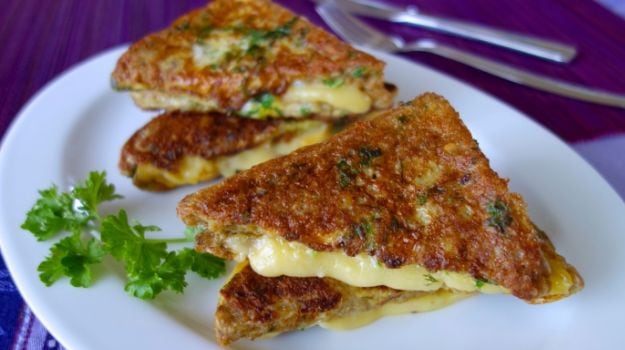 Does life get much better than gooey melted cheese on golden, buttery bread? I think not.
Kids
love it and foodies can't stop obsessing over every gourmet version of it. It's a simple equation; bread + butter + cheese = happiness.
Cronuts
may come and go – but the truly magical grilled cheese toast will always be in vogue.