A shout-out to all the parents struggling to feed their children healthy foods - we feel you. The fussy, picky eaters will eat only what they want to, come what may. Instead of losing your mind and letting them lose their appetite, why not give them something that is a win-win for all? As opposed to the popular notion, health and taste can be combined into one dish. And if you have no time to make something extensive for your hungry kids, you need some quick-fix recipes


Here we have some healthy, tasty and quick snack recipes that you can make in no time. These can work as healthy snacks for kids' tiffins, healthy snacks for kids after school, or just as evening snacks on weekends as well. And let us assure you, all these snacks are good for your kids.


(Also Read: Quick Breakfast Ideas for Kids: 7 Stellar Recipes)
Here're 5 Healthy And Quick Snacks For Kids:
1. Steamed Dhokla Recipe
Spongy, light and juicy, dhokla is a popular snack that even kids love. Just mix besan with flavouring ingredients and steam the batter to make delicious dhokla. Garnish it with the tempering of mustard seeds and a soul-soothing snack is ready. Click here for the Dhokla recipe.
2. Chana Patty Burger
If your kids balk at the usual desi snacks and hanker for pizzas, pasta and burgers all the time, trick them into eating this healthy burger made with ground chickpea patty and stuff it in whole wheat buns. Just remember to soak the chickpeas in advance. Here's the recipe for Chana Patty Burger.
3. Oats Idli
Infuse the magic of oats in soft and yummy idlis. Roast and ground the oats to powder them. Then mix it with curd and seasonings to make batter for idli. Steam to make healthy idlis in no time. Click here for the Oats Idli recipe.
4. Oats Cutlet
Another oats recipe, another kids' favourite dish - cutlet. Make a crispy and crunchy pan-fried cutlet with healthy oats and serve it with chutney or sauce, and you'll see the kids jumping with joy at the sight of it. Here's the Oats Cutlet recipe.
5. Baked Potatoes
Set aside fried French fries. Serve these baked potatoes with the goodness of corn, tomatoes, matar and paneer. The best part is you don't need an oven to make this tasty dish. Click here for the recipe.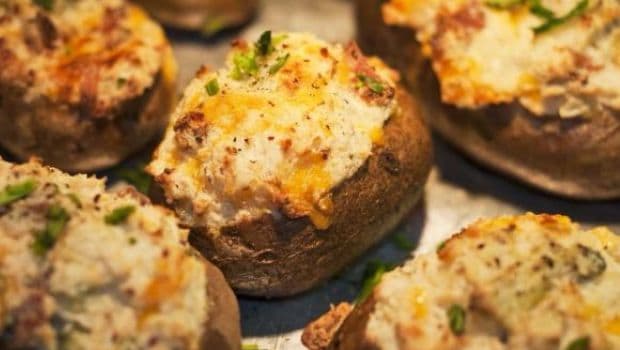 Turn your fussy eaters into healthy eaters with these superb snack recipes.
About Neha GroverLove for reading roused her writing instincts. Neha is guilty of having a deep-set fixation with anything caffeinated. When she is not pouring out her nest of thoughts onto the screen, you can see her reading while sipping on coffee.