Maharashtra's contribution to Indian food is so immense that most of its food has travelled from the confines of its state boundaries and have now become a staple in households across the nation. Be it the buttery pav bhaji or the sweet and wholesome puran poli , Maharashtrian local and lip-smacking delights have caught the fancy of many food lovers since time immemorial. Maharashtrian food is a mish-mash of ancient Hindu food traditions, the Portuguese and Parsi influence and a whole lot of communities that came, settled and made Maharashtra their own. Speaking of their love for food, Mumbai's Chowpatty and Khau Galli are places that have gained recognition across the country because of their wide variety of food and food lovers, above anything else. If you call yourself a true foodie, you must try their delicious breakfast for an authentic Maharashtrian experience. Here are 5 Iconic breakfast dishes from Maharashtra that have to be on your bucket list (if you haven't tried them already).
1. Thalipeeth
Move over pancakes and make way for thalipeeth. Thalipeeth is a pancake hailing from the western part of the country. The famous breakfast dish is made with a special flour of roasted sabudana(tapioca), coriander seeds, wheat, rice and cumin seeds. The secret to a perfect thalipeeth lies in its dough. Several households add various vegetables and onions in the dough to enhance the flavour. Team the thalipeeth with curd, raita or pickle and munch away.

2. Kanda Batata Poha
Easy-to-make and always so delightful, a poha can make the worst of cooks feel better about their culinary skills. 'Kanda' in Marathi means onion and 'Batata' means potato. Kanda batata poha is a delicious take on poha which is essentially made with chiwda that is soaked in water overnight and cooked with variety of spices, peanuts and vegetables. You can also top it with some sev for that extra crunch.

3. Misal Pav
This Maharashtra's favourite breakfast/evening snack is a treat for all those who are fond of all things spicy and flavourful. Misal is a spicy flavourful curry made of moth beans. The curry is made of a whole lot of eclectic spices, onion, garlic, ginger and chillies. The fiery preparation is then topped with boiled potatoes, chiwda, sev, chopped onions, coriander, green chillies and served with a dash of lemon. The curry tastes best when teamed with buttery pav.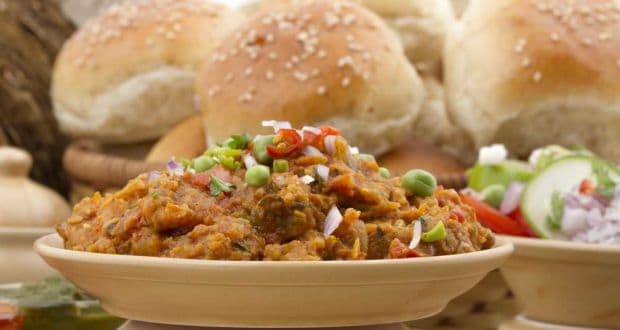 Misal is a spicy flavourful curry made of moth beans
4. Pav Bhaji
You saw this coming, didn't you? Maharashtra's love affair with pav bhaji or more so with pav calls for a chronicle of its own. With Portuguese invasion of Goa, several Portuguese food preferences made way to the Indian shores. They started missing their daily diet of bread with meat and started to create something that would resemble the same. Pav Bhaji is said to be an off-shoot of the same experiment. Now there is practically no street food stall in Maharashtra or across the Konkan coast that doesn't have the hot-seller on offer. Bhaji is a delicious way of combining all the healthy vegetables together in spicy base. This fiery preparation is teamed with pav that is toasted with butter or ghee.(Also Read: Pav, the Staple Bread of Mumbai: Pair it with Keema, Vada, Misal and More)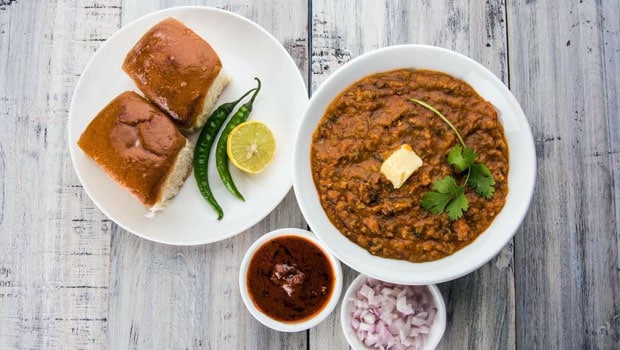 Pav Bhaji is a delicious way of combining all the healthy vegetables together in spicy base
5. Puran Poli
Puran poli is a part of almost all Maharashtrian festivities but can be enjoyed as a breakfast item too. A flat bread filled with sweet chana dal, nutmeg and cardamom filling, Puran poli is one loaded and delicious flat bread we are always up for.

There is so much more that Maharashtra has to offer in terms of food and flavours. Have we missed out on your favourite Maharashtrian breakfast? Do let us know!
About Sushmita SenguptaSharing a strong penchant for food, Sushmita loves all things good, cheesy and greasy. Her other favourite pastime activities other than discussing food includes, reading, watching movies and binge-watching TV shows.