pav begins many years ago with the Portuguese invasion of Goa. The Portuguese residing in India missed their daily diet of bread and meat, although many adopted the dietary habits of the Goans. Lizzie Collingham in Curry: A Tale of Cooks and Conquerors tells us that visiting Portuguese from the homeland were startled to find the wives of the settlers eating a meal of rice, mango pickle and fish or meat cooked in gravy, all with their hands! Some of them even adopted the high Indian standards of hygiene - bathing every day and washing as often as possible, rather than slathering on clouds of perfume to conceal their smell, as was common in Europe in those days. But there was one thing that they missed terribly and that thing was bread, both for the taste and for the significance it had in their religious rituals.

But how to procure the yeast that was necessary for baking bread? Such a thing was unheard of in India, at the time. In fact, it was the canny Goan cook who came to their rescue. "(The cooks) used toddy to ferment the dough, with...good results," writes Collingham. "In fact, the Portuguese added a variety of European breads - crusty white rolls...and the sweet milk bread called pao de lo - to the Indian repertoire."

From Goa, it travelled upwards to Mumbai, probably thanks to enterprising Goans looking to make a living in Bombay. The city was thriving and had become a commercial centre under the British. Writer- researcher Dr Teresa Albuquerque, writes in www.goacom.com that "Faced with the challenge to eke out an existence, the migrants utilised the skill they had acquired under the Portuguese and became bread-makers; and for almost a century this profession remained a Goan monopoly in Bombay." In fact, well into the 19th century, even after British food had trundled into India in the wake of the British invasion, many believed the best leavened bread to be that of the Portuguese-Goan. Albuquerque writes that Vitorino Mudot, a native of the village of Assagao in Goa, is considered to be the "Father of Goan Bakers in Bombay", setting up the first baker's oven in the locality.





Then it was the turn of the Iranis, who entered the yeasty arena and very soon, pav became a cheap (and delicious) food of the masses.

(Shop for healthy ingredients on SmartCooky)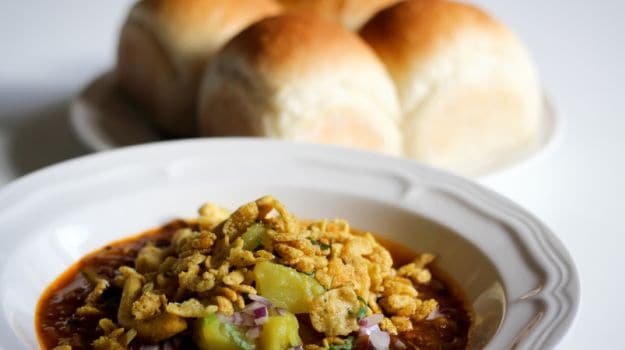 Pav Makers in Mumbai
Even today, some of the best pav makers in Mumbai are Goan or Irani. For instance, the Irani-owned Yazdani Bakery (named for the region of Yazd in Iran) prepares about 1,000 ladi pavs each day. Try the heavily buttered pavs with a cup of hot tea.
Kyani's Bun Maska is a soft, pull-apart bun dipped into hot chai and eaten. Bandra's A1 Bakery is an unassuming stall with a thriving demand in pav and gutli pav (hard bread).
Worli's City Bakery, born in 1953, is one of the city's mot iconic bakeries. It sells today, panoply of sweet treats such as cakes, Swiss rolls and doughnuts. But its beating heart is its pav, which is often sold out almost as soon as it hits the shelves.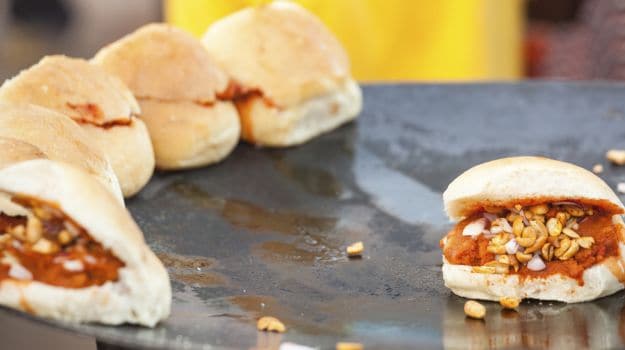 Image credit: Istock/ Manu_Bahuguna

Delicious Pav Pairings
If you ask me, pav on its own, hot and fresh from a baker's oven, its bottom slightly scorched and ashy, is one of the best parts of living in India. But pav teamed with keema? Sublime. There is almost nothing more satisfying than a plate of unctuous keema, absorbed by soft, fluffy pav. Fort's Cafe Military and Colaba's Olympia are my absolute favourites in Mumbai for this. The Mutton Kheema is one of Café Military's most popular dishes - a preparation of minced mutton, prepared without much gravy or spice. There is also its famous Kheema Ghotala. This is not a particularly aesthetic dish but what it lacks in looks, it makes up for in taste. A robust dish of minced mutton scrambled with egg, it is served with loaves of soft pav. All this of course is washed down by bright red raspberry soda, the drink of choice at all Parsi weddings.
Or you could try Mumbai's beating heart, its Vada Pav, the swollen, spicy vada wrapped by soft pav that has been moistened by a slick of tamarind and coriander chutney and doused in a garlic masala. The Vada Pav is the darling of the Mumbai masses, its origins going all the way back to 1971, when the lawala Ashok Vaidya first stuffed a vada into a pav and served it to a hungry passer-by. For those sturdy of stomach, may I recommend a visit to the Vada Pav stall outside Kirti College in Dadar?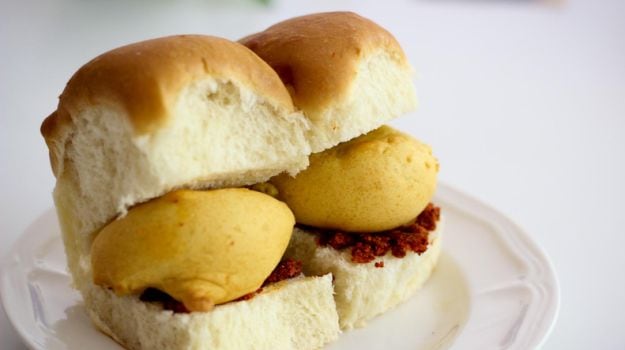 Misal Pav is another such splendid marriage. The best one I have ever eaten yet was in my Maharashtrian friend's home, but I have read of an extraordinary lady in old Nashik (Sitabai, I think?) who prepares her misal the old-fashioned way, on a wood, coal and cow-dung fired stove. Those in Mumbai can try Aaswad restaurant in Dadar for some delicious Misal Pav. Pav also goes spectacularly well with its sister-dish, Usal Pav. And then of course, there's the Gujarati Dabeli - a potato, chutney and masala concoction stuffed between two loaves of pav.
More pav experiences? Pav Bhaji on Juhu or Chowpatty beach - vegetables swimming in a pool of butter, scooped up with buttered pavs. Or Anda Pav, especially heavily-spiced Bhurji Pav, eaten at Matunga's Cafe Gulshan, a place I need to revisit soon. Sunday mornings in my house almost always consist of omelette-pav, or what the Parsis call poro-pao. A poro is essentially an omelette embellished with green chillies, onions or coriander and is something that in the Mirza household, is always eaten with pav.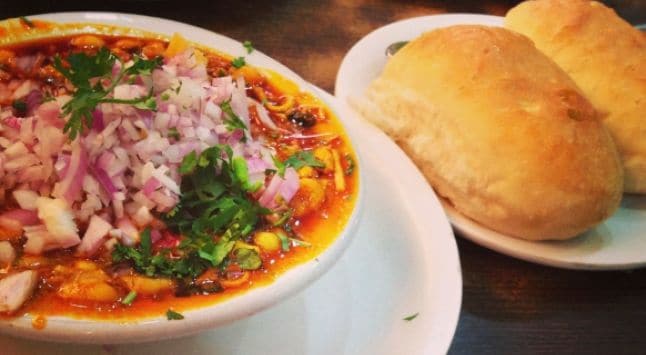 Image Credit: Istock/ ashjadaziz

About the author:
Meher Mirza is an independent writer and editor, with a focus on food and travel. Formerly with BBC Good Food India, she loves anime, animals and artsy things but also comics, technology and death metal.
Disclaimer:
The opinions expressed within this article are the personal opinions of the author. NDTV is not responsible for the accuracy, completeness, suitability, or validity of any information on this article. All information is provided on an as-is basis. The information, facts or opinions appearing in the article do not reflect the views of NDTV and NDTV does not assume any responsibility or liability for the same.
The story of