The most satisfying thing to do after work is enjoying a wholesome and comforting meal! The pleasure of indulging in a delicious meal is what we seek; it is the perfect escape from the hustle-bustle of our daily routine. Our go-to way of finding this foodie delight is to whip some scrumptious comfort food. Rajma chawal, lemon rice, khichdi - all these comfort dishes just soothe our soul. Today, our love of comfort food has made us shortlist some of the most delicious comfort dishes from South Indian cuisine. These mouth-watering South Indian comfort foods shall make you fall in love with food, all over again.


Also Read: 8 Rice-Based Comfort Foods Of India You Should Try At Least Once
5 South Indian Comfort Foods You'll Fall In Love With:
1.Curd Rice - our recommendation
There is no one common method to make this. Some might like to have rice mixed with buttermilk; others might mix curd and rice and temper it with classic south Indian flavours. Whatever the method might be to make this dish, the taste is always wholesome.
Click here for the full recipe of Curd Rice.
2.Tamarind Rice
Tamarind rice is another south Indian treat that we cannot get enough of. Rice mixed with some tamarind pulp and select spices, this tangy comfort meal will surely leave you craving for more. It is stunningly spicy and sour, and an absolute delight to come back to after a long day at work.


Click here for the full recipe of Tamarind Rice.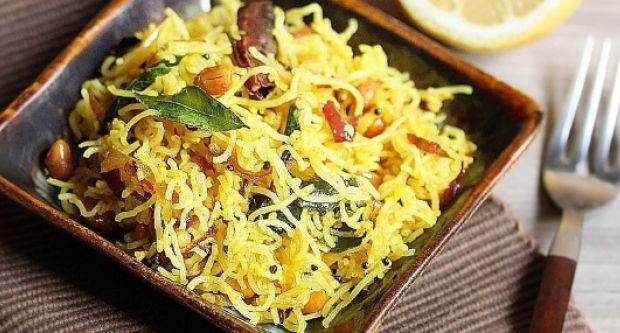 3.Lemon Rice
This South Indian comfort food is a rice dish you can prepare in a jiffy. It is perhaps one of the easiest and quickest makeovers you can give to your leftover rice. Lemon and curry leaves are both bold in terms of flavour. You can pair lemon rice with sambar or coconut chutney.


Click here for the full recipe for Lemon Rice.
4.Appam And Stew
Chicken stew (chicken ishtu) is a Kerala-style coconut rich curry recipe that makes for a good side dish with Appam. Chicken and potatoes simmered in coconut milk are served with Appam, a rice pancake. This combination is one of the most beloved breakfast comfort meals.


Click here for the full recipe of Appam And Stew.
5. Idli Sambar
If there was ever a contest on the most popular South Indian breakfast, the classic idli-sambar combination is likely to win by a huge margin. The dish may be traditionally consumed during breakfast, but foodies will argue that it tastes just as delectable any time of the day.


Click here for the full recipe of Idli Sambar.


Try out these delicious South Indian comfort foods and let us know which one is your favourite in the comments section below!