It's the quintessential stereotype - full meals at a South Indian restaurant with large quantities of fluffy polished white rice served in multiple courses (from sambarto rasam to curd). But not all South Indian meals are 'full meals'. Whether it's a quick fix dinner, a convenient 'dry' option for a lunch box or a festive special, one-dish rice meals are an integral part of menus across South India. And we're not just talking biryani here. Variety rice, mixed Rice; these are some of the descriptions for South India's obsession (especially in Tamil Nadu and Karnataka) with rice dishes that are also one-dish meals. Some rice dishes (like the Bisi Bele Bath) need to be served piping hot while some others (like Vaangi Bath) work equally well at room temperature.


It's not all crafted with the same rice varietal. From the small grain Seeraga Samba that is an essential ingredient in biryanis in Tamil Nadu to the Kaima (aka Jeerakasala rice) that is used for the Malabari biryani and the Kavunni Arisi (a unique black rice varietal) that's almost unique to Chettinad cuisine, there are distinctive rice varieties across the region that differ in flavour, texture and even colour.


We pick ten of the most popular rice dishes from across South India:
1. Puliyogare


Often referred to as Tamarind rice, this rice dish tastes quite different from Andhra (Pulihora here) to Karnataka to Tamil Nadu. Served for festive occasions and also as a temple 'Prasad' in many temples in the region, the Puliyogare usually features a strong mix of spices along with tamarind and the unmistakable aroma of gingelly oil.


For the recipe, click here - Puliyogare.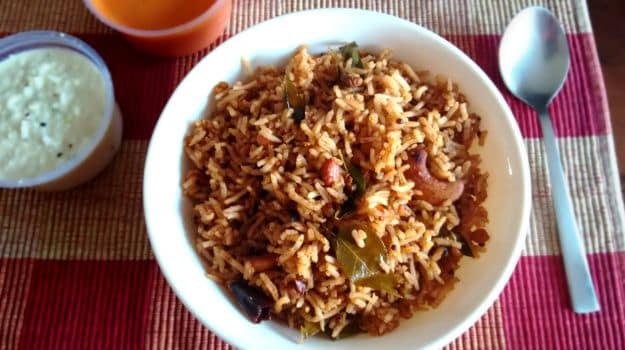 The interplay of a whole bunch of spices and generous quantities of sesame oil lends this dish a rich, almost complex flavour.

2. Coconut Rice


Not all mixed rice recipe is spicy, this mildly flavoured rice is a case in point. Rice is sautéed (after it is cooked) with an equal amount of freshly grated coconut, cashew nuts and mild spices. This dish is also served for festive occasions and tastes best with Avial or a spicy gravy.


For the recipe, click here - Coconut Rice.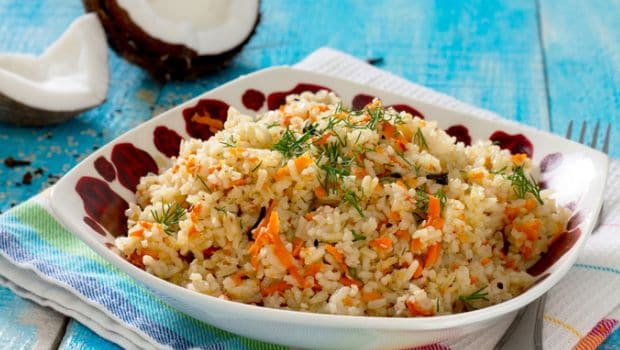 Easy to prepare coconut rice with some urad dal and cashews.



3. Bisi Bele Bath or Sambar Rice

Sambar Satham (Rice) is a quintessential part of every 'business lunch' or thali in Chennai restaurants. This is a lighter version compared to the Bisi Bele Bath - nothing beats the versions in Bengaluru and Mysuru (where the rice is sometimes topped with some boondi), which features more spices and typically more generous quantities of ghee.


For the recipe, click here - Bisi Bele Bath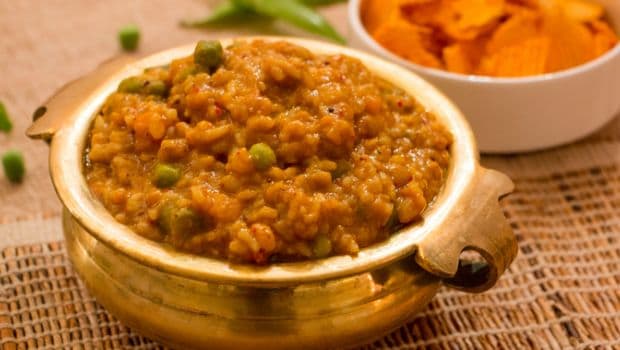 Bisi Bele Bhaat or Bisi Bele huli anna is one of the traditional karnataka recipe, prepared in almost every kannadiga's home.

4. Sesame Rice


Incredibly quick and delicious (unless you don't fancy the piquant flavours of sesame), this mixed rice version derives almost all its flavour from the white sesame seeds and gingelly oil (used for tempering). Tastes almost equally good with brown rice and is the perfect quick fix if you are stuck with 'leftover' rice.


For the recipe, click here - Sesame Rice.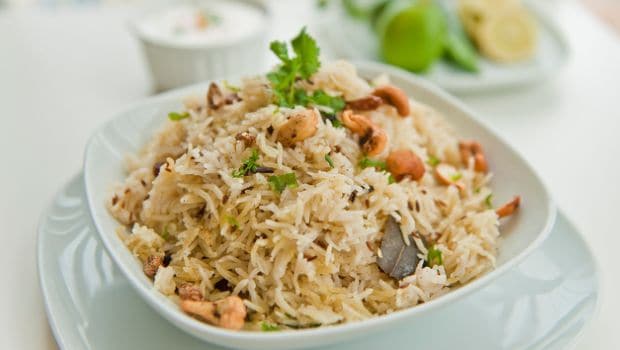 Steamed rice tossed with a spice mix, a tangy tamarind based pullikacchal masala and the added crunch of peanuts.



5. Lemon Rice


A regular in most school and college lunch boxes and not without reason. This is the perfect quick fix on days when you oversleep or can't find food in your refrigerator. All you need is the juice of one or two lemons and the usual ingredients (that include turmeric, curry leaves, urad dal, mustard) to 'temper' the rice with. Jamie Oliver is a fan too, recommending this as an accompaniment for Indian and Thai-style curries.


For the recipe, click here - Lemon Rice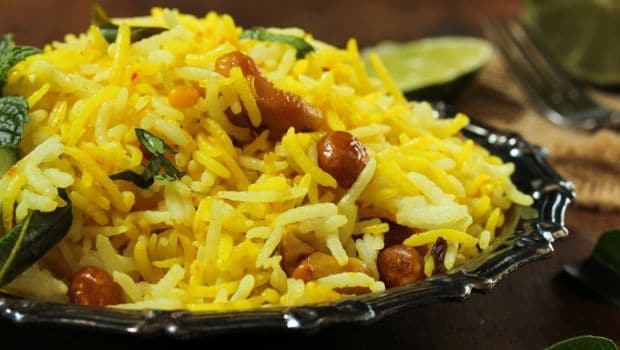 A quick and easy serving of lemon flavoured rice with a host of spices.



6. Karuvapellai Satham


Healthy, yet delicious! Curry leaf rice with all the goodness (vitamins, calcium and iron) and flavours of curry leaves, this is a popular mixed rice option across Tamil Nadu. You can also substitute the curry leaves with coriander leaves; the result - an even brighter green version that is equally tasty.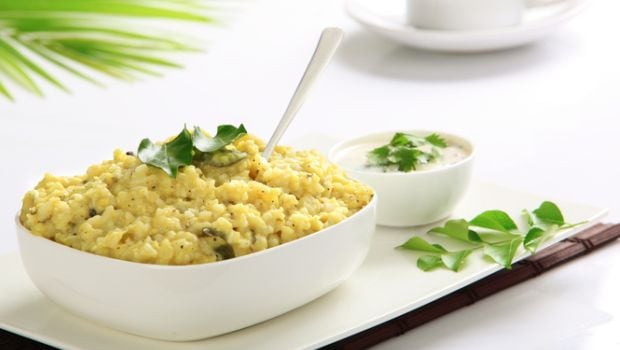 A typical Tamil Brahmin recipe without onion and garlic.

7. Bagara Annam


Arguably Telangana's best known rice dish after the ubiquitous Hyderabadi biryani. Bagar is the Urdu word for tempering (or seasoning). Bagara Annam is the perfect foil for some of the region's chicken or mutton gravies. It's usually cooked with Basmati or Sona Masuri rice just like a pulao with generous amounts of coriander and mint leaves.


For the recipe, click here.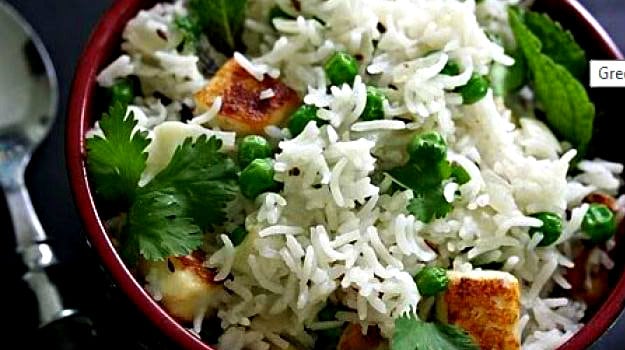 Bagara Baingan is a popular Hyderabadi dish.
8. Brinji Rice
There's enough evidence to suggest that the Brinji rice preceded the biryani in Tamil Nadu, the dish takes its name from the main spice (brinji leaf - bay leaf in Tamil) that is used to flavour this dish. Some culinary historians suggest that this rice (just like the biryani) is influenced by Mughal cuisine. It's vegetarian though and is characterised by the usage of coconut milk and how the vegetables are marinated along with the spices to lend the dish its rich flavour and aroma.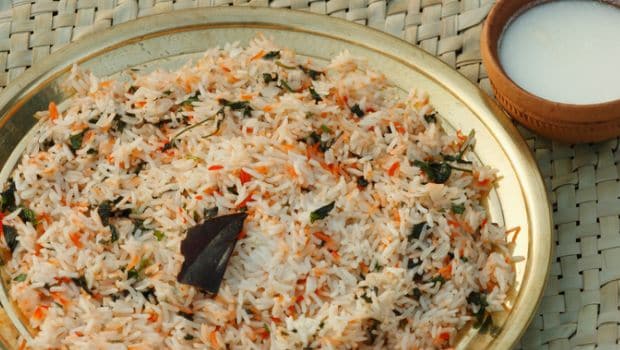 The flavour of bayleaf along with other masala ingredients gives this rice a rich flavour.

9. Vaangi Bath


It is synonymous with Mysuru where the dish is an integral part of wedding menus. The dish's key ingredient - the bottle-shaped green brinjal is commonly found in these parts. It's rich in flavour and manages to hold its own despite the presence of a bunch of spices that come together in a unique Vangi Bath Masala that's available in super markets across India. It tastes best with a Mosaru Bajji (Raitha), Sandige (rice crispies) or Happala (Papad)


For the recipe, click here - Vaangi Bath

The flavour of bayleaf along with other masala ingredients gives this rice a rich flavour. A perfect dish for parties.

10. Curd Rice


The pre-mixed curd rice (also known as Bagala Bath) is not just incredibly quick to fix but is also a summer favourite. There's no one method to make this. Some homes do a 'tightly packed' version with very little curd while some others do a version with thick and creamy curd. It's common to add warm milk along with the curd for a different consistency and flavour. You can also play around with the flavours either by adding dry roasted chillies or finely chopped green chillies or do a sweeter version with fruits like pomegranate and green grapes.


For the recipe, click here - Curd Rice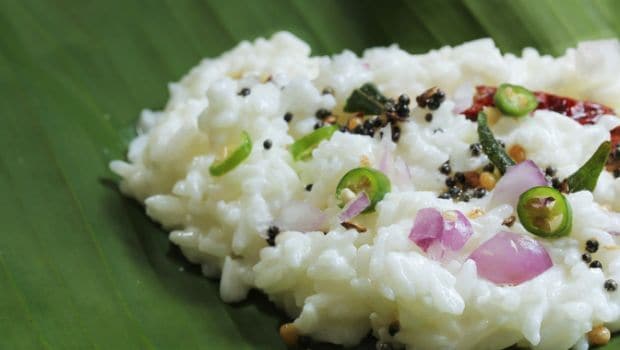 An easy to make curd rice recipe. Tempered with mustard seeds, red chillies, dals and curry leaves.
About the Author:


Ashwin Rajagopalan is a cross cultural training expert and lifestyle writer. When he's not writing about food, he thinks about gadgets, trends and travel experiences. He enjoys communicating across cultures and borders in his weekday work avatar as a content and editorial consultant for a global major and one of India's only cross cultural trainers.


Disclaimer:


The opinions expressed within this article are the personal opinions of the author. NDTV is not responsible for the accuracy, completeness, suitability, or validity of any information on this article. All information is provided on an as-is basis. The information, facts or opinions appearing in the article do not reflect the views of NDTV and NDTV does not assume any responsibility or liability for the same.
About Ashwin RajagopalanI am the proverbial slashie - a content architect, writer, speaker and cultural intelligence coach. School lunch boxes are usually the beginning of our culinary discoveries.That curiosity hasn't waned. It's only got stronger as I've explored culinary cultures, street food and fine dining restaurants across the world. I've discovered cultures and destinations through culinary motifs. I am equally passionate about writing on consumer tech and travel.