With a vast expanse of different regions, cultures, religions and weathers, one thing that combines and unites the people of India is food. Each region posts its distinguishing characteristics in its cuisine and contributes to making Indian cuisine whole. Here we are focusing on the very popular Rajasthani food that has traversed the boundaries and found a place on plates all over the country. While Rajasthani cuisine offers some delicious non-veg dishes like Laal Maas, it is a food haven for vegetarians who constitute the majority of the population in the state.


So, if you are a vegetarian and looking to rev up your meals with new varieties, these veg Rajasthani recipes should be on your wishlist.


(Also Read: 6 Delicious Vegetarian Dishes From Kerala That You Must Try)
Here're 7 Veg Rajasthani Recipes You Must Try:
1. Dal Baati Choorma (Our Recommendation)
This combo meal is undisputedly the most popular dish in the region. Whether we have tried it or not, we all definitely know of it. And if you still haven't tried it, here's your chance to do it. Click here for the recipe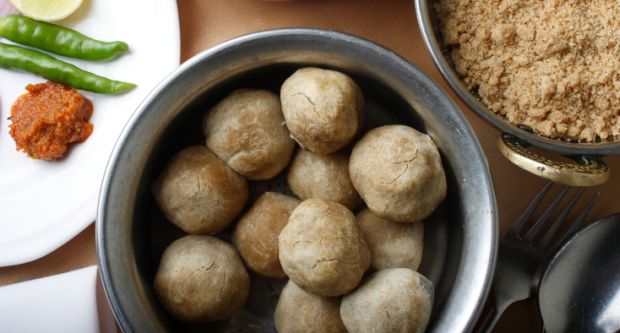 2. Rajasthani Kadhi
You'll find different versions of kadhi in different states of India. But Rajasthani kadhi is a complete knockout. With a delectable combination of whole red chillies and green chillies, this kadhi is apt to pair with roti or rice, or both. Click here for the recipe.


3. Gatte Ki Sabzi


Another curd-based gravy with besan dumplings, this gatte ki sabzi is spicier, tangier and brims with a variety of flavours. It is also very easy to make. Here's the recipe you can try at home.


4. Mirchi Vada


Large mirchis are stuffed with masaledaar aloo stuffing and deep-fried to give you a crispy, drool-worthy snack from Jodhpur, which no one can say no to. Are you ready to spice up your evening tea-time? Try this recipe today.


5. Veg Jaipuri


An assortment of seasonal vegetables goes into making this vibrant Jaipur-special dish that you can easily make in your own kitchen. A bevy of aromatic spices makes this recipe a must-try. Here's the recipe.


6. Rajasthani Dal Banjara


Yes, we already have a long list of dals that we can make any day, any time, but this Rajasthani Dal Banjara offers a completely new experience that you are bound to love. Urad dal and chana dal come together to make this earthy and zesty dal. Click here for the recipe.


7. Pyaaz Kachori


Move over dal or masala kachori, this pyaaz kachori from Jaipur will make you salivate every evening after you've tried it once. The onion filling has a distinct sweet, spicy and sour taste that makes this kachori a hit with everyone. Here's the recipe.
If you are new to Rajasthani cuisine, you must try these veg recipes at least once in your life.
About Neha GroverLove for reading roused her writing instincts. Neha is guilty of having a deep-set fixation with anything caffeinated. When she is not pouring out her nest of thoughts onto the screen, you can see her reading while sipping on coffee.