In India, no meal is complete without a
sweet
treat. No matter how full you are, you will always find room for this final course to end your meal on a sweet note! One would regard it as an indulgent habit, but to finish your meal with a good round of
desserts
is more like a tradition. Just like every other dish, Indians love experimenting with their desserts too, combining unique ingredients and cooking styles which can sometimes shock your imagination. These quirky Indian desserts boast of diverse and interesting flavours and can be found in different parts of the country. If you haven't tried them yet, then they should definitely be on your foodie bucket list.
1. Patoleo
Patoloeo is made by spreading rice paste over a turmeric leaf and then steaming it. This Goan delight is stuffed with coconut jaggery, powdered cinnamon and fresh grated
coconut
. Hot and steamed, it is mostly enjoyed during the
monsoon season
.
Where to find : Caetano de Albuquerque Rd, Opposite Hotel Delmon, Altinho, Panjim, Goa
2. Parwal Ki Mithai
In Bihar, parwal or pointed gourd is transformed into a lovely dessert. Parwal is a popular Indian gourd and
summer
vegetable that most people dislike, but this sweet treat is absolutely delicious.
The vegetable is first boiled and then soaked in sugar syrup for an hour. Later, it is loaded with lots of rich khoya.
Where to Find: Bikaner Sweets,Sri Krishna Puri, Patna, Bihar
3. Chena Poda
This cottage cheese dessert from Odisha literally translates into burnt cheese. 'Chena' in Odia means cottage cheese and 'poda' means burnt. Cottage cheese is kneaded carefully with sugar and dry fruits and baked until it turns golden brown. It is crisp on the outside and soft and gooey on the inside. The combination of caramelised sugar and burnt cottage cheese makes it a divine indulgence you wouldn't want to miss.
Where to Find: Jaydev Vihar, Opposite To IDBI Bank, Bhubaneswar, Odisha
4. Maa Vilakku
Maa Vilakku is a unique sweetmeat from South India that is offered to deities on festive occasions. It is made with
rice flour
and moulded in the shape of a lamp (diya), and is actually lit with ghee poured in the middle. It is prepared with a smooth and soft rice flour dough which is mixed with jaggery and flavoured with cardamom powder.
Where To Find: SGS Complex, No. 1 Tolgate, Pichandavar Kovil, Srirangam, Tiruchirappalli, Tamil Nadu
5. Shor Bhaja
Bengalis and their fondness for sweets is known to all. 'Shor' or 'Shaur' in Bengali means malai or cream, and 'Bhaaja' means fried. It is prepared by frying condensed milk until it turns golden-brown. Originally from Krishna Nagar in the Nadia district of West Bengal, the Shor Bhaja is probably one of the toughest sweets to make because you have to gradually add layers of milk till it cooks and make sure that it doesn't burn. It is a very delicate and toast-like crisp sweet.
Where to find: Mouchak,23, Gariahat Road, Golpark, Ballygunge Gardens, Gariahat, Kolkata
6. Awan Bangwi
Exclusively prepared in Tripura, Awan Bangwi is a cone shaped dessert made with sticky rice, cashews, raisins, almonds and oodles of ghee to hold the cone together . This mixture is then put in cones made of banana leaves and is steamed.
7. Gokak Karadantu
Karadantu, which translates into 'fried edible gum' in Kannada. The sweetmeat is unique to the Gokak region of Karnataka. Packed with flavours of jaggery, raisins, cashew nuts, copra, peanuts, nutmeg and other dried fruits, the nutty delight is fried in ghee and edible gum, giving it its characteristic chewy texture.
Where To Find: Sadanand Sweets, Market Main Rd, Adi Jambav Nagar, Gokak, Karnataka
8. Purnum Burelu
Poornam Boorelu is a traditional Andhra sweet. It looks like a fried dumpling and is made by moulding sweet balls of black gram, jaggery, butter and coconut that are dipped in a dosa batter and deep fried till they become crisp.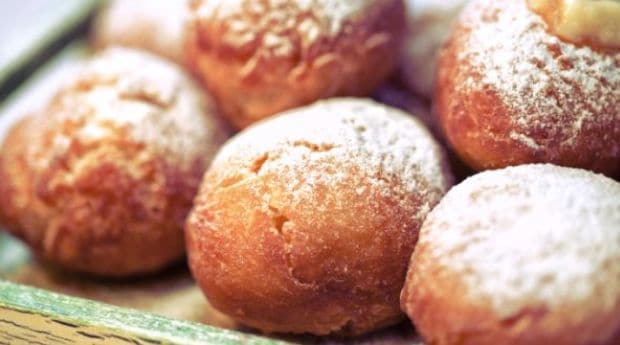 Poornam Boorelu is a traditional Andhra sweet
Where to Find: Pulla Reddy Sweets, Kothaguda X Roads, Hanuman Nagar, Kondapur, Hyderabad, TelanganaThe variety of Indian desserts is quite amazing, isn't it? If you have any favourites, we'd love to hear about them.
About Sushmita SenguptaSharing a strong penchant for food, Sushmita loves all things good, cheesy and greasy. Her other favourite pastime activities other than discussing food includes, reading, watching movies and binge-watching TV shows.