The star of any
Christmas
meal in the US and the UK is the roast-turkey, goose, ham, lamb, even chicken. But back here in
Mumbai
, cooking for a family with varied dietary preferences, I stick to poultry, and I always make it all from scratch. The most important thing to remember is that the true test of a roast is the crisp skin and soft, juicy flesh. After years of horrors, featuring poultry with soggy skin and gristle-dry flesh, I've hit upon a combination of steps that seem to work, almost every single time. There's no doubt that the steps are a bit tedious, but then, Christmas comes once a year, so you may as well throw your heart into producing a magnificent meal.
Roast Chicken or Turkey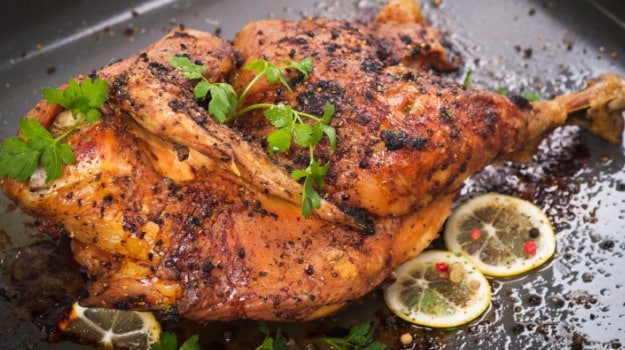 First, brine the bird. Always brine the bird. This means plunging it into a bucket of heavily salted water over night, or dry- brining i.e. using a dry rub made of salt and a few herbs, massaging it onto the skin, and leaving it in the back of the fridge for a couple of days. I do the latter nowadays, because the wet brining system is rather tedious and unwieldy! Before the bird goes into the oven, I rub a herb-fortified butter under the skin. And then after it is in the oven, I keep basting it with butter. Then once it's done, let it rest for about half an hour before you serve it. The result is more than worth it. The only thing to remember is that if you're using chicken, use the dry-brining method for just one night. The recipe below doesn't have quantities, because they vary depending on the size of the bird and your taste.
Ingredients
:Turkey, whole with skin 1
Sea salt or any large-grained salt (approximately 1 tbsp per 2 kilos of turkey)
Powdered herbs (paprika, lemon zest, rosemary, or any of your choice)
Herb butter, at room temperature (make your own by softening your butter and mixing in fresh, finely chopped fresh herbs. This can be made the day before.)
Melted butter, for basting
Onion 1 large, peeled and chopped
Carrots 2, peeled and chopped
Method:
1. Mix the salt with the dried herbs and use it to salt the entire turkey, adding more where the flesh is thicker (like the breast). Massage it gently into the skin. Sprinkle a pinch of salt inside the cavity of the bird.
2. Seal the bird in an airtight bag, and pop into the fridge for about 3 days: the night before, pop it out of the bag, and let it air dry in the fridge. Let it come to room temperature on the day you are going to cook it. Fill the cavity with onions and carrots that have been lightly salted.
3. Once at room temperature, slip the herb butter under the skin, and slide into a hot oven, breast side down, on an oiled baking tray. Half an hour later, turn down the heat to 160 and turn over the turkey. Baste with melted butter, occasionally. It should be done about two hours later. Once it's finished cooking, let it rest for half an hour or 45 minutes, before serving.
Roast Potatoes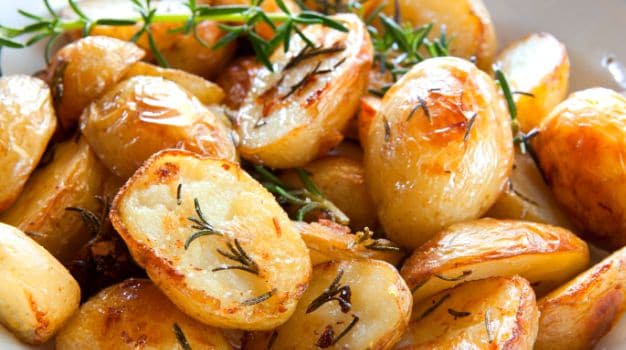 You can have these potatoes with any meat you wish
Potatoes 1 kg
5 tbsp olive oilPeel and quarter the potatoes, then shove them under running water for a few minutes, until the starch has been washed off. Boil the potatoes until a knife runs cleanly through them. Before you pop them into the baking tray, shake them a little so that the sides are a little bruised. This will help them get crisper. Then salt and pop them into a baking tray with about 5 tbsp of bubbling hot olive oil, roasting until golden, turning occasionally (or at least once, to ensure even doneness and crispness). It may take up to an hour and a half, depending on your oven. You can pop the potatoes in with whatever poultry or meat that you are roasting.
Gravy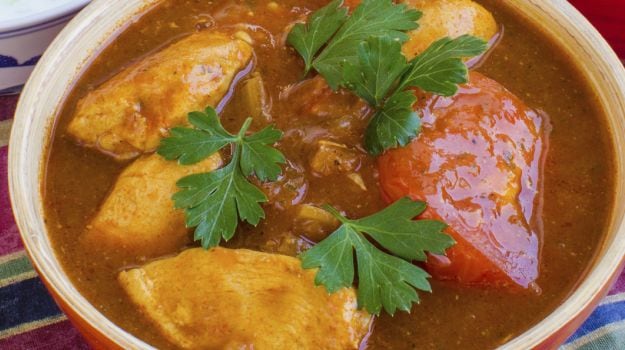 The Internet is rife with recipes of various gravies, albeit with redcurrants and stout, which aren't commonly found in markets in Mumbai. This one's mine, adapted from Nigel Slater, and has ingredients that are quite easily available here.
Ingredients:
Onions 2
Butter 50g
Garlic 6 cloves
Mushrooms 200g
Bay leaves 2 sprigs
Carrot 1
Sweet wine, like port 300 ml
Chicken stock 300 ml, at room temperature
Method
:Chop up the onions and
carrot
. In the meantime, heat up the butter in a saucepan, then throw in the onions. Cook for five minutes, stirring occasionally. Then, chop the
garlic
cloves and toss in, cooking until the onions are palely golden and softened. Add in the carrots next, stirring off and on so they don't burn on one side. Meanwhile, halve or quarter your mushrooms, and pour them into the mix, along with the thyme. After the mushrooms have softened, lob in the stock and sweet
wine
, and let it all come to a bubbling, roiling boil. Then, lower the temperature, and simmer for about half an hour, until the flavours have deepened and the gravy has thickened. Add the seasoning as necessary.PS. It's a good idea to make the gravy the night before. Not only will it save you labour on Christmas day, the flavours will have time to come together further.Once all this is done, may I suggest supplementing this with simple
roast vegetables
(and maybe a store-bought Christmas pudding)? After all, it's the extras that make the feast. I know that all this sounds like a massive truckload of work, but trust me, it will all be worth it when happy smiles go round the table and everyone staggers off with full bellies and warm memories of a wonderful Christmas day.
About the Author:Meher Mirza is an independent writer and editor, with a focus on food and travel. Formerly with BBC Good Food India, she loves anime, animals and artsy things but also comics, technology and death metal.Disclaimer:The opinions expressed within this article are the personal opinions of the author. NDTV is not responsible for the accuracy, completeness, suitability, or validity of any information on this article. All information is provided on an as-is basis. The information, facts or opinions appearing in the article do not reflect the views of NDTV and NDTV does not assume any responsibility or liability for the same.