Indian cuisine is brimming with the diverse regional culinary offerings. One can easily describe Indian cuisine as a vibrant play of flavours and colours. When it comes to lavish non-vegetarian feast, there is possibly nothing that cannot impress. Be it heavenly mutton korma, chicken nihari, mutton biryani, chicken biryani, and much more, one simply cannot resist the sublime flavours of regional dishes.


Rajasthani cuisine resonates with royalty. From its culture, heritage, traditions and food - it has a deep-rooted history that goes back to thousands of years. While speaking of non-vegetarian recipes, one just cannot neglect the laal maas supremacy. But trust us, this royal cuisine goes far beyond laal maas. A mutton lover's dream, it is one cuisine that is full of mutton recipes that are rich, flavourful and extensive to the core. If you are a mutton lover just like us, here we bring you 5 Rajasthani mutton recipes that can be easily prepared at home. So, without any further ado, let's get started. Read about them below.


Also Read: 7 Sumptous Rajasthani Recipes | Popular Rajasthani Recipes
Rajasthani Cuisine: Here's A List Of 5 Rajasthani Mutton Recipes You Can Try At Home:
1. Laal Maas
Let's start the list with everyone's favourite- Laal Maas. This curry is considered to be one of the spiciest curries in Indian cuisine. This iconic dish is slow cooked with red chillies, meat, yogurt, spices and herbs until it is seared. The extensive use of local Mathania chillies is sure to make you sweat and burst your ears and taste buds! If you are a spicy food lover, this recipe is for you. Click here.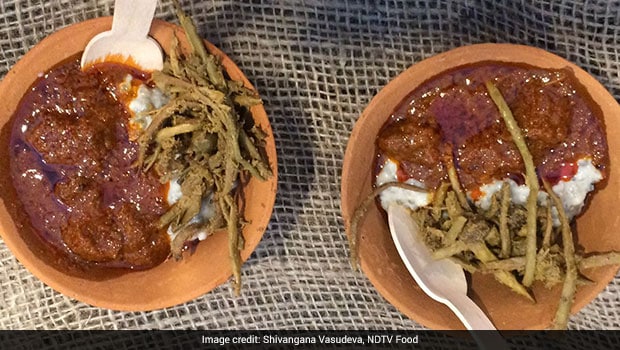 2. Safed Maas
Unlike laal maas, this mutton recipe is less rustic and spicy in nature. As the name suggests, safed maas means white mutton. So, this dish is basically a white mutton stew cooked in dahi, milk, cream, nuts and other subtle spices. It is best enjoyed with roti or naan, pickle and onion by the side. Find the recipe here.
3. Banjara Gosht
If you are looking for an easy, simple yet very delectable mutton curry recipe, then this dish is a must try. It is made without any marination and can be made with easily available ingredients found in your kitchen pantry. Click here for the detailed recipe.
4. Aloo Gosht
Here we bring you another easy and simple mutton curry recipe known as aloo gosht. A home-style mutton recipe made with simple spices and big chunks of flavourful potatoes. Pair it up with your regular chapatis and your wholesome meal is ready to be devoured. Find the full recipe here.
5. Gosht Ke Soole
Rajasthan's special tandoori snack! This appetiser dish can be a treat to your family at any time of the week. This gosht ke soole can be paired with roomali roti or naan and voila, there you get a royal treat right in front of you. Watch the full recipe video here.
While there is no dearth of Rajasthani delights out there, the ones mentioned above are sure to impress you, your family and friends. Tell us the recipe you liked the most in the comments section below. Happy cooking!