It's the Easter weekend, time to enjoy the long sunny days and the four-day holiday. After all, long weekends are few and far between, so it's only natural that everyone wants to make the most of them. It seems like Bollywood actor
Bipasha Basu
is taking her long weekend very seriously. The diva, who is also incredibly fit, usually has a strict and restrictive diet consisting of low-fat and healthy foods only. The bong beauty even avoids eating white rice, despite her Bengali roots, and opts for wheat chapatis instead. However, this Thursday, Bipasha indulged her sweet tooth by binging on a sinful dessert.
Bipasha posted the picture of a beautiful and perfect coconut panna cotta on her Instagram stories, which looks just too pretty to eat. Have a look!Also Read: 9 Times Karan Singh Grover Gave Us Major Food And Fitness Goals
​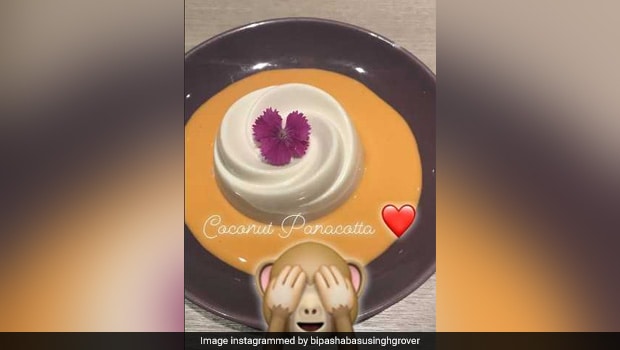 Panna cotta is an Italian dessert that is made by mixing thick sweetened cream with gelatine and setting it in a mould. Panna cotta is a flavoured with coffee, vanilla and other flavourings. It is usually topped with pureed, chopped or whole fruits like berries, mango, etc. The dessert is creamy and rich and has become very popular around the world, with chefs and culinary experts experimenting with various flavours - fruity or otherwise. The dessert is refreshing, especially when served on a hot summer's day, as it's usually served cold. However, what we want to know is how exactly Bipasha manages to look the way she does and still eat these sinful desserts! It's a well-known fact that Basu is a foodie and Bengali cuisine is her favourite.
This is a prime example of Bipasha's love for food, especially when it's prepared by her mother. On any normal day though, Bipasha's diet is extremely stringent. The beauty has fruits, egg whites, and toast with mushrooms and porridge with skimmed milk for breakfast. For lunch, she eats dal, grilled fish or chicken, salad and soy chapattis; and for dinner, she only has vegetables tossed in olive oil, grilled fish and chicken and a small amount of dessert. Well, we wish you enjoy binging on the weekends Bipasha!