Instagram/stay_blissedThe nine day long festival Navratra is back and Hindus around the world have decked up to welcome Goddess Durga as she descends upon the earth to bless her beloved devotees. There are four navratras in an year but only two of them Chaitra Navratri and Sharad Navratra are celebrated widely across the country, the other two are gupt(secret) and observed only by sadhaks. Chaitra Navratri is celebrated in the Chaitra month of the Hindu calendar. In these nine days of festivities nine forms of Durga(Nav Durga) are worshipped and please by special offerings by their devotees.These nine forms are The nine forms of Durga are Shailputri, Brahmacharini, Chandraghanta, Kushmanda, Skandmata, Katyayani, Kaalratri, Mahagauri and Siddhidatri.The third manifestation of Durga is Goddess Chandraghanta or Chandra-khanda. As per the legends she is depicted as a fierce 10-armed Goddess, roaring in anger. Worshiped on the third day of Navratri, Goddess Chandraghanta is ferocious deity riding a tiger, holding various weapons and swords in her 10 arms. She has a golden complexion and on her forehead she wears a crescent moon, which is why she is called Chandraghanta by her devotees.(Also read:
Chaitra Navratri 2017: Day 2- Maa Brahmacharini Pooja, Prasad & Mantra
)According to scriptures during a great battle between gods and the demons, the sound vibrations produced by her ghantaa took the lives of many wicked demons. Devotees please the Goddess by offering milk, sweets or kheer on the third day of navratri. In her warring disposition, she is ready to rid the world of all the sins, physical sufferings, and evil powers and spirits. Tough on exterior but motherly and compassionate to her worshipers, Goddess Chandraghanta fights and destroys all foes that bring about any hurdles in her devotees life.Devotees please the Goddess by offering milk, sweets or
kheer
on the third day of navratriDevotees please the Goddess by offering milk, sweets or
kheer
on the third day of navratra=i. We bring you 5
kheer
recipes you can prepare to please the deity, while observing your Navratri fast.
1.
Low Fat Makhana Kheer
Recipe by Chef Gunjan Goela
Milk simmered with lotus seeds with nuts and a tinge of cardamom. (Also read:
9 Health Benefits of Makhanas
)
2. Vratwali Kheer
Recipe by Niru Gupta
This preparation is made of
parsai
, a rice-like ingredient, that can be consumed during the Navratri fasts.
3. Sabudana Kheer
Recipe by Niru Gupta
Your favourite multipurpose
Navratri
ingredient Sabudana can pan out in a delicious
kheer
preparation as an offering to Maa Chandraghanta. Flavoured with cardamom and saffron, this is one quick and easy Navratri dessert you should not miss out on.(Also read:
Beyond Cereals: Sabudana, the Healthy Carb and How to Cook it
)
4. Badaam Kheer
Recipe by Niru Gupta
This thick and creamy dessert loaded with grounded almonds and flavoured with cardamom and saffron makes for a great Navratri treat.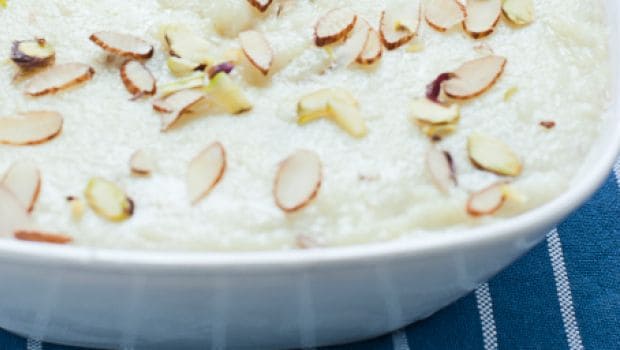 5. Pineapple Payasam
Recipe by Niru Gupta
Give a fruity and nutty twist to your traditional
kheer
with this traditional South Indian specialty loaded with chunky pineapples and crunchy cashew nuts.
About Sushmita SenguptaSharing a strong penchant for food, Sushmita loves all things good, cheesy and greasy. Her other favourite pastime activities other than discussing food includes, reading, watching movies and binge-watching TV shows.