A flurry of freeze-dried coffee adds unexpected finesse to your baking - try it with a moist mascarpone for a posh pudding, or tease out its fruity notes in a cherry cake.
Coffee snobs, look away now. This week, in a caffeine-fuelled haze, I've gone through a whole pint jar of instant coffee granules: in macarons, cakes, coffee-chocolate cookies and mocha bars. Forget your wincingly expensive whole beans - when baking with coffee, the kick of flavour and ease of use of the instant stuff is all you need. Anything more nuanced risks being lost against the richness of butter, eggs and sugar. It's about more than just coffee and walnut cake, too: combine it with thick mascarpone for a sophisticated dessert, or play to its fruitier notes with a cherry and cardamom cake.

Coffee, cherry and cardamom cake

It might only be a simple sandwich cake, but this teatime treat doesn't compromise on flavour; it's lifted by a sharp kick of cardamom and brightened by tart Morello cherry jam.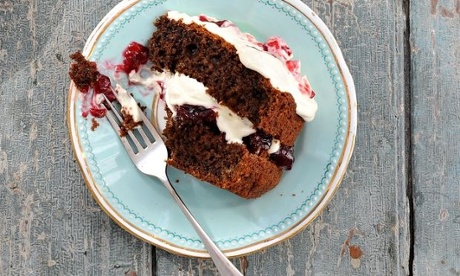 Serves 8-10
2 tbsp instant coffee granules
50ml hot water
150g unsalted butter, softened
175g soft light brown sugar
3 large eggs
175g plain flour
1½ tsp baking powder
½ tsp bicarbonate of soda
Seeds from 4 cardamom pods, crushed
A large pinch of salt
For the filling
2 tbsp instant coffee granules
2 tbsp soft light brown sugar
75ml hot water
125g morello cherry jam
225ml double cream
1 Preheat the oven to 180C/350F/gas mark 4. Grease and line a 20cm round cake tin - preferably spring-form.
2 Dissolve the coffee in the hot water and leave to cool. Meanwhile, beat the butter until smooth and soft before adding the sugar. Cream the butter and sugar together for a 3-5 minutes, until the mixture's lighter and fluffier - if it still feels waxy and heavy, it needs more time.
3 One at a time, beat the eggs into the butter and sugar mixture, adding 2 tbsp of flour with the final egg to avoid curdling. Stir in the cooled coffee. In a separate bowl, mix the remaining flour, baking powder, bicarbonate of soda, cardamom and salt. Add this to the wet ingredients and stir for just as long as it takes to achieve a smooth batter.
4 Spoon the batter into the tin and bake for 35-40 minutes, or until well-risen and cooked through so that a knife inserted into the centre comes out with just a few crumbs stuck to it. Leave to cool on a wire rack.
5 Halve the cooled cake horizontally. Dissolve the coffee granules in the hot water and drizzle over the two layers. Spread the lower half with 100g of the cherry jam. Whisk the cream until thick enough to hold soft peaks (take care not to over-whip it, or it'll separate and become grainy as it churns to butter). Spread half of the cream over the jam and sandwich with the upper layer of cake. Spread the remaining cream on top. Sieve the last 25g jam and add a few drops of water to it to slacken slightly. Drizzle this over the top. Serve soon after assembling.

Coffee mascarpone cheesecake
I don't think desserts come better than a good cheesecake. It should be unashamedly rich, perfectly smooth and sat proudly atop a buttery biscuit base (those who insist on a pastry case for their cheesecakes are, I think, missing the point entirely). This one is a grown-up version, with an almondy base and thick, coffee filling.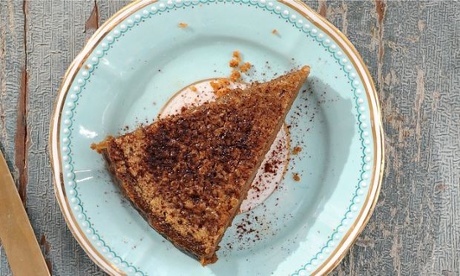 Serves 8-10
75g unsalted butter
100g digestive biscuits
50g amaretti biscuits
For the filling
3 tbsp instant coffee granules
3 tbsp hot water
500g mascarpone
125g light brown soft sugar
3 tbsp cornflour
2 tsp vanilla extract
A pinch of salt
3 large eggs
1 tbsp cocoa powder, for dusting
1 Preheat the oven to 180C/350F/gas mark 4. Melt the butter over a low heat while you crush the biscuits to a fine rubble in a large bowl. Stir the butter into the biscuits until the powder holds together in clumps when squeezed. Press the mixture into a 20cm round spring-form cake tin, packing it firmly under the back of a spoon. It's important to properly compact the mixture otherwise rogue crumbs will float upwards through the cheesecake mixture during cooking, pockmarking the dessert's surface.
2 Bake the base for 10 minutes, keeping a close eye on it, to make sure that the biscuits don't burn. It should be just about firm.
3 Leave the base to cool slightly while you prepare the filling mixture, and turn the oven down to 140C/275F/gas mark 1. This might seem like too low a temperature to bake with, but it's this long, slow cook that'll give the cheesecake a perfectly smooth texture. You can achieve a similar result by baking the cheesecake in a water bath, but I've had too many disasters with flooded cheesecakes to sincerely be able to recommend that method.
4 Dissolve the coffee granules in the hot water then set aside to cool slightly. Stir the mascarpone with the sugar and cornflour in a large bowl until smooth and lump-free. Add the vanilla extract and salt. Add the eggs one at a time, stirring well between each addition. Finally, mix in the cooled coffee.
5 Pour the cheesecake mixture over pre-baked base and bake for 1-1¼ hours: be patient with it, give the cheesecake as long as it takes for it to just about set. When lightly jiggled, it should barely shimmy at its centre and be firm at the edges. If you overcook it, waiting for it to be perfectly solid all over, it'll be more likely to crack as it cools.
6 Leave the baked cheesecake to cool in its tin before gently unmoulding and chilling. Just prior to serving, lightly dust a little cocoa powder over the top.
Ruby's first book, Crumb, is out now. To order a copy for £13 (RRP £20) with free UK p&p, visit bookshop.theguardian.comor call 0330 333 6846

Instant coffee is all you need, anything more nuanced risks being lost against the richness of butter, eggs and sugar Photograph: Jill Mead/Guardian