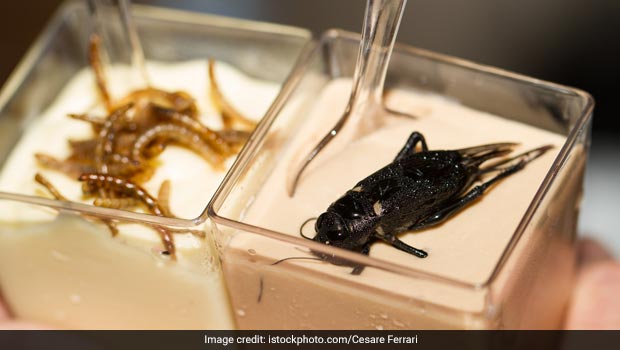 Summers are officially here in India, and as temperatures around the subcontinent touch new highs every day, we're sure you must be getting increasingly tempted to grab an ice-cream. The chilled ice-creams and milkshakes are honestly one of the best parts of this season. There's little that is as satisfying as enjoying an ice-cream on a hot summer's day. On the other hand, there isn't anything that's as annoying as finding a fly or an insect stuck to your ice-cream cone. At least, that's still the case in some parts of the world.

In some other parts, meanwhile, adding bugs to your food is gaining traction. Eating bugs, as a part of all three meals of the day, has already been hailed as a trend of the future. But, there's an icy treat that is being served in Australia, which is going to make you say, "The future is here!" Last week, a leading international magazine had set up ice-cream stands that were tasked with dishing out free ice-creams, but with bugs on top of them! Before you retch and think this was some sort of a prank or a disgusting joke, we must tell you that the exercise was aimed at raising awareness about food habits that will shape the future.
(Also Read: 5 Places In Delhi-NCR For Yummy Ice Cream Rolls )



With an ever increasing population and overburdened farms and livestock, malnutrition is expected to be one of the main problems in the near future. Food and nutrition scientists have figured out a sublime solution to this problem - bugs! There are two main reasons why insects are hailed as the food of the future. First, they're numerous and will always be, and are unlikely to ever go extinct. Second, they don't consume large amounts of feed, unlike seafood or livestock.

Insect farming isn't as labour intensive as livestock farming, and it is extremely feed efficient, relatively environmentally friendly way of producing protein-rich food that can be used to save millions of people from malnutrition, around the globe. Coming back to the insect ice-creams, there were a variety of 'flavours' and 'toppings' on offer, which had meal-worms, fried crickets, ants, grasshoppers and other insects in them. Flavours included Scurry Berry (blueberry and raspberry ice-cream with a mix of insect bites), Choc Hopper (chocolate ice-cream with grasshopper chunks), Strawberries and Swirls (strawberry ice-cream with meal-worm swirls), and Nutritious Neapolitan (strawberry, chocolate and vanilla ice-creams with mixed critters). Needless to say, all these insects were dead, as they were cleaned and cooked to make them more palatable (kind of).

(Also Read: Cassata: How To Make This Favourite Ice Cream Dessert At Home )


A lot of people who have tasted the ice-creams have posted a mostly favourable review of them. So. if you ignore the 'face value' of the dessert and even ignore the fact that you're putting dead creepy-crawlies in your mouth, you might just end up liking it! Would you consider eating these sustainable foods that are both nutritious and environment-friendly? Let us know your thoughts in the comments section below.


About Sakshita KhoslaSakshita loves the finer things in life including food, books and coffee, and is motivated by self-indulgence and her love for words. When not writing, she can be found huddled in the corner of a cosy cafe with a good book, caffeine and her own thoughts for company.