Durga Puja is here, and what is to unfold in the next five days in the country is nothing short of a spectacle. The festive extravaganza that began on the 26th of September-Shashti, would culminate on the 30th of September-Vijayadashami. For these four-five days, devotees of Goddess Durga offer her with variety of bhog, prasad and puja offerings, till the time she departs for heaven. It is believed that for these couple of days, Goddess Durga visits her maternal home on earth, amidst her devotees and followers and showers them with love and prosperity. In return, her devotees leave no stone unturned in making sure she is fully pampered during her stay on earth.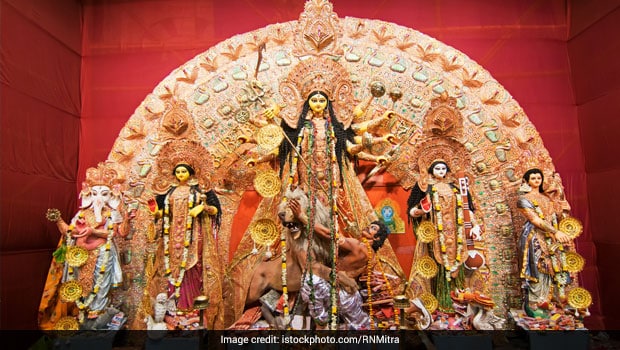 Goddess Durga is offered with variety of puja offerings during four five days.
Feasting forms an inevitable part of the Durga Puja celebrations, from
Mutton Chops
to
ghugnis
and
Mughlai Parantha
. But a bigger highlight of Saptami, Ashtami or Navami has to be the lavish bhog around lunch time(1:30-2 p.m.) which is served to all those who are in the
pandal
around that time for free. Mr. Ashok Chakrabarti, one of the organisers of the Antaranga Puja Samity-Mayur Vihar says, "We have been serving bhog on the Maidaan for the past 20 years. Each year the turnout ranges from 900 to 1000 people easily."
Mrs. Rupa Roy, General Secretary, Maitree Cultural Association, which is conducting the Sarbojanin Durgotsav 2017 at Swagat Park, Link Road, Malad West Mumbai explains the concept of the lavish sit-down bhog arrangements. "Traditionally the
Durga Puja bhog
is prepared by the best known traditional Bengali cooks called 'Thakurs'. A variation of delicious vegetarian dishes, cooked in mustard oil and also ghee, is offered to the deities every day right before it is served to the devotees and guests who come to join in the special sit-down arrangement by the pandal, taking special care of each and every guest who comes in."
If you have happened to read the boards outside every pandal or the pamphlets that do the rounds just before the puja, you may have come across a unique prefix 'Sarbojanin' that adjoins Durga Puja across all boards, hoardings and pamphlet. Sarbojanin translates to a community gathering. A Durga Puja is organised by a group of people in a locality, as it is not quite possible to arrange it on such a large scale individually. Hence neighbourhoods and localities come together to arrange the pujas.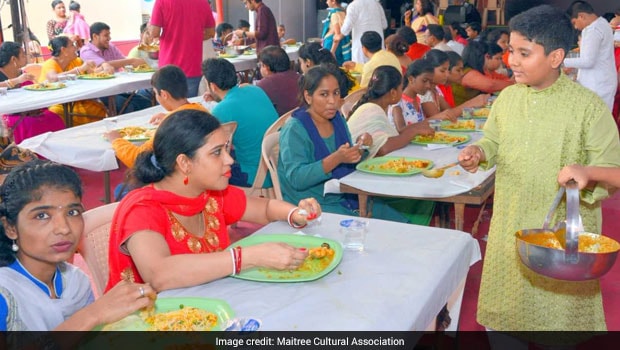 The concept of community pujas also brings people of the entire locality together, regardless of their social strata. It wouldn't be wrong to say that this community spirit reaches its zenith during the bhog, when people irrespective of their social backgrounds queue up to have their delicious serving of piping hot bhog from the counters, chanting -'Baulo Durga Maai ki Jai'(All hail the victorious Maa Durga), to infuse life and the festive spirit amongst those at the pandal.Ms. Roy says, "Bhog is free for all to relish and enjoy, and we have observed an average footfall of more than 700 on all days with Maha Ashtami claiming the highest crowd of almost 1000 plus people from around Malad, Goregaon as well as far off places like Thane and Vashi. The unique feature of their bhog is the individual attention that they give towards each guest as if they were their own house guest. There are rows and rows of chairs and tables. The bhog consists of scrumptious home-made Bengali cuisine like khichuri, chachari, beguni, chatni, mishti doi, loochi, begun bhaja, badha kopi, pulao, aludum, chatni, rasogolla, dal,
shukto
, alu bhaja, alu fulkopi, etc. For Ashtami, which is considered to be the most important day of the festival,
luchi
, pulao accompanied by chana, Veg Korma,
Mishti Doi
, chutney and the indispensable Bengali mishti form the part of Ashtami bhog. While on Navami day, it is the wholesome bhaat tarkari meal. Approximately 40 kg rice, 40 kg dal and about 125 kg of vegetables for the delicious mixed veg preparation called labada are used for the bhog."Here are some indispensable bhog items:
1. Khichdi:
The nation favourite's comfort food khichdi or khichuri is an essential part of Durga Puja bhog, especially on Saptami and Navami. The piping hot Moong Dal Khichdi is prepared for a turnout of about 1000 people, preparations for which naturally begin hours in advance. The khichuri at some places also has addition of peas and certain mild spices, which are enough to please your appetite.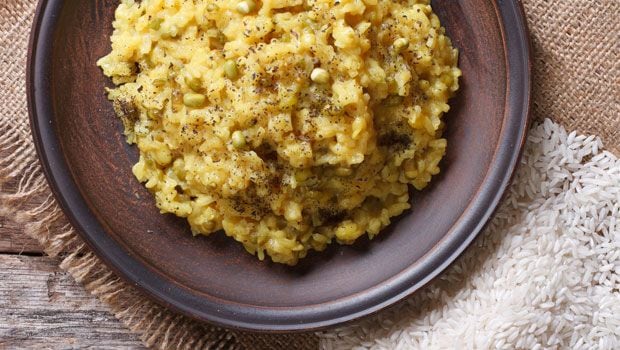 The khichdi may also have an addition of peas and certain mild spices which will please your appetite.
2. Labra:
Labra is an authentic Bengali dish made with a host of vegetables like pumpkin, potato, brinjal, arbi and radish, and spiced with Bengal's local seasoning paach phoron (a mix of five spices) – all cooked in pungent mustard oil.
3. Tomato chutney:
The tang of tomatoes beautifully spiced with mustard seeds, ginger, curry leaves and a pinch of sugar.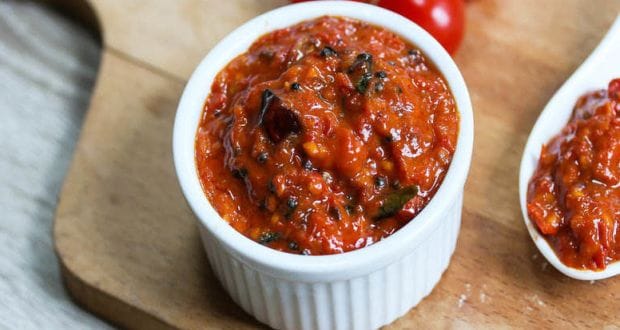 Tomato chutney
4. Payesh:
Payesh is a Bengali version of kheer. Rice and milk pudding flavoured with cardamom, dry fruits and a sprinkle of rose water.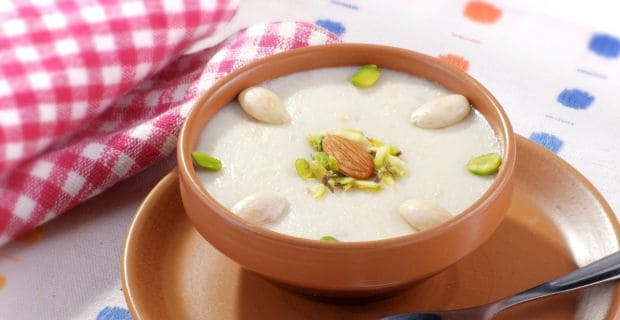 Payesh
5. Begun Bhaja or Beguni:
Beguni or Begun Bhaja is a favourite side dish made with brinjals that are sliced and coated with gram flour before being deep fried in hot oil. Beguni is a simple dish and can be served with rice, luchi or khichdi. You can enjoy Beguni with almost everything, but make sure to serve it piping hot as it tends to become soggy when cold.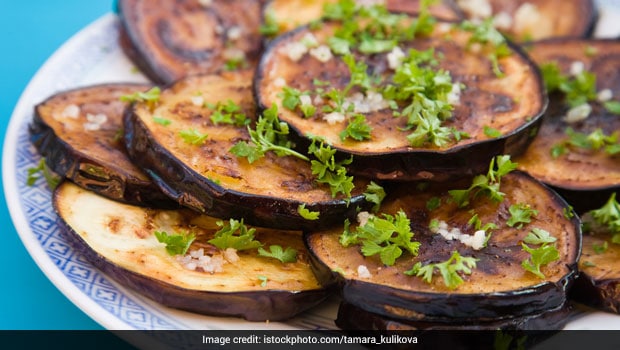 Beguni are always served piping hot.
6. Aloo Phoolkopi:
The delicious potato and thinly sliced cauliflower preparation is made with a host of eclectic spices is one of the best accompaniments to khichuri or luchi.
7. Roshogolla:
Soft and spongy balls made of fresh paneer and dipped in sugar syrup is a must at every Bengali festive occasion and bhog is no exception.
8. Chana Dal:
The spicy hot dal made of Bengal gram or chana dal is sure to leave you wanting for more.
9. Veg Pulao:
Made with Basmati rice, peas, and a hint of clove, Veg Pulao is a common substitute to the khichuri of the Saptami Bhog. The Ashtami Special Veg Pulao is truly a highlight of its own.
10. Mishti Doi:
Mishti Doi or Meethi Dahi is made by thickening milk and is sweetened with jaggery, and is one of Bengali cuisine's marvels.
Next time you visit a Durga Puja Pandal, make sure you sit down for the bhog and satiate yourselves to the fullest. Happy Durga Puja everybody!
About Sushmita SenguptaSharing a strong penchant for food, Sushmita loves all things good, cheesy and greasy. Her other favourite pastime activities other than discussing food includes, reading, watching movies and binge-watching TV shows.