Eateries are going strong on nostalgia with
themed restaurants
cropping up in different cities, all capitalizing on favourite TV shows from the years gone by.
Batman and Wonderwoman, the Addams family and F.R.I.E.N.D.S. themed restaurants have opened during the recent months.
"I am an 80s kid and when I grew up in India there were only a few cartoons like 'Donald Duck,' 'Scooby Doo' and 'Addams' Family,'" says Karan Parvesh Singh who co-owns The
Addams' House eatery in Gurgaon. "Addams' Family for me was not just a haunted house. It was haunted in a sense that I felt they are my friends. So I wanted to relive that moment," he says. Inspired by the popular fictional series - 'The Addams Family' by American cartoonist Charles Addams, the place is the latest addition to the town's breweries. The interiors resemble gothic architecture, with a tone of Victorian opulence and signature elements from the series. There is a wall size display of all members of the Addams' family complemented with anecdotes, a crooked staircase to the terrace, cobwebbed backrests for the bar stools etc.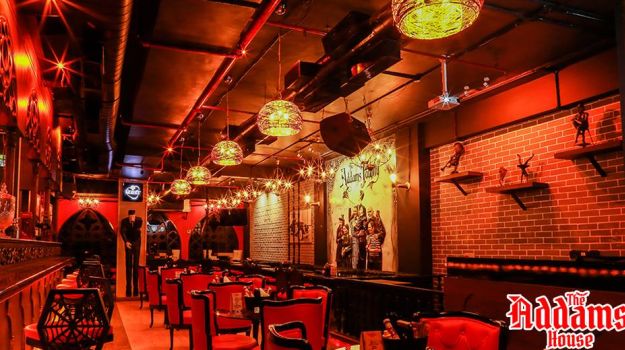 Picture Credit: Facebook/The Addams House
"If you remember the Addams' family movies, then you must have seen that they played very well with the gothic architecture. We took the inspiration and tried and incorporated the gothic elements from it," says Singh. The menu, which is a mixture of American and Indian cuisines, only vindicates Karan's fandom even more, with items like Grandma's favorite fish n chips, Bloody Chicken Wings, The Butcher Shop among others. "As it was an American series, we wanted to bring the international flavour so that it justifies the inspiration. So we kept a classical American menu. We have also incorporated an inverted American flavour where we have fused classic Indian and American elements to get out a better dish," he says. Some of these dishes include 'Rajma Chawal Balls' and 'Beet Root Burger.'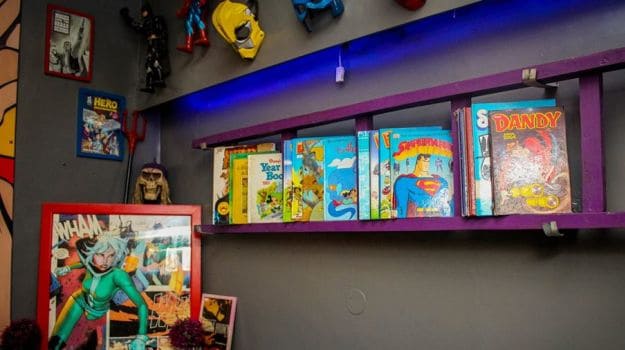 Picture Credit: Facebook/What a Comic Show
'What a Comic Show' in SDA market in Delhi is a brainchild of a Manipuri couple, Bhopen Chingtham and Pooja Moirangthem, who have combined their passions for food and comics and transformed it into a cozy corner where comic buffs can relive their childhood while munching from their continental and oriental food menu. "Both my wife and I have been fond of comics since our childhoods and both of us are great foodies. So, we wanted to start something of our own where we could connect our interests in comics and food," says Chingtham. Situated on second floor, the stairs leading up to the restaurant are adorned with posters of plethora of comics ranging from 'Marvel' and 'Super Mario' to 'Chacha Choudhary' and 'G I Joe'. The colour scheme is appropriate, with blues, reds and yellows popping from every nook and corner. The place is also equipped with a comic gallery loaded with piles of reading material. "When we started off, we began with our own comic collections and then began to source from other places and add to the comic gallery here," he says. The couple has named the cocktails after superheroes like The Flash, Ironman's Electromagnet, Poison Ivy and Hammer of Thor etc. To take the comic craze a notch higher, the restaurant also hosts parties on Halloween besides costume parties where customers come dressed up as their favourite super heroes.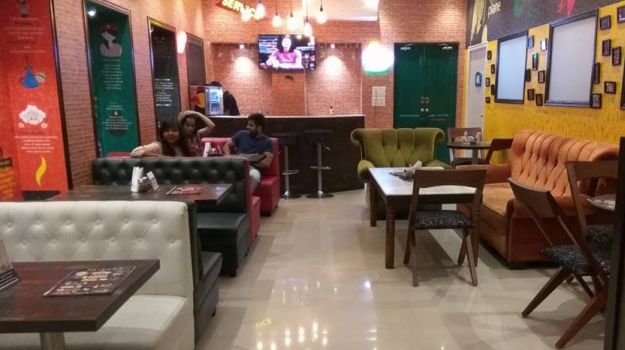 Picture Credit: Facebook/F.R.I.E.N.D.S Cafe
Kolkata recently saw the opening of a much awaited cafe themed after the iconic American television sitcom, 'Friends'. It recreated elements from the sitcom like the purple door of Monica's apartment, Pat-the dog, Pheobe's pink bicycle and the orange couch from Central perk. The walls have the pictures all the six friends with their most popular quotes. The food too, is a reminder if the characters' favourites like Joey's Mac and Cheese macaroni, Rachel and Chandler's Cheesecake from Mama's Bakery and Ross's Moist Maker Sandwich that comes with his 'Knock Knock' note.
(This story has not been edited by NDTV staff and is auto-generated from a syndicated feed.)