It could be safe to say that what Diwali is to North India, Ganesh Chaturthi is to the western part of the country. A certain fever seems to grip Maharashtra when this festival comes around. And what makes it even more exciting is that it is a 10-day long celebration, and not just a one day affair. Colours, music, food, music and an unmatched devotion is what binds the Ganesh Chaturthi festival.Earlier restricted to imagery in movies, Ganesh Chaturthi to me was just another festival. Until I moved to Mumbai. As the festival rolls by, life as you know it seems to pause. Nobody bothers about getting to work on time or stresses about other things. These 10 days are just about the festivities and how. Ganesha Chaturthi is a Hindu festival celebrated in India and around the world marking the birthday of Lord Ganesha, the destroyer of obstacles. It is observed during the Hindu month of Bhadra (mid-August to mid-September) and lasts for 10 days. The festivities culminate on the tenth day, which is called Ananta Chaturdashi. This year, Ganesh Chaturthi falls on 2nd September, 2019.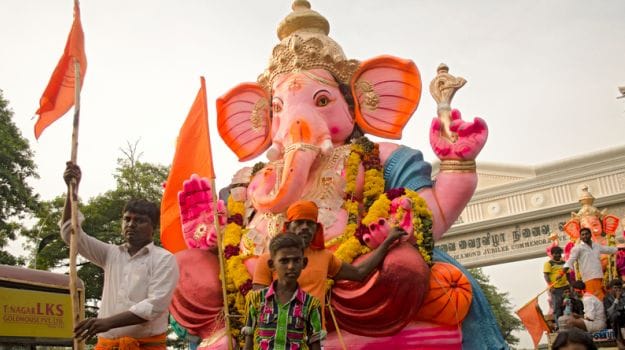 Ganesh Chaturthi 2019: These 10 days are just about the energy,, fervor and food that binds together the festivities.

Here Are 10 Things You Should Know About the Festival Ganesh Chaturthi:
1. An idol of Bappa, as he is lovingly called, is brought into almost every Hindu Maharashtrian household.
2. Here he is placed in a position of respect (sthapna), often on a raised platform, sometimes even a throne.
3. The idol is adorned with new clothes and treated like a treasured guest.
4. He is fed pure water with honey and milk.
5. People invite friends and family to come and pay their respects to Ganpati Bappa.
6. Pujas are performed twice a day for as long as the idol is home.
7. One can choose to keep the idol home for 2,5,7 or 10 days.
8. On the last day, a farewell is performed in the form of Uttarpuja. It is then carried and immersed in water, either the sea, rivers, lakes or even a bucket of water.
9. The final visarjan day is when all the celebrations are at their peak. Mumbai comes to a standstill and traffic jams are expertly managed by the traffic police.
10. Powai Lake and the beaches like Juhu Beach are popular visarjan spots in Mumbai.
As an outsider, what intrigued me about this festival, was how immersed people get into it. The Ganpati idol is treated like a revered guest, fed and taken care of. When the idol leaves home, the family actually feels a deep sense of emptiness, and it is not rare to see people openly crying during the visarjan.
Like most festivals, this one too is evolving with time. The idols are now seen in various avtars. The pandals are bigger than ever and the feasts more elaborate. But the core traditions around the festival remain the same. And that is what makes Ganesh Chaturthi unique. The feverish excitement that it brings with it, and a deep sense of longing for it's return when it is finally over.
Happy Ganesh Chaturthi 2019!