As the summer season starts to take a back seat and the monsoon revelry comes knocking, the season of festivals too begins. With Teej, Raksha Bandhan, Eid and Janmashtami still having its essence in the air, it is time for us to revel in the festivities of Ganesh Chaturthi. Lord Ganesh's idols have been installed, the pandals are set and so are his devotees with all their excitement. The 10-day extravaganza of Ganesh Chaturthi 2019 is all set to begin this year from 2nd September to 12th September, 2019. The festival is celebrated with much fervour across the states of Maharashtra, Andhra Pradesh and Karnataka, where people install beautiful idols of Lord Ganesha at their homes and prepare delectable sweets like modak, puran poli, shrikhand, varan bhaat, ladoos and more, as an offering to him each day.


Ganesh Chaturthi is celebrated as a homecoming of Lord Ganesha in the Hindu month of 'Bhadra'. Ganpatiji holds one of the highest pedestals of Gods in Hindu faith, he is also known as the 'Vighnaharta'- or the one who takes away all your problems and thus every big puja is believed to begin worshipping him. Ganesh Chaturthi festival became a massive one during the 19th century during the British rule where a public gathering with this huge a number was a big no. Indian freedom fighter Lokmanya Tilak arranged for a huge gathering on the streets to celebrate the festival, as a clever way to rebel against the stringent laws enforced by the British.


(Also Read: Ganesh Chaturthi 2019: Date, Time, Significance And Foods Associated With The Festival )
The large scale celebrations of Ganesh Chaturthi all around the country, especially Maharashtra, is all about dance, music and lots of good food. And can any Indian festival be without delicious sweets and mouth-watering savouries? Here we have a spread of traditional Ganesh Chaturthi recipes that you can prepare at home and offer to Lord Ganesha as prasadam too.
Here Are 7 Ganesh Chaturthi Recipes To Prepare At Home:
The quintessential prasad to Lord Ganesha, Vinayak Chaturthi is incomplete without an offering of these sweet dumplings. Modak is known to be the most favourite sweet of Ganesha; this is why he is also known to be 'Modakpriya' in the scriptures. Packed with coconut, jaggery, saffron and nutmeg in a rice flour shell, this is an easy and quick modak recipe to prepare during the festivities.
Ganesh Chaturthi 2019: A steamed modak recipe, also known as 'ukdiche modak' is one of the most beloved sweet of Lord Ganesha.
A true blue Maharashtrian dish perfect to munch along with a cup of hot and piping tea, 'Kothimbir' in Marathi means coriander and 'Vadi' means fritters. This coriander fritter dish is a great snack made with gram flour along with a whole lot of spices, cooked and fried until crisp and crunchy. It also has a twist of cashews and red chilies.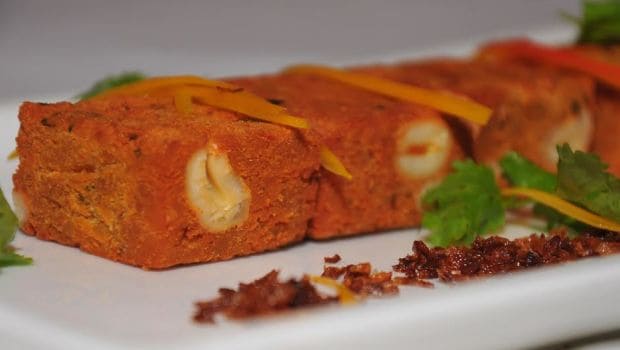 Ganesh Chaturthi Recipes: Make these at home with the richness of cashew nuts that you can also offer to Lord Ganesha as bhog.
Puran Poli makes for another most important delicacy made during the festival apart from modak. It is a sweetbread made of all-purpose flour and a stuffing of chana dal, nutmeg, sugar and cardamom along with oodles of ghee on top. It is offered as an offering in bhog and served as prasad to the devotees.
Ganesh Chaturthi 2019: An easy recipe of flat bread stuffed with a sweet lentil filling.
A mouth-watering preparation of dal, packed with tangy spices, chillies and the goodness of chana dal. Tempered with chillies, garam masala, curry leaves and mustard seeds, amti is a traditional Maharashtrian dish that is often savoured with puran poli.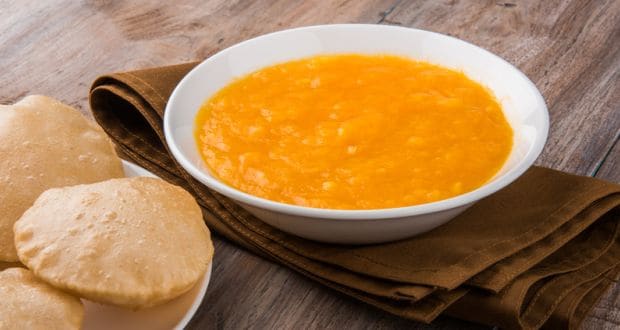 Ganesh Chaturthi Recipe: An appetizing Maharashtrian style dal made with yellow gram dal.
A popular delicacy during the Ganesh Chaturthi festival, varan bhaat translates to dal and rice. It is offered to Lord Ganesha along with other vegetarian dishes such as batata bhaji, beans bhaji and such. The dal or varan in this dish is made with a mix of moong and arhar dal along with curry leaves, coconut and cumin seeds.
One of the simplest sweet dishes, shrikhand is a traditional Indian dessert from Maharashtra that is offered in bhog during the festival and is given as prasad to the devotees. It requires very few ingredients such as yogurt, sugar and cardamom, and in just a few minutes, you'll have a luscious dessert to dig in.
Ganesh Chaturthi Recipes: Also known as 'Matho' this delicious dessert is relished throughout India.
Who doesn't like to have ladoos during festivals? With crunchy cashews, desiccated coconut, khoya, almonds and milk, this coconut ladoo is sure to satiate your sugar cravings during festivals.
Ganesh Chaturthi: Coconut Ladoo can be made using fresh coconut or desiccated coconut, with condensed milk.
Include these delicious Ganesh Chaturthi dishes in your festive menu and let us know your favourite one in the comments section below.
About Aanchal MathurAanchal doesn't share food. A cake in her vicinity is sure to disappear in a record time of 10 seconds. Besides loading up on sugar, she loves bingeing on FRIENDS with a plate of momos. Most likely to find her soulmate on a food app.