Harnoor Channi-Tiwary, NDTV | Updated: December 04, 2017 16:04 IST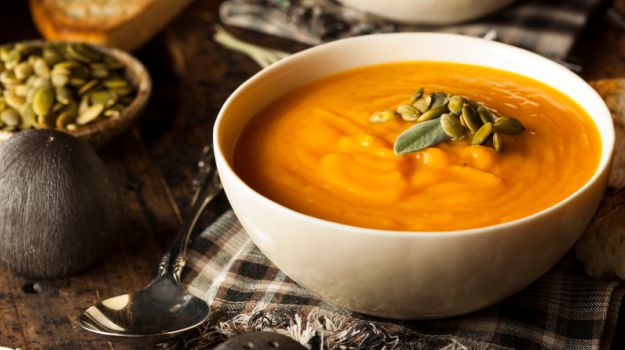 Sarson ka Saag or Undhiyu, but for me, it has always been soup. Dinner in the cold months is very often a large bowl of hot soup with sandwiches or just a lovely buttered garlic bread loaf.

My trysts in the kitchen usually involve fuss-free food. I can not toil for hours, prepare and pour my heart into a dish. It needs to be magical, yes, but the preparation of the magic potion should be easy. However, I do love experimenting in the kitchen. And especially in finding alternatives to make a recipe healthier so my fitness regime doesn't suffer.

The good news is that it is not difficult, to make a healthy soup. The dish, by definition, is healthy and wholesome. However, with the addition of cream, cheese and other such things, one can make it more sinful. If, like me, you like to watch what you eat, you will love these two recipes that I created after much R&D. Do try them and let us know if they made your winter evenings a little cozier too.Cream of Broccoli Soup
Serves 2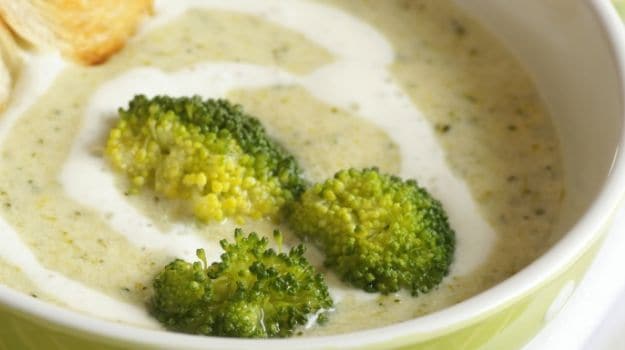 Ingredients
1 small broccoli flower (200gms or so)
1 large onion (chopped)
1 tsp garlic paste
1tsp olive oil
1 bay leaf
Salt/ pepper to taste
1/2 cup milk
2.5 cups water

Method
1. In a thick bottomed pan, heat the olive oil and add garlic.
2. When fragrant (and not brown or golden), add the onion and sauté till it is transparent.
3. Add broccoli florets broken into small pieces. Sauté them for a minute or two.
4. Add the water (or stock if you have any), salt, bay leaf and give it a boil.
5. Boil on low heat (covered) for 15 minutes.
6. Cool slightly, remove bay leaf and churn in the mixer till smooth.
7. Put it back in the pan, add pepper to taste, milk and give a boil.
8. Check for seasoning and serve hot.

Roasted Pumpkin Soup
Serves 2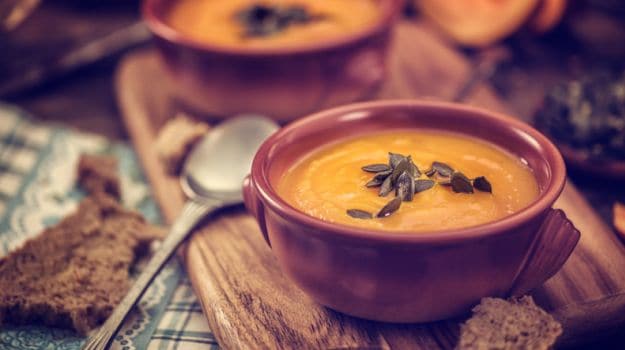 I do not like pumpkin as a vegetable. Or rather, let me rephrase that. I did not like pumpkin in its avatar as 'kaddu'. It just did not cut it for me. That is, until I discovered how versatile the vegetable is and how it takes on the flavours of other ingredients in the dish. Roasting of the pumpkin in the oven lends it a sweeter flavour.

Ingredients
200 gms pumpkin (kaddu)
1 small boiled potato (chopped into cubes)
4 cloves garlic
1 small spring onion (chopped)
1 tsp olive oil
1 cup milk
2 cups water
Salt, pepper, oregano to taste

Method
1. Rub some olive oil on the chunk of pumpkin, sprinkle salt and pepper on it.
2. Crush the garlic cloves with a knife and press them into slits in the pumpkin.
3. Bake the pumpkin in an oven for 45-50 minutes (200 degrees) till a fork easily pierces it till the bottom.
4. Remove the garlic cloves earlier if they start turning dark.
5. Take the roasted chunk of pumpkin and scoop out all its flesh right down to the skin.
6. In a thick bottomed pan, pour olive oil and sauté the spring onions and the roasted garlic (finely chopped) just till the onion turns transparent.
7. Add the pumpkin flesh and potato cubes.
8. Mix and add ½ cup milk and ½ cup water and cook for five minutes. Cool.
9. Put the above mixture into a blender and blend well. Pour back into the pan.
10. Add remaining milk, water, salt, pepper and oregano and give it a boil. Serve hot.


Nothing completes a cold winter evening like hands wrapped around a warm bowl of soup. People may associate winters with