Sarika Rana | Updated: July 09, 2018 16:00 IST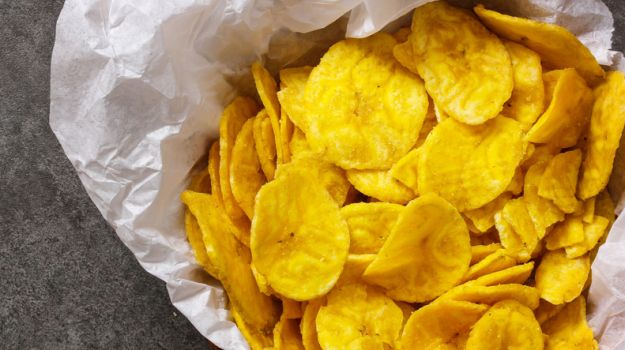 According to Food Blogger Nithya Ravi, "There are two types of banana chips; one is Nendrankai (translated as raw fruit) banana chips and the other one is plain banana chips. The bananas used in Nendrankai chips are generally different from the normal ones; they are slightly longer and broader variant. They are majorly seasoned with turmeric and salt, while the normal ones are seasoned with red chilli powder and salt. The techniques used in making these two kinds of banana chips are slightly different from each other. Nendrankai banana chips are a Kerala specialty and are enjoyed anytime." Here's an amazing recipe of banana chips along with the expert tips by Chef Prem K Pogakula- Executive Chef The Imperial New Delhi:


(Also Read -This Is Why You Must Eat On A Banana Leaf)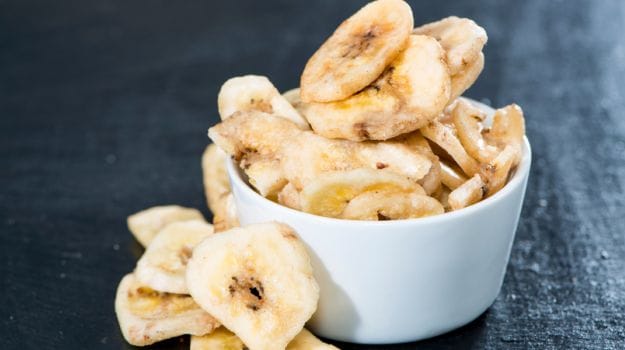 How to make banana chips: There are two types of banana chips

Recipe of Nendrankai Banana Chips (Kerala Special)

As per Chef Prem, "Nendrankai banana chips or ethakka upperi is very popular in Kerala and is served as a side dish. It is also served at Onam Sadhya. These crunchy and crispy chips with the flavour of coconut oil are very quick and easy-to-make."

Ingredients
Nendrankai plantain - 3
Salt - 1 tsp
Turmeric powder - 1/4 tsp
Coconut oil for deep frying
Slicer or mandolin slicer
Method
Heat oil in a kadhai; once oil is hot, reduce the heat to medium. To find out if the oil is hot enough, drop a small piece of sliced plantain into the oil, if it raises to the surface immediately, then the oil is hot enough for frying.
Take a banana, pat it dry and then slice it off using a slicer.
Immediately after slicing, drop it into the oil, separating the pieces.
After a few seconds, add 3/4-1 teaspoon of turmeric salted water. Stir using a ladle, so that the plantain slices get cooked evenly.
Once cooked, the sizzling noise will stop and the oil will be clear.
Remove the chips with a slotted ladle and place them in a colander or paper towel to drain off excess oil, if any.
Serve as a side dish for rice or enjoy as a snack anytime of the day.
Tips to Make Banana Chips At Home:
Do not use over ripe plantains.
Unless you are a skilled knife expert, don't hesitate to use a mandoline slicer.
Make sure the oil is heated at the right temperature.
Do not salt or season the plantains before frying them.
Add the plantain chips in the hot oil one at a time, or in a single layer.
Flip the chips continuously.
Watch the colour to know if the chips are ready.
Season the chips while hot.
Cool completely before serving (so they become crunchy).
Use only coconut oil for deep frying.
Store the chips in an air-tight container at room temperature.
Enjoy the crunchy batch of banana chips along with a piping hot cup of tea and make the most of the rainy season!


Crunchy, flavourful and delicious; that's what banana chips are to most of us! These fried delights make for a great snack, a side dish and sometimes, a traditional food on most occasions in South India. Banana chips are generally dry, mostly salted or spiced and sometimes jaggery or sugar-coated. Widely enjoyed in the Indian states of Kerala and Tamil Nadu and locally known as nenthra-upperi, these chips are mostly fried in coconut oil. The sweet counterpart, which is made using jaggery, is known as sharkara upperi. Made with unripe plantains, these chips are easy-to-prepare at home.