For me,
Britain
is a place of comfort foods. The dishes are mostly non-fuss and the emphasis is always on enhancing the natural flavours - perhaps this is why a lot of their food is so
flavourful
. Try five of my favourite British dishes on chilly autumn evenings or cold wintry days.
1. Kedgeree of Smoked Haddock
Preparation time: 5 minutes
Cooking time: 30 minutes
Serves: 4
Ingredients:
1 finely chopped onion
3 cardamom pods, split open
1/4 tsp turmeric
1 small cinnamon stick
1 bay leaf
450g Basmati rice
1 litre chicken stock or fish stock, ideally fresh
750g smoked haddock fillet (in case a haddock is not available, use a red snapper)
3 eggs
3 tbsp chopped parsley
1 lemon wedges, to garnish
Method:
Melt the butter in a large saucepan and sweat onions until softened but not browned. Add cardamom pods, turmeric, cinnamon stick and bay leaves, then cook for 1 minute. Add in the rice and stir until it is all well coated in the spicy butter. Pour in the stock, add 1/2 teaspoon salt and bring to a boil. Cover with a close-fitting lid, reduce the heat to low and leave to cook very gently for 12 minutes.
Meanwhile, bring some water to the boil in a large shallow pan. Add the smoked haddock / red snapper and simmer for 4 minutes, until the fish is just cooked. Lift it out onto a plate and leave until cool enough to handle. Hard-boil the eggs for 8 minutes.
Flake the fish, discarding any skin and bones. Drain the eggs, cool slightly, then peel and chop. Uncover the rice, remove the bay leaf and others eco dinners and fork in the fish and the chopped eggs, cover again and return to the heat for 2-3 minutes, or until the fish has heated through.
Gently stir in almost all the parsley, and season with a little salt and black pepper to taste. Serve scattered with the remaining parsley and garnished with lemon wedges, or wedges of hard boiled eggs if you like.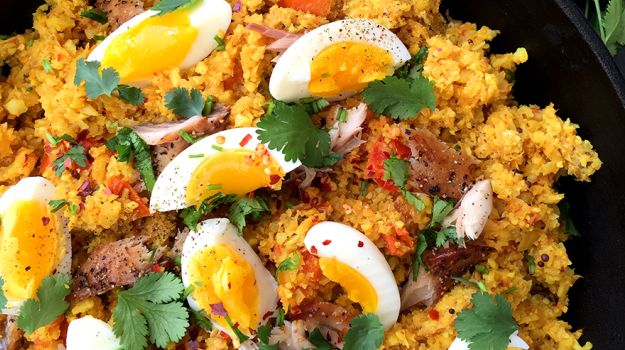 2. Yorkshire Pudding
These can be served with Roast chicken and English gravy or stuffed with chicken and mayo.
Preparation time: 5 minutes
Cooking time: 30 minutes
Serves: 4
Ingredients:
140g plain flour
4 eggs
200ml milk
Sunflower oil, for cooking
Method:
Heat oven to 210 C. Drizzle a little sunflower oil evenly into 2 x 4-hole Yorkshire pudding tins or a 12-hole non-stick muffin tin and place in the oven to heat through.
To make the batter, tip 140g plain flour into a bowl and beat in four eggs until smooth. Gradually add 200ml milk and carry on beating until the mix is completely lump-free. Season with salt and pepper. Pour the batter into a jug, then remove the hot tins from the oven.
Carefully and evenly pour the batter into the holes. Place the tins back in the oven and leave undisturbed for 20-25 minutes until the puddings have puffed up and browned. Serve immediately.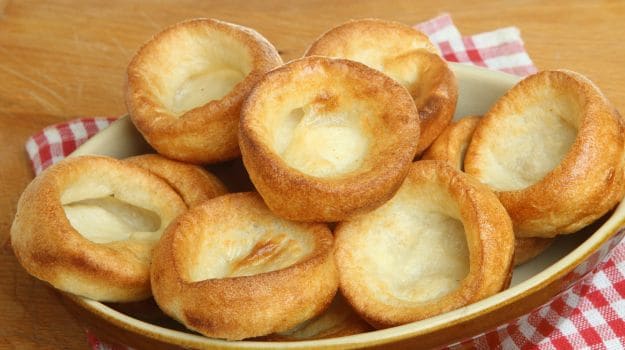 3. Coronation Chicken
Coronation chicken has so much history to it, it is almost as though it is a part of British history and culture. Originally known as poulet reine Elizabeth, it was first made by the founder of Le Cordon Bleu cooking school, Rosemary Hume as a sort of consolation dish for a country reeling under post-war rationing. I love the quaint nostalgia this warm winter dish evokes.
Preparation time: 10 minutes
Cooking time: 25 minutes
Serves: 4
Ingredients:
2 Free range chicken breasts, skin removed
1 tbsp olive oil
1 lemon juice and zest
Sea salt and black pepper to taste
1 tsp butter
1 finely chopped shallot
1 finely chopped red chilli
2 Tsp Madras curry powder
2 tbsp tomato puree
100ml white wine
100ml chicken stock
1 tbsp apricot jam
150ml mayonnaise
75ml Creme Fraiche
1 large diced mango
4 finely chopped spring onions
2 chopped coriander
Dash of Tabasco sauce
50g almond flakes
Green salad leaves
Method:
Rub the olive oil all over the chicken. Sprinkle the lemon zest and season with the salt and black pepper. Steam the chicken for about 20 minutes, till it cooks, then set aside to cool.
Melt the butter in a frying pan, add the shallot and chilli and fry for five minutes. Add the curry powder and cook for 2 minutes. Stir in the tomato purée and cook for another minute. Add the wine and continue to cook until the volume of the liquid has reduced by half.
Stir in the jam and stock, continue to simmer for about 10 minutes to reduce the volume of the liquid to desired consistency - you can either reduce it by half or leave it a little watery. Set aside to cool. Combine the mayonnaise and the creme fraiche in a bowl and mix well. Stir in the curry dressing.
Fold in the mango, spring onions, lemon juice and coriander. Cut the chicken into bite-sized pieces.
Fold this into the mayonnaise mixture. Season with salt, freshly ground black pepper and Tabasco to taste.
Serve with a green salad, and dress with the toasted almond flakes.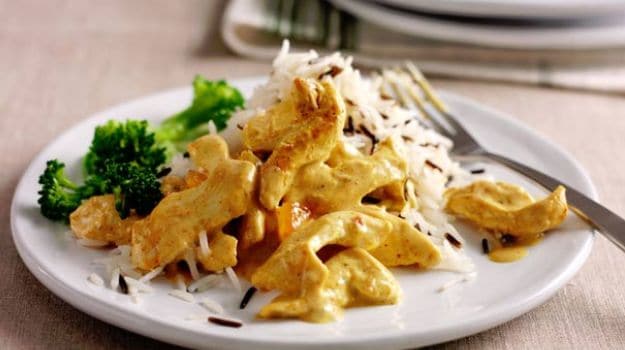 4. Bangers and Mash
This used to be my staple food when I was studying in UK and I still love it on a cold evening or even as a late breakfast on Sundays.
Preparation time: 15 minutes
Cooking time: 25 minutes
Serves: 4
Ingredients:
900g potatoes peeled and diced
1 tbsp oil - I prefer sunflower oil for a truly rustic feel
1 large finely chopped onion
1 tsp Dijon mustard
1/2 pint chicken stock (from a stock cube)
8 chicken sausages
50g unsalted butter
50ml double cream or milk
1 tbsp parsley and chives
3 finely chopped Spring onions
1 tbsp Olive Oil
Method:
Cook the potatoes in boiling salted water for 10-12 minutes or until soft. Heat the sunflower oil in a heavy-based saucepan. Add the onion and cook until soft , but not coloured. Stir in the mustard, then pour in the stock.
Bring the mixture to a boil, reduce for 10 minutes or until the liquid is reduced by half. Heat up a frying pan, add a little sunflower oil and fry the sausages for 6-8 minutes or until cooked through. Drain the potatoes and mash with the butter and the cream.
Blend the blanched herbs with the olive oil to form a paste and then stir into the mashed potato.
Pile the mash onto four warmed serving plates. Place two sausages in the centre of each mound of mash and finally drizzle over the gravy. Serve immediately.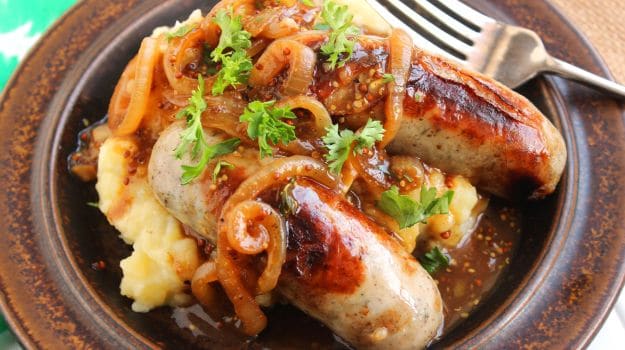 5. Shepherd's Pie
For me there is nothing that spells festive as much as this hearty casserole of meats, vegetables and flavours. It is a classic family recipe that is well worth the time that goes into making it. For you can just make this and Yorkshire pudding and a meal is done!
Preparation time: 5 minutes
Cooking time: 2 hours
Serves: 4
Ingredients:
1 tbsp sunflower oil
1 large onion chopped
2-3 medium carrots chopped
500g pack lamb mince
2 tbsp tomato purée
large splash Worcestershire sauce
500ml lamb stock
900g potato cut into chunks
85g butter
3 tbsp milk
Method:
Heat the oil in a medium saucepan then soften the onion and carrots for a few minutes. When soft, turn up the heat, crumble in the lamb and brown, tipping off any excess fat. Add the tomato purée and Worcestershire sauce, then fry for a few minutes.
Pour over the stock, bring to a simmer, then cover and cook for 40 minutes, uncovering halfway. Meanwhile, heat the oven to 180C/ fan 160C/ gas 4, then make the mash.
Boil the potatoes in salted water for 10-15 minutes until tender. drain then mash with the butter and milk. Put the mince into an ovenproof dish, top with the mash and ruffle with a fork.
The pie can now be chilled and frozen for up to a month. Bake for 20-25 minutes until the top is starting to colour and the mince is bubbling through at the edges. (To bake from frozen, cook at 160C/fan 140C/gas 3 for an hour and a half until piping hot in the centre. Flash under the grill to brown, if you like.) Leave to stand for 5 minutes before serving.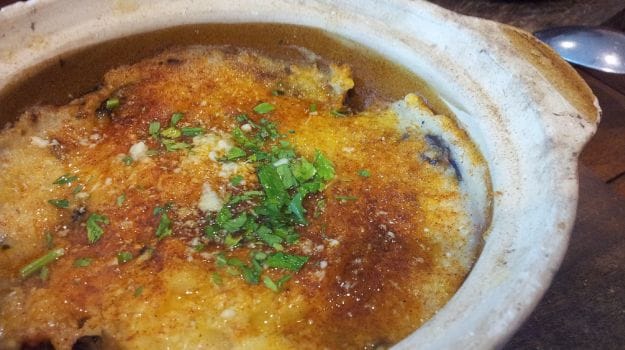 About Chef Ashay Dhopatkar:Chef Ashay Dhopatkar is Executive Chef at A Ta Maison, Private Members Club in New Delhi. He has trained with Chefs such as Herbert Berger, Raymond Blanc, Shane Osborne, Tom Hempstead and Gordon Ramsay. His own culinary style is a blend of Modern European cuisine, with British notes, using classical French techniques.
(Except for the headline, this story has not been edited by NDTV staff and is published from a syndicated feed.)