He's from Britain, but loves the Indian
dal
! Celebrity chef
Jamie Oliver
, who is venturing into the Indian culinary space with his globally renowned Jamie's Pizzeria and Jamie's Italian chains, says he "loves Indian cooking".
"I love Indian cooking. I've been experimenting for a few years now and whilst I'm no expert, I think I'm doing okay. I think a good dal is one of the best things you'll ever eat," said Jamie Oliver. Jamie's Italian will open in Ambience Mall in the capital's Vasant Kunj area and Jamie's Pizzeria is set to open in Ambience Mall in capital suburb Gurgaon within the next few months. When asked about his expectations with his maiden foray into the Indian market, Oliver said "it's an incredibly exciting move for us".
"We've wanted to open a restaurant in India for a few years now but we've been careful to wait until we found the right partner, location and sites. With regard to expectations, I just hope people love what we're doing," Oliver said and added that he is "not trying to reinvent the wheel of Italian cooking".
"But I do want to offer guests fantastic food, using only the best ingredients and at an affordable price. We don't cut any corners - everything we do comes back to quality," he added.
Is he trying to tinker with new, experimental menus to cater to the Indian taste buds?
Oliver said: "We're going to be keeping the menus to traditional Italian. We'll be tweaking the offering very slightly by putting on lots more beautiful veggie dishes - something I'm really excited about. We'll be using an authentic dough cooked in traditional ovens and all topped with the highest quality tomatoes, mozzarella, Italian cured meats and other beautiful produce."
Even as fusion menus that juxtapose seemingly diverse -- and sometimes even disparate -- flavours into new combinations are the talk of the town among foodies, Oliver comments that most of such dishes are "fusion without us even realising it".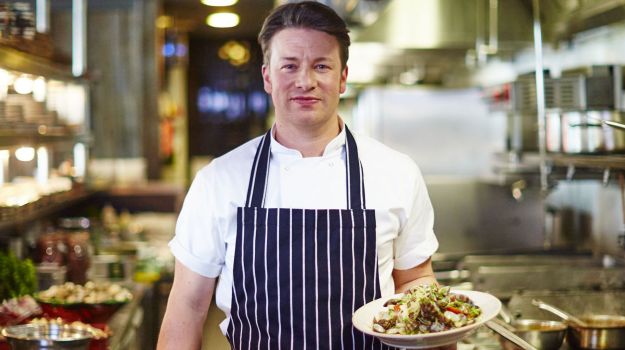 "I think fusion is really interesting because actually, when you look at different countries' 'traditional' dishes, many of them are fusion without us even realising it, from histories of immigration, colonisation and exploration. British 'traditional' dishes are peppered with influences from across the globe," he said.
Besides being a celebrity chef, Oliver has also carved his niche as a food activist and will be addressing obesity-related issues in a new documentary titled "Jamie's Sugar Rush".
"At the beginning of this year I started looking at sugar consumption and the effect of sugar on our bodies. What I found completely shocked me and my team and I made a documentary about what too much sugar can do to us and the impact it's having on Britain's public health," Oliver said about the theme of the documentary. His team has even launched a petition asking the British government to introduce a sugary drinks tax.
"So far we have over 130,000 signatures," he added.
Talking about his plans on addressing the global obesity epidemic, Oliver said he has embarked on a path that can "implement positive change and attempt to slow down this crisis".
"The path that I have taken has led me to focus a lot of my work on the obesity epidemic and what we can do in order to implement positive change and attempt to slow down this crisis. "This doesn't lessen many other situations that absolutely need addressing of course, and there are so many issues that I'd like to fight for and that really deserve much more public attention. But there is only one of me," he added.