If you notice closely, none of the meals in an Indian food culture seems complete without some side dish to accompany it. Be it raita or chaas or chutney, we need some side dish in our meals. Made with a host of spices, these side dishes add a burst of flavours to our palate. Another such popular side dish is salan, also known as mirchi ka salan. It will not be an exaggeration to say that biryani never seems complete without a bowl of spicy mirchi ka salan.


Although mirchi ka salan was traditionally designated for Hyderabadi biryani, but in present time, it is enjoyed with biryani across the country. For the unversed, salan in Urdu stands for curry; so, in layman's language, mirchi ka salan is a spicy curry made with green chillies (mirchi). This dish generally comprises green chillies, peanuts, sesame seeds, dry coconut, tamarind and more.


To add some variation to this traditional dish, we bring you some veg and non-veg salan recipes that will include ingredients like baingan (aubergine), fish and bhindi (okra).
Also Read: Mirchi Ka Salan, the Nizam's Spicy Curry that Completes Hyderabadi Biryani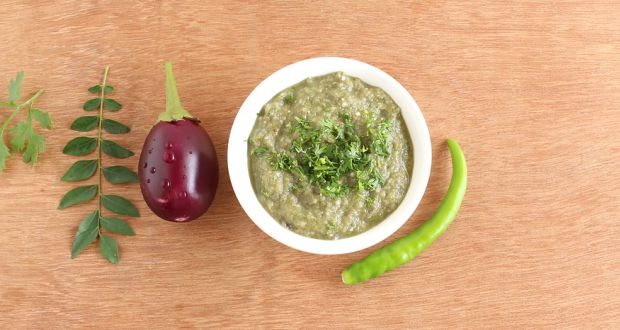 In Picture- Baingan Aur Mirchi Ka Salan
Here're 3 Unique Salan Recipes For You:
Baingan Aur Mirchi Ka Salan (Aubergine And Green Chili Salan):
Baingan is one such vegetable that people have a love-hate relationship with. Some baingan-based recipes are considered a star on a dining table, while some dishes turn us off. Here we bring you a spicy baingan aur mirchi ka salan recipe that will not only bring a twist to the Hyderabadi mirchi ka salan, but also can be a hit in your next meal. Click here for the recipe.
Bhindi Ka Salan:
Association of bhindi (or okra) and spicy dishes goes long back. From kurkure bhindi to bhindi masala - this vegetable has several such dishes in its kitty. Adding to that list, we bring you a bhindi ka salan recipe that includes crispy fried bhindi in thick, spicy and delectable gravy. You must try out this recipe soon. Click here for the recipe.
Fish Salan:
All the fish-lovers out there, this dish is just for you! It is well-marinated fish, cooked in tangy tomato puree, chillies and a host of masalas, delivering a perfect balance of taste to the palate. Click here for the recipe.


Also Read: Quick And Easy Fish Curry For Treating Your Unexpected Guests
In Picture: Fish Salan
Although salan is known to be best enjoyed with biryani; you may also try these unique salan recipes along with rice and roti.


Try these recipes at home and let us know how you liked it!