The ketogenic diet is a high-fat low-carb diet, which scores of people are adopting to achieve quick weight loss. The diet, which has been the talk of the town since last year, focuses on consuming high amounts of healthy, high-quality fats and lean proteins, to shift the body metabolism to burning fat, instead of carbohydrates for fuel. In a ketogenic diet, upwards of 70 per cent of the daily calorie budget must be fulfilled by fats and fat-rich foods. The diet can be extremely difficult to follow as it deprives the body of carbs and restricts a person to consume less than 50 grams of carbs per day. The exact ratio of these macro-nutrients depends on the needs of your own body. This is why ketogenic diet must be custom-made for everyone and the one-size-fits-all doesn't work in ketogenic diet.


Needless to say, people on ketogenic diet must focus on including more fat-rich and low-carb foods, which are also healthy and nutritious. These mostly include plant-based oils, nuts and seeds, as well as low-carb vegetables. It is important to understand that keto diet may not suit every body, do consult a certified dietician before you make any major alterations to your diet.


Also Read: Ketogenic Diet For Weight Loss: Try This Keto-Friendly Dosa Recipe For A High-Fat Breakfast Meal
Ketogenic Diet: 5 Keto-Friendly Dip Recipes To Try-
One of the best fat-rich fruits out there is the avocado, which is used to make the incredibly popular Mexican dip guacamole. A 100 gram portion of avocado contains 15 grams of fat (as per USDA data), which makes it one of the most favoured foods of those following the ketogenic diet.


Also Read: Veg Keto Recipes: 6 Recipes for Perfect Indian Ketogenic Diet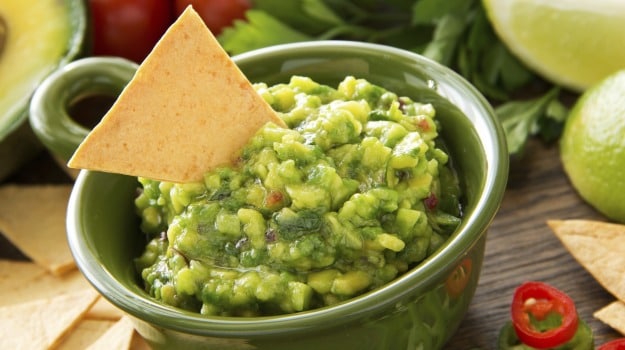 Ketogenic Diet: Guacamole is one of the most popular Mexican dips
Nuts are also keto-friendly as they are extremely rich in healthy fats. This cashew pesto dip recipe will fit right into your keto diet. Cashews contain 40 grams of fats per 100 gram portion (as per data from United States Department of Agriculture).
Zucchini is one of the best low-carb vegetables out there and is hence a good addition to the ketogenic diet. This hummus recipe uses peeled and chopped zucchini as well as soaked almonds and tahini, making it favourable for a high-fat diet.
Two excellent low-carb vegetables come together to make this dip, which is both nutritious and keto-friendly. Besides spinach and artichoke, this dip also contains onions, cream, garlic and nutmeg, as well as lime juice and salt.


Also Read: Malaika Arora's Morning Coffee Is Weight Loss And Ketogenic-Friendly!
Ketogenic diet: Spinach and artichoke dip
Another excellent low-carb keto-friendly vegetable is eggplant or brinjal, which contains just five grams of carbs per 100 gram portion of the vegetable (as per USDA data). Besides eggplant, this recipe has tahini paste and a number of herbs like rosemary and thyme as well as lemon juice, olive oil, garlic and basil.


Although the weight loss results of ketogenic diet have been studied, only short-term results have been examined and the long-term effects of this diet are still unclear.

(This content including advice provides generic information only. It is in no way a substitute for qualified medical opinion. Always consult a specialist or your own doctor for more information. NDTV does not claim responsibility for this information.)