If you're a sushi lover and haven't tried Kimbap yet, you're really missing out on something. Kimbap, Gimbap or simply the Korean Sushi Roll is a different take on the
Japanese sushi
. This popular Korean dish is made with cooked rice and some other ingredients that are all rolled in dried seaweed sheets. 'Gim' is the
seaweed sheet
and 'bap' refers to the cooked rice. The dish is often enjoyed as a light lunch along with danmuji (yellow pickled radish) and Kimchi and is a popular take-out food in Korea as it can be packed and carried easily.
Difference Between Kimbap And Japanese Sushi
The Kimbap and Japanese sushi differ from each other in terms of the use of rice and the fillings. In a Japanese sushi, the rice is seasoned with vinegar while in a Kimbap it is mixed with
sesame oil
and it tastes a bit sweeter. As for the fillings, the Japanese use mostly raw fish, but in Korea, cooked or preserved items like canned tuna, kimchi, grilled bulgogi or ham and cheese are used to stuff the sushi. The rice used in a Kimbap may also vary. Koreans may choose to pick brown rice or black rice. (Also read:
A Beginner's Guide To Sushi)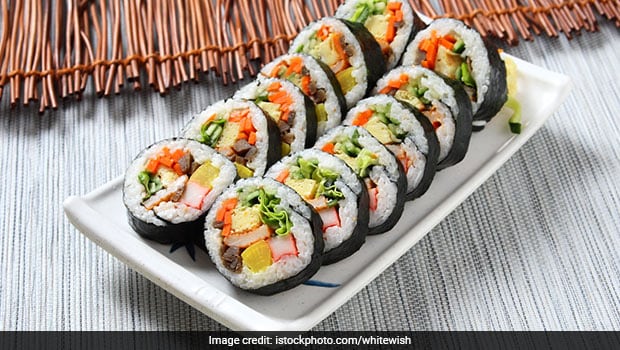 'Gim' is the seaweed sheet and 'bap' refers to the cooked rice. ​
Varieties Of Kimbap and How It Is Prepared
Chef Manoj Rawat, Executive Sous Chef at Le Meridien in Gurugram tells us, "The filling for Kimbap can range from cheese, squid, danmuji (yellow pickled radish), ham and crab meat to egg strips, bulgogi,
spinach
,
carrot
, burdock root, cucumber and canned tuna."He further explains, "To prepare Kimbap, seaweed sheets are toasted over low heat and the rice is seasoned with sesame oil. The vegetables can be stir fried and seasoned with salt. To roll the sushi, a Gimbal is used which is made of bamboo. First, a thin layer rice is placed on the Gimbal and is spread evenly. Next, other ingredients are neatly added on top and finally, it is gently rolled into a cylindrical shape and cut into smaller rounds before serving."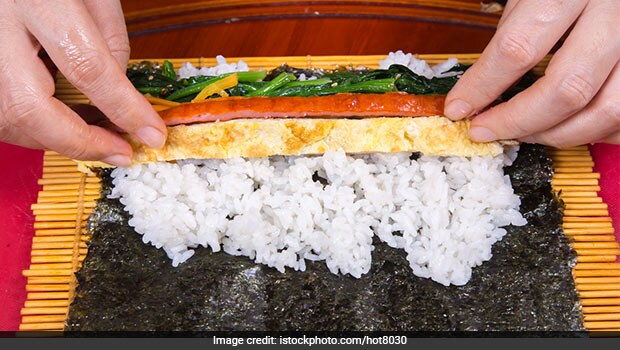 Seaweed sheets are toasted and the rice is seasoned with sesame oil.
The three main varieties of Kimbap are as follows:
1. Chungmu Kimbap:
These contain thinner rolls with only rice as the filling. It is often accompanied with a squid salad and radish kimchi.
2. Mayak Kimbap:
These smaller versions of the Kimbap are filled with an assortment of carrots, spinach and radish. It is sprinkled with
sesame seeds
and served with soy sauce and pungent mustard.
3. Samgak Kimbap:
Samgak refers to the triangular shape of this Korean sushi. It is similar to the Japanese Onigiri. It's a quick meal and a staple snack in many Korean household. So, you know which ones to order next time you're at a Korean restaurants even if you don't remember the names!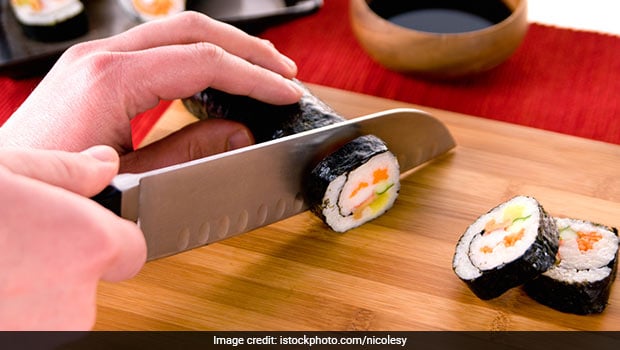 Samgak refers to the triangular shape of this Korean sushi.
History of Kimbap in Korea
Eating cooked rice (bap) and vegetables wrapped in seaweed (gim) is an old tradition in Korea which seems to have led to the creation of Kimbap. Another version regarding its origin claims that it was derived from Norimaki, a type Japanese sushi. Whatever be its history, Kimbap is an integral part of the
local cuisine
and culinary culture of Korea.