I have to admit, my first Korean dining experience didn't go as well as I would have liked. That was a decade ago when Korean restaurants slowly began to dot Chennai's 'restaurantscape', a natural fallout of Hyundai and a clutch of Korean companies making
Chennai
their India home. Today, the city is home to more
Korean
residents than any other city in the country and even more restaurants serving Korean food than a decade ago. Most of these restaurants (like Young Doo) are still the preserve of Korean expats, just like in Delhi, but the few Indians who have 'deciphered' this cuisine proclaim that they are fans for life.
Yes, like quite a few Asian cuisines, Korean cuisine is an acquired taste. Such cuisines 'yank' your taste buds out of their comfort zone and usually it's a case of love or loathe. Fortunately I didn't give up on Korean food, except I took a circuitous route via some excellent Korean restaurants in New York to come back home to rediscover Chennai's Korean dining scene with its cult following.
Laughter might be the best medicine in some cultures, but in Korea good food has always been considered the best medicine. The country's cuisine has evolved over centuries; the role of food was not just to provide nourishment but also to prevent and cure illness. Korean food revolves around Eumyangohaeng - the theory of yin and yang and the five elements that make up the universe. A person's body is healthy only when all these elements are in balance. Many Indians will draw parallels with this and balancing doshas according to the principles of ancient Indian diets.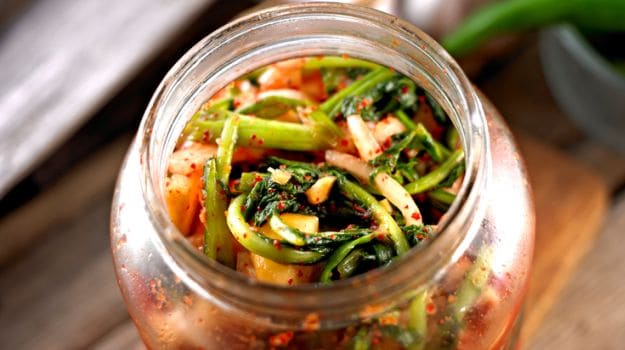 Traditional Korean Meal
A traditional Korean table includes dishes or garnishes of five colours - green, red, yellow, white and black. This is not just about the cuisine's inherent emphasis on food presentation but also the five elements. Each colour signifies a direction, a natural element and also brings in specific ingredients to the table, each with their own health benefits. For instance, black is the symbol of the North and Water, and soothes a person's mental state. Representative ingredients like black rice, black sesame and seaweeds protect the kidney and the bladder.
Unlike many Western cuisines, Korean food does not follow a course by course sequence. There are main dishes and then there are side dishes and they are served together. Bap (Rice) is the mainstay of Korean cuisine and is almost always steamed; there are multiple versions (like japgokbap - rice with barley, millet and beans). Juk (Porridge) is one of the oldest elements in Korean cuisine and contains grains simmered for a long time. Guksu (noodles) are usually kneaded with wheat flour or buckwheat.
There are many accompaniments that are served. Kimchi (seasoned and fermented vegetables) is of course a regular side and so is guk (soup). Soups are served as an accompaniment and not as the first course. There are heaps of other accompaniments from Jorim (Braised dish) to Gul (Grilled dish), each that normally represents a cooking style and can be crafted with vegetables, meat or seafood. Table settings evolved during the Joeson era (Korea's most famous dynasty who ruled for over five centuries from 1392). So you can have tables that can range from samcheop (three side dishes) to the table of the king with twelve side dishes (sibicheop bansang).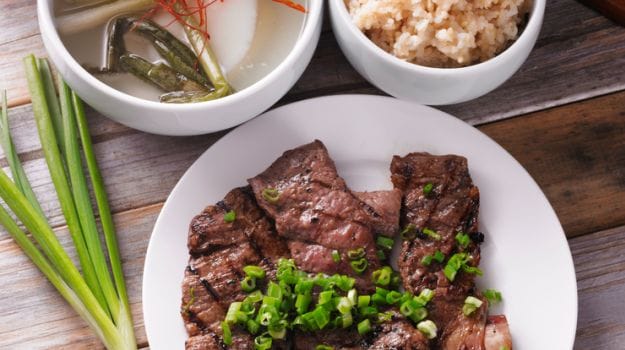 Most Korean restaurants in India would typically do a ocheop or chilcheop (five or seven side dishes). Dessert is not usually served after a meal, unlike in other countries.
For first time diners, eating at restaurants serving Korean food can be intimidating; you almost feel you crashed a party you weren't invited for. You don't know what to order and where to begin. But once you get past that initial hurdle, Korean food can be an engaging culinary journey (as I discovered) and very healthy too. There are vegetarian options if you look hard enough. The accompaniments are usually on the house (you have to order a main though!).10 Popular Korean Food Dishes
We pick ten Korean dishes that you must try either in India or during your travels overseas:
1. BibimbapMichael Jackson put this dish on the global map after a trip to South Korea. It's tough not to love this elegantly laid out dish with rice and an egg yolk in its centre surrounded by multiple vegetables and meat. The ingredients are mixed together with a few drops of a gochujang - spicy red pepper taste, and sesame oil. Each spoonful has a different taste.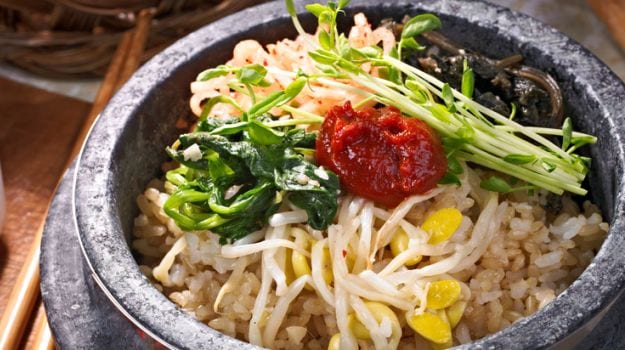 2. Kimchi
Gimjang is a seasonal event in autumn when a large amount of kimchi is prepared and preserved for the entire winter. Baechu kimchi is the most popular version (it's even served at Chinese restaurants in India) - shredded
cabbage
, white
radish
, red pepper powder, green onion,
garlic
and other
seasonings
.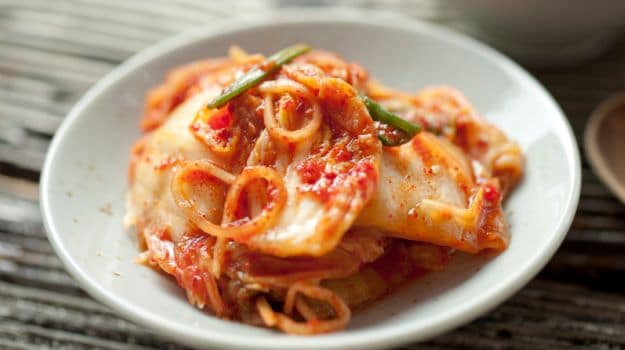 3. Japchae (Glass noodles) Arguably Korea's most popular noodle dish made with sweet potato noodles (The Korean chopsticks are unique - crafted with metal and Koreans also use a spoon along with the chopsticks for their soup; unlike other Asian cultures it is not considered polite to eat with the cup close to your mouth). Stir fried in sesame oil with thinly sliced vegetables and meat.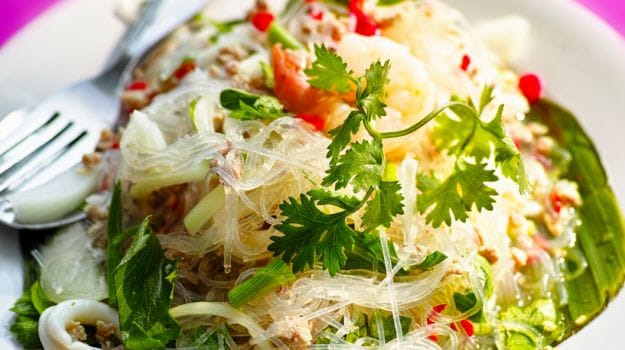 4. Gimbap/Kimbap (Seaweed Rice Roll) Comparisons with a Japanese Sushi roll are inevitable. Rice, meat and vegetables are wrapped in a long seaweed roll that is sliced into bite-sized discs. This is probably Korea's best known street food dish, perfect for 'grab and go' snack when you visit Seoul.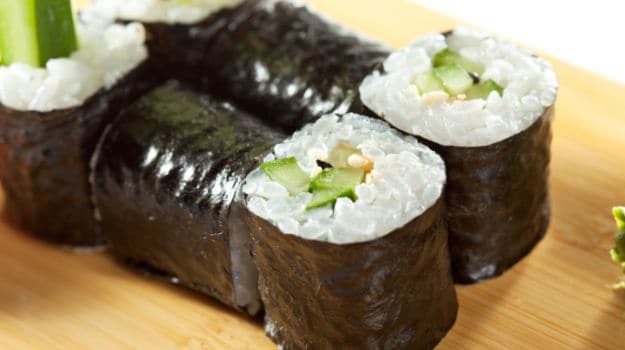 5. Bingsu (Patbingsu)Reminiscent of an Ice Kachang - a tall heap of shaved ice with sweet condiments. Patbingsu (with red bean paste) is probably the best known variant. It's customary for groups of Koreans to order a large bowl at cafes and dig into the same bowl. You can do that at Ssongchee Korea Bings Café in Delhi or at the Café at the InKo centre in Chennai.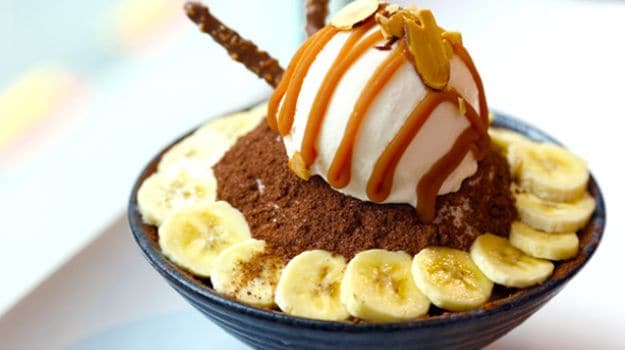 Choco Banana Bingsu; Image credit: www.danielfooddiary.com6. Ogok-bap (five-grain rice) It's been a tradition to eat this rice mixed with multiple grains like black beans and foxtail millets on the 15th day of the first lunar month. This rice is traditionally served with gusaek-namul, (nine side dishes of cooked vegetables).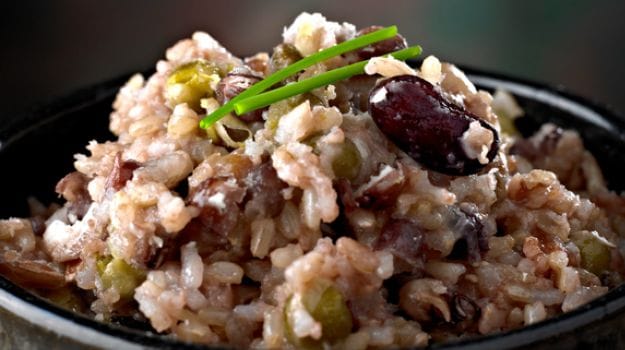 7. Samggye-tang (Gingseng Chicken Soup) Gingseng, the wonder herb is a central element in this 'meal by itself' soup that was originally consumed to beat the heat during Sambak (the hot dog days of summer). A young chicken is stuffed with sticky rice, ginseng, gingko nuts and dried jujube, then boiled into a soup.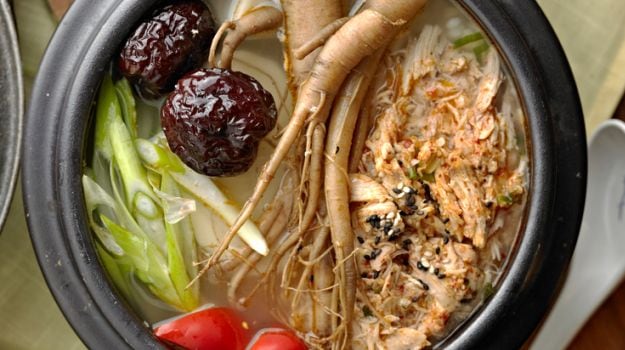 8. Bulgogi Ssambap Bulgogi (charcoal-grilled beef with a sweet soymarinade) is one of Korea's best known meat dishes. Ssambap is a traditional Korean bite-sized wrap that is built on a piece of lettuce or sesame leaf with soybeansauce and a choice of vegetables or meats. The Bulgogi Ssambap is a magical confluence of both.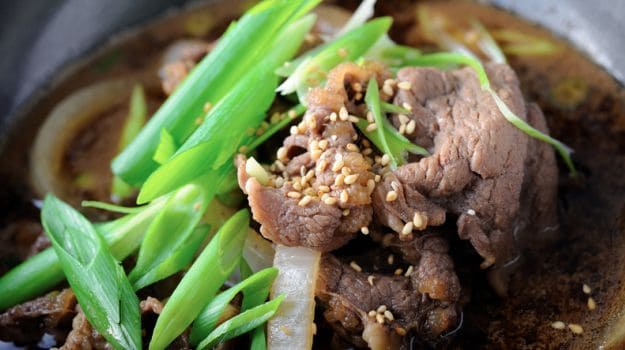 9. Haemul-pajeon (Seafood and green onion pancake)Crispy on the outside and soft on the inside, this is a great accompaniment for Korean beverages (like the Soju or Rice-infused beers). The batter is a mishmash of green onions and assorted varieties of shell fish.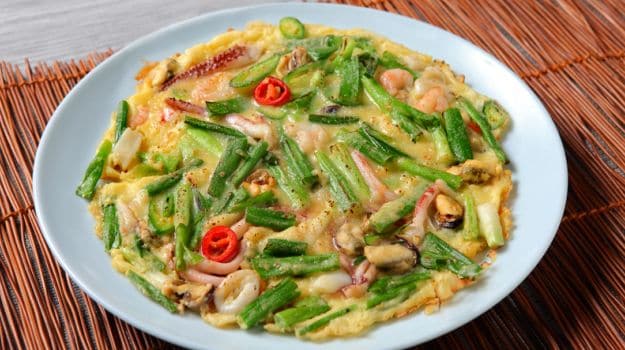 10. SamgyeopsalPork has been an integral part of Korean cuisine. This is a common dish on dinner menus - thick slices of pork belly meat (usually not marinated) cooked on a grill at your table.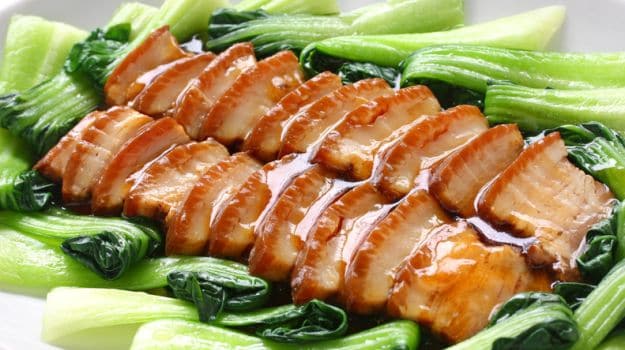 About the Author:
Ashwin Rajagopalan is a cross cultural training expert and lifestyle writer. When he's not writing about food, he thinks about gadgets, trends and travel experiences. He enjoys communicating across cultures and borders in his weekday work avatar as a content and editorial consultant for a global major and one of India's only cross cultural trainers.
Disclaimer:
The opinions expressed within this article are the personal opinions of the author. NDTV is not responsible for the accuracy, completeness, suitability, or validity of any information on this article. All information is provided on an as-is basis. The information, facts or opinions appearing in the article do not reflect the views of NDTV and NDTV does not assume any responsibility or liability for the same.
About Ashwin RajagopalanI am the proverbial slashie - a content architect, writer, speaker and cultural intelligence coach. School lunch boxes are usually the beginning of our culinary discoveries.That curiosity hasn't waned. It's only got stronger as I've explored culinary cultures, street food and fine dining restaurants across the world. I've discovered cultures and destinations through culinary motifs. I am equally passionate about writing on consumer tech and travel.