The floodgates for sushi opened in Delhi when Three Sixty Degrees at The Oberoi and Sakura at
Connaught Place
opened their doors close to a decade ago. Sushi in
the capital city
finally started pleasing the diner's discerning palate, and traditional chefs were shocked. How could Indians be eating
raw fish
? As we traveled and were exposed to food
across the world
, we even became picky – sushi has to be just right, not fall apart, fresh and easy to pick up with chopsticks. A masterpiece in its own right. Fast forward to
2016
and you can even get your sushi fix
when hunger strikes at midnight
. Oh
Delhi
, you've come too far! With some of the city's best restaurants catering to our growing fondness for Japanese fare, it's a tough choice to make, but we come to your rescue with our curated shortlist. And if you're a true sushi aficionado, you will truly appreciate these 9 high quality sushi dining experiences in the city.
9. Yum Yum Cha
Cost for Two: Rs. 1850
Breaking away from the luxe stereotype of a Japanese restaurant, Yum Yum Cha is a 42-seater
(read: compact)
casual restaurant located in Saket's buzzing Select Citywalk Mall. This extension of the Yum Yum Tree family exudes a playful, happy vibe, and offers one of the widest selections of sushi and sashimi in the city. The kitchen at YYC churns out freshly rolled and perfectly balanced sushi, a cleverly presented and value for money Nigiri Sushi Tree, and a mean California Roll. Their
nouvelle
Enoki Tempura is divine too, but I admit, I have a soft corner for their Dynamite Roll. From the city's first sushi conveyor belt to our first origami-themed restaurant, the team behind brand Yum Yum has indeed created yet another eatery that merits repeat visits and a loyal following.
8. Three Sixty Degrees, The Oberoi
Cost for Two: Rs. 6000
Everything about this restaurant's decor and ambiance is built as a prelude to the food that follows. Don't let the multi cuisine menu with
Thai
, Italian,
North Indian
, Mediterranean and Japanese dishes distract you from what you've set out to find – fabulous sushi. This under-rated cafe has a silent weapon, or at least serves some mind-blowing sushi. It offers the 5 star experience you are looking for, featuring an extensive sushi menu boasting of fresh Tuna, Yellow-tail, Salmon and Soft Shell Crab. Don't miss out on their signature Prawn Tempura Maki. And their
California Roll
? It's perfection!
7. Fatty Bao, Sangam Courtyard
Cost for Two: Rs. 1800
Ever so often a restaurant emerges in the capital city that tumbles over the playing cards and shakes up the natural order. Arguably one of the best places to devour a plateful of baos; the beauty of
Fatty Bao
is that it does not aim to amaze you with panache or frills, it's just really good food. And the sushi? It's the stuff dreams are made of. If this were a
Harry Potter
book, Chef Manu Chandra would surely be the Minister of Magic! Surrender yourself to his expertise and you will emerge wiser having seen a whole new dimension to Asian food, one you never knew existed. No one does a Spicy Mushroom Sushi Roll better than Fatty Bao, and their Asparagus Tempura & Cream Cheese Roll is delectable. Skip the usual
Prawn
Tempura and order the
Tuna
Gunkan and Smoked Salmon and Dill.
Side note:
The food here is a fun take on classic
Asian dishes
so don't hold them to ransom if it's not authentic.
6. Fuji, Connaught Place
Cost for Two: Rs. 2000
At Fuji, the menu is perplexing, the prices are modest and the result is divine. The
piece-de-resistamce
here is the sushi, hands down. Each piece of sushi, whether the velvet-smooth salmon or the crunchy spicy tuna, begs you to go back for more. Believe it or not, Fuji calls the Spicy Salmon Roll, their '
Goa
Roll' and the Teriyaki Chicken is the '
Delhi
Roll', while the '
Mumbai
Roll' is Ebi and Crab Stick Roll. The Prawn and Cucumber Ebi-Kyu Maki explodes with flavour. This is not a culinary fantasy, we promise. This is as real as it gets. Uncompromising and unapologetic. It has been a long-time favourite for Japanese-food lovers in the city, and for some - a hidden gem.
5. En, Ambawatta One, Mehrauli
Cost for Two: Rs. 3500
As the hostess ushers you into a sea of chic and calm, En instills in you a kind of gentle reassurance; a feeling that you're in for some
seriously great food
. The décor of this 100-year-old building is contemporary and smart with straight lines and makes you feel right at home. However, the food remains the star here. Have you ever eaten a cloud before? Because that's what their rice tastes like, incredibly light on the palate and the stomach. Opt for their Chicken Tatsuta-Age Roll, Ebi Tornado and Asparagus Tempura Maki spruced up with cream cheese and a hint of wasabi. First, I marvelled at the myriad textures and flavours released with each bite, then at its rapid disappearance! This is my all-but-one favourite sushi spot in Delhi. Heavy on the pocket, but worth every penny. Do also try the Sashimi platter while you're there, it's mildly spicy with the perfect amount of citrus.
4. Guppy by Ai, Lodhi Colony
Cost for Two: Rs. 2600
Everything that restaurateur A.D. Singh creates, turns into gold. And Guppy by Ai is just another example of that. It's a quirky
Japanese
bistro, with décor so vibrant and colorful - you feel like you've wandered onto the pages of an anime cartoonist's sketch pad. I do love the Pork Belly here, but the sushi is what makes me a regular at the restaurant. It's amazing to find special places where food is created and presented as an art. The Chef prepares the sushi in front of you, and when you pop the roll in your mouth, it is the fresh and honest flavours that woo you. I often find the
wasabi
in India to be lacking in its signature 'kick' – not a problem here as they make their own. You must try their Edamame California Roll, Spicy Salmon Roll and Shrimp Tempura. It's a fusion of flavours that makes this restaurant different from the likes of En and Sakura. And did you know: Their tuna is sourced from the Andaman's?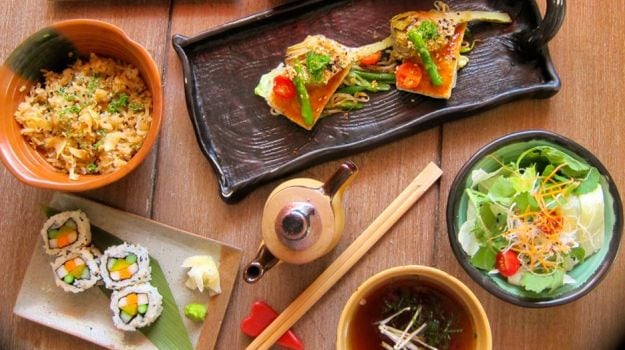 3. Megu, The Leela
Cost for Two: Rs. 5500
This New York-based Japanese restaurant will have you shelling out some major cash, but we all know the answer to those qualms – sparkling sake (yes, the first of its kind in the city). With hand-made tofu, fresh organic edamame and authentic Japanese produce flown in directly from Japan, we're beginning to understand all the hype. With Executive Chef Yutaka Saito on the scene boasting of fresh ingredients, this sushi destination is one of the finest Japanese restaurants I have been to. And yet it's more Americanized than authentic. Everything here may be dunked in rich sauces, or deep fried, but it's downright divine. The food manages to create a balance between innovation and comfort, ensuring that the dish is novel, the decor is opulent and the service, top notch. Megu's signature appetizer is The Original Crispy
Asparagus
- 4 sticks of asparagus, deep fried with panko crumbs, served vertically standing, but my personal favourite is their Crispy Tuna Roll. Following closely behind, the presentation of their Spicy Ebi Cracker House Special Roll is sure to make you come back for more. If you have a yen for extravagance, Megu is just the ticket for you.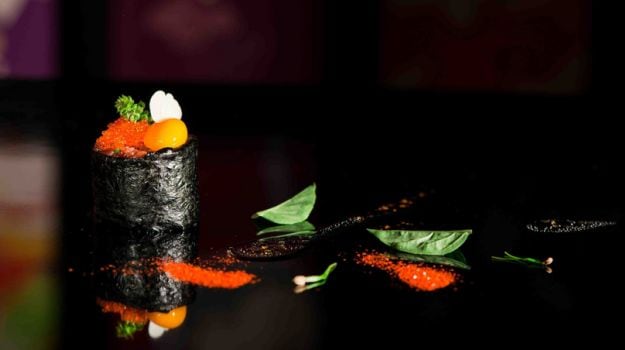 2. Town Hall
Cost for Two: Rs. 4500I've always been skeptical of multi-cuisine restaurants but Townhall may be the only exception to that rule. And do you blame me? The Executive Chef and Managing Partner of Townhall, Augusto Cabrera, is the man who made Delhi fall in love with raw fish, the father of the sushi revolution in the country (if you will). He had South Delhi's elite eating out of his hands at The Oberoi, and is now dishing out Wasabi or Megu-quality food at Khan Market prices. The focal point of this restaurant may be the huge bar (and their glorious G&Ts - no complaints, there) but the sushi is the star of the show. Order the Ebi Tempura, Rainbow Roll, Tanuki Salmon, Atlantic spruced up with Philadelphia cheese, and Kombination and you'll know why I'm making such a fuss. Their Tuna Tataki seems to dissolve on the tongue with a soy onion dressing on top.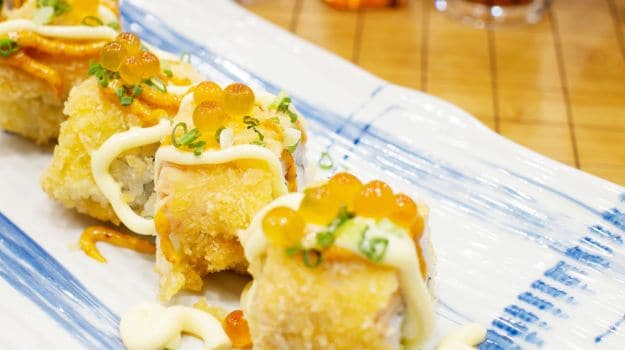 1. Wasabi by Morimoto, The Taj Mahal Hotel
Cost for Two: Rs. 7500
If you want the uber good stuff, we've got 3 words for you - Wasabi by Morimoto. Enough said.
It's the gold standard for Japanese food in India, and if not my favourite restaurant per se, then it's certainly my go-to sushi restaurant in New Delhi. Each dish here stems from the field of
contemporary
Japanese cuisine and is nothing short of spectacular. While other restaurants rely on heavy sauces, some even deep frying to mask questionable quality of ingredients, the food at Wasabi hides behind no such garb - celebrating flavors in their pure state. The sushi here is superlative and the live demonstration of wasabi being freshly grated in front of you adds a nice touch too. Warning: Your true devotion to sushi will come at a steep price here. So if you're dining with a group of 8 or more, opt for Wasabi's private dining for a private chef and exclusive access to their personalized choice of sushi. We highly recommend their Salmon Avocado Sushi Rolls, Shrimp Tempura Maki, Nigiri Sushi, and Eel Rolls. Yes, Wasabi spells luxury, and the food here is celebrated as an art.
Itadakimasu!