Photo Credit: Ashwin RajagopalanThere's a clanging you will hear in some of Madurai's streets once the sun goes down. Parotta 'Masters' use this sound to draw customers to their stalls as they furiously craft Kothu Parotta (translates to minced parotta) by blending the ingredients with a long iron spatula on a hot iron griddle. Madurai is probably one of my favourite food cities in India. The flavours are authentic and street stalls have been a part of the local landscape way before Street food became cool.Madurai's location as a trading hub in Southern Tamil Nadu has always meant that large numbers of people pass through this city. Traders, farmers and even commuters who use Madurai as a pit-stop as they head to their towns further south. The streets around the city centre are a beehive of activity much after sunset and a long list of restaurants and street stalls stay open till very late to cater to this large floating population. Locals believe that Kothu Parotta was invented here. It's one of the most delicious street food items you can sample - piping hot, bursting with flavours (often fiery) and a meal by itself with bread, eggs and meat thrown in. Perfect for a quick 'grab and go' meal.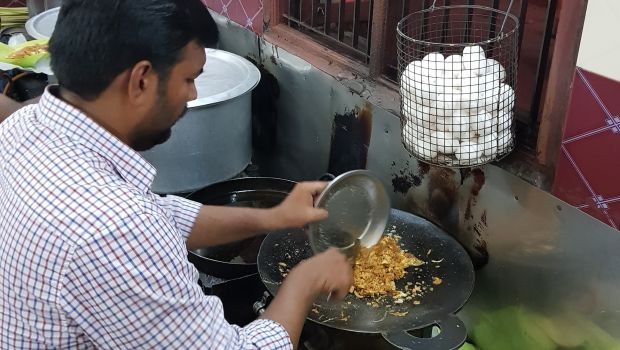 The Kothu Parotta is essentially a flaky maida parotta that's shredded, literally beaten out of shape and then tossed on a cast iron griddle with an assortment of ingredients. You can do a meat-free, Muttai (Egg) Kothu Parotta or a chicken or mutton Kothu Parotta that also feature tiny egg bits and an assortment of spices. This spicy dish is usually served with salna or meat gravy in most parts of Tamil Nadu. Over the years, some of Chennai's vegetarian restaurants like Saravana Bhavan have transformed this quintessential meat dish into a vegetarian dish with onions, capsicum and assorted vegetables that sort of make up for the lack of meat.

There are also innovative versions that use Chinese (or Indian-Chinese if you like) flavours. Aside from a vegetable gravy, it's quite common to see these served with an onion pachadi (raitha). In fact, many restaurants call their version chilli parotta and add green chilies along with capsicum in the mix.
While Madurai might be the 'go to' city for the Kothu Parotta, there's Tuticorin in Southern Tamil Nadu that has acquired quite a reputation for its version of the Kothu Parotta. I arrived at one of the city's most famous eateries that lives up to its name - 'Famous Nightclub'. A nightclub usually means the same thing across the world; except Tuticorin. Samuel set up this establishment about five decades ago and he's proud that his Kothu Parottas have acquired quite a reputation. He told me about how the term nightclub came to be associated with restaurants in the city that would open in the evening and stay open till late in the night. Tuticorin is one of India's busiest ports and these nightclubs became the lifeline for many sailors who needed a tasty meal when their ships cast anchor here.
John, Samuel's son rolled up his sleeves and took it upon himself to make Famous' signature Kothu Parotta for me. He warned me that it would be spicy and he wasn't kidding. John substituted the spatula with a tiny stainless steel plate to keep mincing the parotta and blending the ingredients. That was not the only difference, the Parotta had a slightly crispier texture. John was quick to point out that the Tuticorin version uses deep-fried, golden brown Parottas instead of the flaky parotta that's made on the Tava. These deep-fried Parottas are called Ennai (Oil) parottas and are very popular in Virudhunagar a town near Madurai. Calories be damned, this was even more tasty than the Madurai version.
The Kothu Parotta is certainly not exclusive to Tamil Nadu. It's something you will find in parts of South India. It's also a popular street food dish in Sri Lanka where it's called Kottu Roti. In fact, many Sri Lankans believe this dish originated in their country. While the origins of this dish are up for debate, everyone agrees that is one of the most innovative dishes you will find in Street stalls in this part of the world.
About the Author:
Ashwin Rajagopalan is a Chennai-based writer who writes on topics related to food, gadgets, trends and travel experiences. He enjoys communicating across cultures and borders in his weekday work avatar as a content and editorial consultant for a global major and one of India's only cross cultural trainers.Disclaimer:The opinions expressed within this article are the personal opinions of the author. NDTV is not responsible for the accuracy, completeness, suitability, or validity of any information on this article. All information is provided on an as-is basis. The information, facts or opinions appearing in the article do not reflect the views of NDTV and NDTV does not assume any responsibility or liability for the same.
About Ashwin RajagopalanI am the proverbial slashie - a content architect, writer, speaker and cultural intelligence coach. School lunch boxes are usually the beginning of our culinary discoveries.That curiosity hasn't waned. It's only got stronger as I've explored culinary cultures, street food and fine dining restaurants across the world. I've discovered cultures and destinations through culinary motifs. I am equally passionate about writing on consumer tech and travel.