Makar Sankranti 2018 Special: India and It's Winter Love Affair With Til Ka Ladoo
Sushmita Sengupta | Updated: January 13, 2018 15:26 IST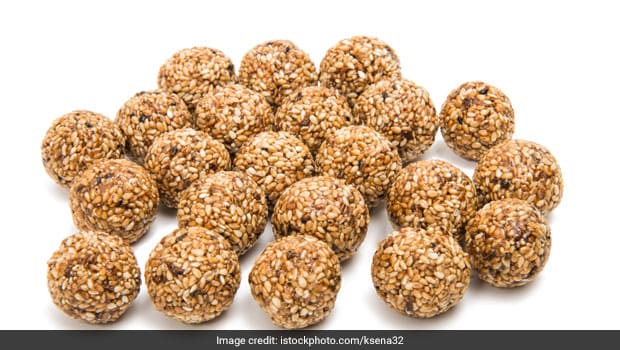 Living in a country like India, which boasts of the maximum number of festivals in a calendar year- people often have several anecdotes, nostalgia and bitter-sweet memories related to food to share. And you can't blame them, can you? When each festival comes with its own range of signature delicacies, one is bound to have a million things to say about it. One such association is of Til ka Laddoo and Makar Sankranti. Til is an indispensable part of Makar Sankranti celebrations since centuries.

Makar Sankranti marks the beginning of the harvest season. It is around 14th Jan when the sun steps into Capricorn (Makar in Sanskrit), and starts on its Northward journey, a transition called Uttarayan in Sanskrit. This puts a gradual end to the cold winter days and paves way for pleasant spring. The duration of sunshine increases which is a good for crops. On this occasion, people prepare several delicacies with til(sesame) and gur(jaggery). Til ka papdi,til rewadi, til gajak are some of them. However, the most common and loved Sankranti snack is til ka laddoo. From Punjabi Lohri celebrations to the Marathi Sankranti feast, til ka ladoos are a staple part of the festivities. There are many variety of til ka ladoos too. Some traditional preparations also add grated coconut in the til-jaggery mixture. (Also Read: Why do Til and Gur Play A Significant Role in Sankranti Celebrations​)

Apart from Sankranti, Til ka laddoos are a common fixture throughout winters as well. Til helps in keeping the body warm, which is why the delicacy is made in huge batches much in advance and stored for weeks in air tight containers. In addition to generating body heat, sesame is also a rich source of vitamins, minerals and healthy oils. It contains calcium, iron, magnesium, phosphorous, manganese, copper, zinc, fiber, thiamin, vitamin B6 and folate.

(Also Read: Makar Sankranti 2018: Til is Customary But Pitha Rules in the East​)

It is said that ladoos were invented way back in 4th century B.C for a totally different purpose compared to what we use them today for. If we go back in history, it is believed that ladoos were originally invented for medicinal purposes by the father of Indian surgery and medicine Susruta. 'Til ka Ladoo', that we all relish today was invented back in the 4th century B.C. Susruta began using it as an antiseptic to treat his patients. The combination of sesame seeds, jaggery and peanuts was known to have immense healing properties. Ever since then, til ka ladoo became a common fare in winters and Sankranti celebrations which fall during winters. So much so, that it is impossible for us to imagine a Sankranti spread without a mention of Til ka Ladoo.

This Makar Sankranti, you can make the much loved treat at home with this lovely recipe. The delicate, traditional winter-sweet, made with roasted sesame seeds, jaggery and flavoured with saffron has festive written all over it. Try it once and you would know what we mean.

Here's wishing you all a Happy Makar Sankranti!