In one of my treasured cookbooks, Saveur's The New Classics Cookbook, the authors write about defining the change of seasons through the bounty of each harvest. This is true in most parts of Europe and the USA because of the sharply-defined seasonal fluctuations, but also true across India. In Gujarat, it is the arrival of the Surti papdi, the green garlic and the tuvar daland yam (that are harvested at this time) that marks the start of winter and announces the beginning of the Undhiyu season.
For most Gujaratis, winter isn't winter without the steaming bowls of Undhiyu gracing their dining tables. Undhiyu means 'upside down' in Gujarati - the name is drawn from the traditional method used to cook Undhiyu in rural Gujarat. Within an earthen matka sit a bewildering array of wintry tubers and vegetables: green Surti papdi, baby eggplants, purple kand (yam), sweet and regular potatoes, seedless kakdi (broad beans), unripe Rajagiri bananas with the skin on, sometimes green peas, fenugreek and Methi Muthiya. A rich green masala made with green garlic, coconut, coriander and chillies, moistens the vegetables while a sheet of groundnut oil helps to seal together the various flavours. These matlas (earthen jars) are then buried in a large underground furnace and covered with an enormous pile of dried leaves, which are then set alight. The Matla nu Undhiyu is thus cooked upside down!
Making Undhiyu
Undhiyu requires enormous preparation and should really only be cooked in large quantities, which explains why very few people cook it at home nowadays. The root vegetables are peeled and cut into chunks while the potatoes, the banana and the eggplants are washed and slit crosswise. Into the slits go the pungent green chutney. The vegetables are then layered in a deep vessel, such as one used to make a biryani, the ones that take the longest to cook (such as the papdi) at the bottom. The tubers go next, then the remaining vegetables and dried coconut, and finally the whole dish is crowned by the Muthias, steamed and fried besan and methidumplings spiked with masala. The Undhiyu is then slowly simmered, the chutney and oil sealing together its various flavours and textures - the soft, sweetish banana undercut by the hard earthy root vegetables, all of which is complemented by the brittle, crunchy Muthias.
The Undhiyu is a robust, unctuous dish. There is no escaping the quantities of groundnut oil that are required to cook it and it is best eaten with fluffy pooris or Bajra Roti which is a thick, bhakri-type flatbread, that help to soak it all up.
Versions of Undhiyu
The Parsis, long-time denizens of Gujarat, have appropriated the Undhiyu, transforming it into a non-vegetarian dish called Umbariyu. I have never eaten an Umbariyu in my life, but I hear it is prepared the exact same way as Undhiyu, except with the addition of chicken or kebabs of mutton.
Certain restaurants in Gujarat too, now have versions of Undhiyu that have been adulterated by chicken. There are many other new-age adaptations of the Undhiyu too. Inevitable are the healthy interpretations prepared with much less oil (and to my mind, much less taste) and Soam (in Babulnath) even offers a Jain version prepared without any root vegetables, onions and garlic.
Makar Sankranti and Undhiyu
Though it is typically a winter dish, Undhiyu is traditionally cooked on Makar Sankranti in homes in Gujarat. Makar Sankranti is celebrated with much fervour in Ahmedabad, Surat and other cities. If you want to immerse yourself in the festivities, go towards the old town, in Ahmedabad - the other side of the Sabarmati River. Families and friends gather on their rooftops in the morning itself and thus begins the annual kite flying festival. There's music on every rooftop and an amicable competitiveness as to who will cut whose kite first. Undhiyu and Pooris are served on the terrace itself for lunch and the kite flying only ends by sundown. The atmosphere is electric, the feeling of togetherness, infectious.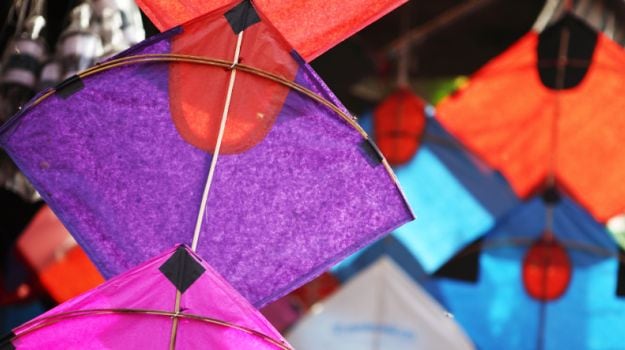 Mumbai Undhiyu
Authenticity is a tricky concept to grapple with at any time, but when it comes to Undhiyu, aficionados find Undhiyu variations particularly galling. Undhiyu is Surat's beating heart and fastidious Undhiyu lovers believe that a truly authentic one cannot be prepared using vegetables from anywhere else - everything must be sourced from Surat. But how do you conjure up an authentic dish when you are miles away, in Mumbai?
One way is to trawl the vegetable markets of the city. Come winter and vendors specialising in Undhiyu ingredients pop up everywhere. Bhaji Galli in Grant Road is home to many of these and some of them have conveniently-prepared parcels of the ingredients, ready to sell.
Where to Go for a Delicious UndhiyuBut why bother fiddling about with Surti papdi and kand when there are scores of restaurants and stores serving ready prepared Undhiyu where you can stuff yourself silly? By all accounts, Gaurang and Bakul Shah's shop in Bhuleshwar, Hiralal Kashidas Bhajiawala, serves the most authentic Undhiyu. It is cheap and plentiful and testimony to its excellence are the long and undulating lines snaking their way round the store. At Hirakashi, all the vegetables required for Undhiyu are sourced fresh from Surat, every morning. Oh and they also prepare a Jain version.
In Kalbadevi's warren of lanes sits Shri Thacker Bhojanalaya. As at Hirakashi, a fresh stock of vegetables trundles in from Surat on the Flying Rani every morning for the Bhojanalaya Undhiyu. Also in Kalbadevi is Surti Hotel, another supplier of excellent Undhiyu that they serve with thick Makki or Bajra Rotis. Visit on a weekend, when you are most likely to get the fresh-cooked batch.As I mentioned above, Soam, opposite Babulnath Mandir, is another well-known purveyor of this Gujarati delight (they serve healthy and Jain versions). Chetana in Fort is better known for its Rajasthani thali but they serve Undhiyu as well, one that comes steeped in a sea of oil.
Up until last year, South Bombay-based Ghar ni Rasoi even used to deliver
home-made Gujarati food
right to your doorstep for Rs 400 per kilo.Much has changed in India's gastronomic scene today. For one, as our markets flood with international produce all year round, we have more or less lost the concept of seasonal, sustainable cooking. Undhiyu is a triumph of the old,
desi
way - local, regional winter vegetables, freshly harvested and prepared in a way that makes their flavours shine.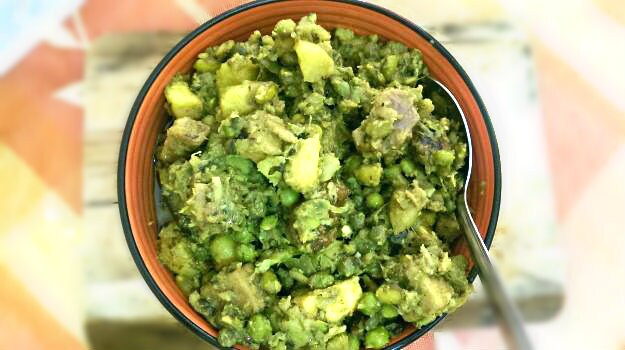 Image credit: Meher Mirza
About the author:
Meher Mirza is an independent writer and editor, with a focus on food and travel. Formerly with BBC Good Food India, she loves anime, animals and artsy things but also comics, technology and death metal.Disclaimer:The opinions expressed within this article are the personal opinions of the author. NDTV is not responsible for the accuracy, completeness, suitability, or validity of any information on this article. All information is provided on an as-is basis. The information, facts or opinions appearing in the article do not reflect the views of NDTV and NDTV does not assume any responsibility or liability for the same.