Nike advertisement grab
When Milind Soman completed the Ironman Triathlon last year in jaw-dropping 15 hours 19 minutes, he assumed the coveted title of the 'Ironman' - the race involves a non-stop 3.86 km swim, 180.25 km bicycle ride and a full-
marathon
(42.20 km). Suddenly, he was the man to redefine fitness and inspire people from all walks of life. "Fitness is not about how much you lift, or how long can you run. It affects you mentally, emotionally and physically. In a country like India where there is no culture of sports - nobody goes out to play really, we only sit and root and cheer - fitness needs to be habit,
a part of our lifestyle
," he shared with NDTV.
Rather than gloating about his Ironman victory, he directed our conversation to those lesser-known everyday heroes who have no fancy fitness tools or tailor-made diet charts but have also won the title and have been at it for years."I am a popular figure, so whatever I do will be in the news. But there is a woman who has been doing triathlons and other races for years now. She started when she was around 40, and today she is over 80 years and she still does it like a cakewalk. Yes, she has gone through all that I have yet nobody talks about her. I have done one, but she has done many at her age," said Soman.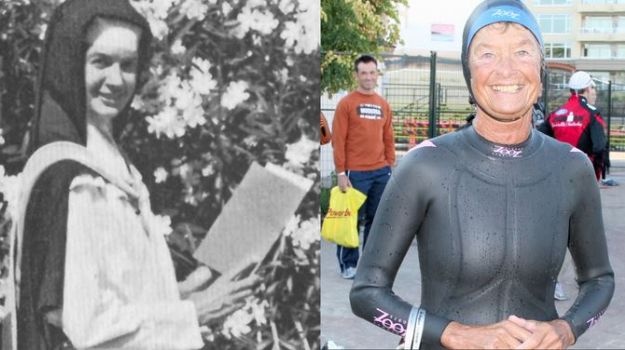 Image via HECTV
You heard it right! Under her belt, Sister Madonna Buder of United States has the title of being the oldest woman ever to finish the Hawaiian Ironman race, and she was 76-years old then. Madonna began her training when she was 48 and there has been no looking back. Her first Triathlon was when she was 52 while she successfully completed her first Ironman race at the age of 55. The 86-year old is a nun and has run over 325 triathlons so far, 45 of them were the Ironman races.
An online portal dedicated to triathlon running interviewed Sister Madonna wherein she shared that "she runs to church every day and bikes 40 miles to swim in a lake near her home." "I don't know what I'd do without running!' she exclaims. "I love the feeling I get when I whiz past people younger than me and they say, I want to be like you when I get to your age," she told triathloninspires.
The 'Iron-nun' sticks to a simple diet loaded with fresh veggies and fruits along with a good amount of carbs and protein powder added to her meals. "She says she 'listens' to what her body tells her it needs," as quoted on the triathlon online portal.
It is a matter of huge pride to be doing what Sister Madonna has been doing at her age. Though she openly admits to be the athletic type right from her childhood, she started training seriously some 40 years back, when such races were not popularised, and training facilities weren't developed. Sister Madonna Buder is a living example of willpower, determination and resilience. She has recently been featured in a Nike advertisement titled 'Unlimited Youth'. What Sister Madonna has been doing for close to four decades can give any 20-year old shivers for the lifetime. She stands as a colossal figure of determination suggesting that it is never too late to make a start.

If you have been skipping that morning run for ages now or looking for random excuses to start your fitness journey, it is time you buckle up your determination, remember not to give up for it is never too late for anything.