The festival season of Navratri and Durga Puja has begun in full swing and the celebratory mode is riding high among people. Navami holds a special significance in many households as it is the last day of the nine-day long festival of Navratri, which is dedicated to worshipping the nine forms of Goddess Durga. Dussehra is celebrated on the tenth day that marks Lord Ram's victory over Ravana. Navami 2019 is celebrated with a lot of fervour with many people observing fast until they offer prayers to the Goddess. In some Indian households the last Navratra is celebrated on the eighth day which is the Ashtami while in others Navami is celebrated with kanjak puja.
What Is The Time and Significance of Navami 2019?
According to the Hindu calendar, this year Navami starts on October 6 and ends on October 7.


Navami Tithi Begins- 10:54 AM on Oct 6, 2019
Navami Tithi Ends- 12:38 PM on Oct 7, 2019 (Source: Drikpanchang.com)


Navami is celebrated in Indian households by holding kanjak or kanya puja wherein nine young girls are welcomed into the house by washing their feet. They are worshipped as a form of Goddess for the kanya puja or kanjak. The bhog that they are served has a few popular dishes including halwa, puri and kale chane along with some gifts. It is believed that on this day, Goddess Durga annihilated Mahishasura and detached his head from his body using a trishool.


(Also Read: Navratri 2019: 5 Quick Vrat-Friendly Snacks You Can Prepare In 10 Minutes)
Navami Time For Sandhi Puja
Sandhi Puja Muhurata- 10:30 AM to 11:18 AM on Oct 6, 2019 (Source: Drikpanchang.com)


The sandhi puja during Navratri is carried out at the time when Ashtami Tithi ends and Navami Tithi begins. According to the Hindu calendar 'drik panchang', it is believed that Devi Chamunda appeared during this time to kill demons Chanda and Munda.


The Navami kanjak puja has few set dishes of halwa, puri and chana; though many households prepare additional dishes to serve along.


We have a few more dishes that you can serve during the kanya puja or kanjak on Navami besides halwa poori and chana:
A luscious Indian dessert, kheer is the quintessential dish to prepare for various festivals and pujas across the country. It is also offered as prasad during pujas. Here is an easy kheer recipe made with makhana, milk, cardamom, lotus seeds, nuts and dry fruits.
Can we ever say no to something as delicious as a bowl of kheer?
A bhog doesn't need to be all about the sweet treats! And, this baked kachori is here to prove that. This kachori is made with wheat flour, urad dal, heeng and a whole lot of spices. It is baked to perfection which makes it a healthier alternative to fried ones.


(Also Read: Sharad Navratri 2019: 10 Delhi NCR Restaurants Offering Delicious Vrat-Friendly Meals)
The otherwise deep fried goodies take a healthy turn.
A ghee-laden sweet ball of delight - besan ka ladoo is the perfect Indian sweet to serve in the bhog. Made with ghee, gram flour and cardamom along with nuts, these ladoos take very little time to prepare with minimal number of ingredients.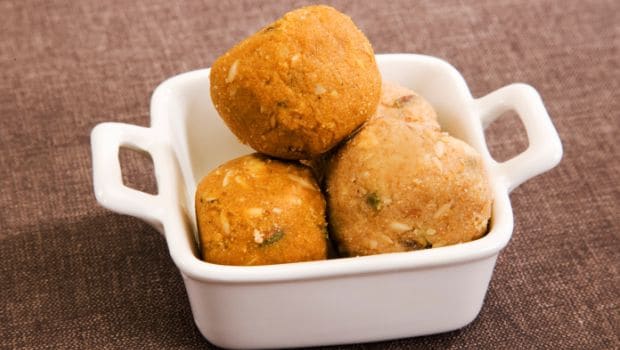 A festive dish that you just can't resist.
A great accompaniment to the puris, aloo rasedaar has potatoes mashed and cooked in flavourful gravy. The gravy contains a range of spices such as fenugreek powder, mango powder, asafoetida, coriander, turmeric and chilli cooked with potatoes in butter.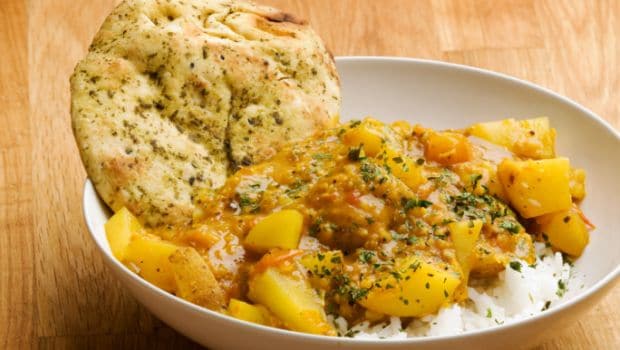 A quintessential north Indian dish that goes best with garma garam puris.
Prepare these dishes at home and have a happy Navami 2019!
About Aanchal MathurAanchal doesn't share food. A cake in her vicinity is sure to disappear in a record time of 10 seconds. Besides loading up on sugar, she loves bingeing on FRIENDS with a plate of momos. Most likely to find her soulmate on a food app.