Onam, the 10-day long festival started with much enthusiasm on 25th August and is now coming to end on 6th September, 2017. People in the state of Kerala feasted on the massive
Onasadhya
meal. In my opinion, a typical Sadhya is not just a massive meal for which each one of us need to work up a massive appetite; it is an emotion that will evidently make you gleam once you taste the potpourri of distinct flavours married so effortlessly so as to leave behind an unforgettable impression in your mind. For those who are new to the concept of Onam, Sadhya would translate into a grand meal, spread across a banana leaf involving close to 24 traditional Malayali delicacies. The all-vegetarian feast is one of the star highlights of the Malayali harvest festival that also celebrates the legend and the homecoming of the mythical king of
Kerala
, Mababali.
Onam 2017: What is Onasadhya?
While restaurants across the country usually offer traditional Sadhya meals during the festival, it is better that you brush up the basics and go all armed to relish the downpour of all the deliciousness. A typical Sadhya meal is a coming together of plain rice with a range of pickles, accompaniments (pachadis), curries (erissery, pulisherry, kalan, olan, avial, etc), sambar, rasam, dessert (payasam), crispies (papads) and snacks like jaggery coated bananas, banana chips among others.
Onam 2017: Different Delicacies in Onasadhya

There is way too much to love in a Sadhya feast. It greets your palate with all possible flavours - sweet, salty, sour, tangy and spicy. If you plan to head out this Onam to get a taste of an authentic Sadhya meal, we suggest you mustn't miss out on relishing the following items:
Sharkara Varatti
This one is so addictive that you will end up asking for more. Bananas are sliced, deep fried and coated with jaggery.
Beetroot Pachadi
This may not be a dedicated part of all Sadhya meal; if present, it will shine in a distinct pink hue on your banana leaf. This accompaniment is nothing but a humble coming together of curd and beetroot along with a host of traditional spices. Get the recipe here.
Kaalan
This mildly spiced, soulful curry involves yams and raw bananas cooked in a buttermilk gravy with hints of coconut and subtle spices. Get the recipe here.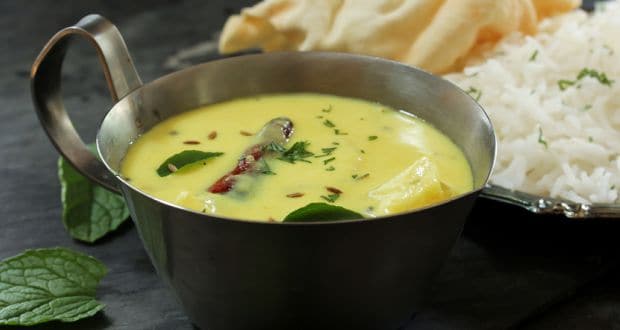 Pulisherry
This buttermilk-based curry offers the goodness of indigenous vegetables. You can also try Erisherry which is essentially made with white pumpkin. Get the recipe here.
Ada Pradhaman
No meal is complete without something sweet! Malayalis take their desserts seriously. The payasam (kheer-like preparations) are immensely satisfying and you are sure to head back for bowlfuls of these sweet treats. Ada Pradhaman is a type of payasam that is flavoured with jaggery and is cooked with coconut milk, milk, nuts and steamed rice flakes. Skip anything but not this!
Love relishing Onasadya? Share with us your list of favourites in the comment box below. Learn more the about the grand festival and the grandeur of the big-fat Onsadya here.