Image Credits: Rasa, Bangalore

There's a certain harmony that shines through even in the most crowded Kerala Hindu weddings. Despite the omnipresent glint of gold ornaments, traditional weddings are marked by a distinctive elegance and simplicity. The traditional Nair wedding is over in a flash - one bad traffic signal and you could miss the entire ceremony! While other communities across India are always tempted to compress their long drawn wedding rituals, Malayalees have a different sort of problem.
The short and sweet weddings are a complete contrast from the wedding feast. The Kerala Sadya (literally means banquet) is an elaborate meal with at least 20 different items (We dare you to count with a full tummy) and is almost always a vegetarian affair served for lunch. Until the latter half of the 20th century most weddings used to be held at the large tharavads (family homes) of the bride. The sadya used to be a community event with neighbours getting involved in the cooking process (sometimes a few days in advance) and pitching in with utensils. The dynamics have changed and the biggest challenge for contemporary wedding cooks is to cater to crowds that can exceed 1000 with assembly-line precision.
Almost every region in Kerala stakes a claim to the best Sadya but popular opinion usually points to the erstwhile South Malabar region - Palakkad, Thrissur and Ernakulam where some wedding cooks boast of hallowed reputations. The Sadya is not just served during weddings but also for other occasions like landmark birthdays while a slightly abridged version is standard fare during festivals like Onam (the harvest festival) and Vishu (The New Year). Like most other traditional banana leaf meals in Southern India, the top half of the leaf is reserved for the accompaniments while the bottom half is for the staples and mains. The dishes are usually served from left to right. We give you a quick overview of the traditional Kerala Sadya:
Pickles: There's usually a choice of two pickles. The finely chopped raw mango pickle where the mango is not marinated for a long period of time and seasoned with chilli powder and mustard seeds. But the winner is the Puliyinchi, a unique hot and sweet (thanks to the combination of jaggery and green chilies) ginger paste that is half chutney-half pickle.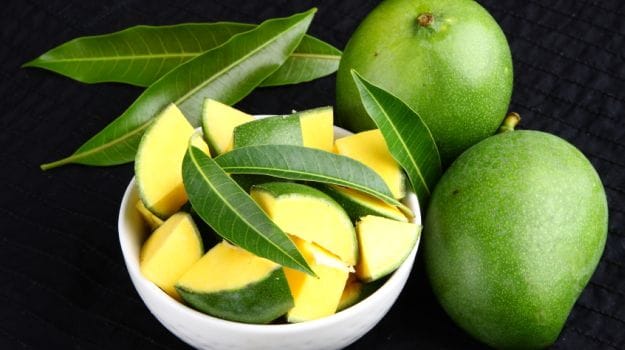 Kerala (raw) banana chips: There's the usual suspect - the mildly spicy variant with turmeric and chili powder and then the unique Sarkara Upperi where the chunky banana chips are cooled down and then tossed in a mixture of jaggery syrup, dried ginger powder, cardamom, rice flour, powdered sugar and cumin seeds. These chips are usually reserved for festive occasions and are not easy to come by in the ubiquitous Kerala chips stalls around the state. You might also be served raw Jackfruit chips during the monsoon season.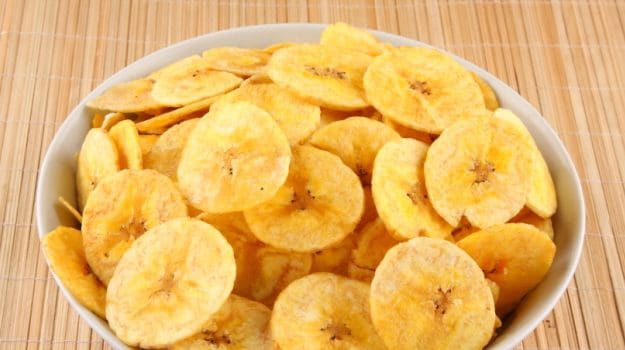 Thoran: A simple and regular accompaniment in typical home-style meals across Kerala. Finely chopped vegetables (the wedding feasts usually feature cabbage or beans) are stir fried at a high temperature with grated coconuts, mustard seeds, curry leaves and turmeric. It's quite similar to the 'Poriyal' in Tamil Nadu except that the Kerala version uses a generous quantity of grated coconut.
Kaalan: Often mistaken for another festive dish - the avial, this dish uses a completely different cooking process which is fairly uncomplicated. A tuber (mostly yam) or occasionally raw plantain is cooked with thick yoghurt and spices like fenugreek, turmeric powder, red chilli powder, black pepper, curry leaves and a few drops of ghee over a low flame.
Olan: The mild flavour of the milky white Olan might remind you of the more popular Kerala stew (usually served with Appams). At many weddings these dishes are interchanged. Usually made with Ash gourd (occasionally pumpkin too) and black eyed beans simmered in thick coconut milk with a hint of green chilli and curry leaf flavours. Sadyas in Southern Kerala (Travancore region) sometimes serve a More kootan - vegetables cooked in that is similar to the more kuzhambu in Tamil Nadu or the Rajasthani Kadi.
Avial: One of the best known members of the Sadya family, this mishmash of vegetables is cooked in curd and ground coconut seasoned with curry leaves and coconut oil. A few communities in Tamil Nadu make their own version of the Avial.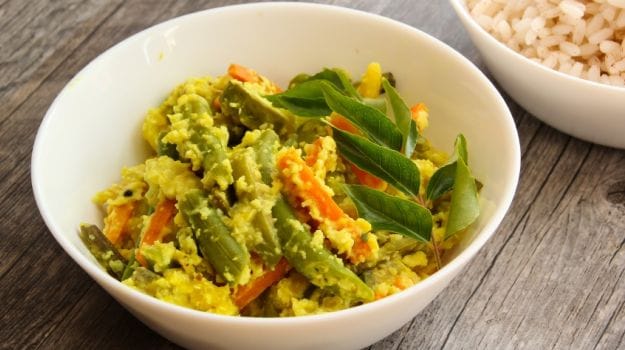 Erissery or Kootu Curry: One of these thick gravies is an integral part of a Sadya. The Erissery combines yellow pumpkins with a fried coconut gravy while the Kootu Curry is a mix of vegetables and Bengal gram (Chick pea).

Kerala Pappadam: More bubbly and fluffy compared to its flatter crunchier counterparts in other parts of Southern India, the Kerala version is made with rice flour, lentils and baking soda and always deep-fried in fragrant coconut oil.

Pachadi and Kichadi: Similar to the raitain other parts of India except that the mix is tempered with spices in coconut oil. While the pachadi uses a combination of grated coconut and yoghurt, the kichadi uses only curd. Sliced and sautéed cucumber or deep-fried okra are some of vegetables used in a pachadi or kichadi.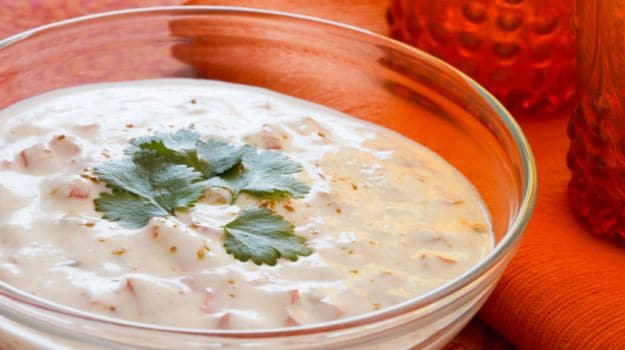 The mains: The Kerala-style par-boiled rice (choru) is normally the staple although the more conventional 'white rice' is quite commonplace at homes. The rice is served with paruppu (dal) and a spot of ghee. The first course is the sambar which uses more coconut than the sambar in Tamil Nadu. The sambar is almost always used to judge the quality of a sadya, a fact most seasoned cooks are well aware of. The sambar is followed by rasam and then a thick buttermilk (or curd in a few cases) that are all served with the rice.

The grand finale: Aside from the sambarthe other acid test for any cook is the Paal Ada Pradaman. This delicate milk kheer cooked with rice flakes (ada) tastes best at large functions where hours of cooking in large vessels and the wood fired ovens lend this dish a gorgeous pink hue. Aside from this signature Payasam/Pradaman, sadyas feature one more kheer in brown. This could be the Paruppu Payasam (lentils) or the Wheat Payasam.

The meal usually ends with a sweet banana.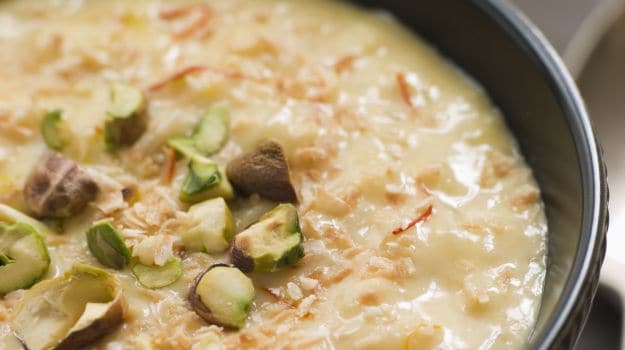 Disclaimer:
The opinions expressed within this article are the personal opinions of the author. NDTV is not responsible for the accuracy, completeness, suitability, or validity of any information on this article. All information is provided on an as-is basis. The information, facts or opinions appearing in the article do not reflect the views of NDTV and NDTV does not assume any responsibility or liability for the same.
About Ashwin RajagopalanI am the proverbial slashie - a content architect, writer, speaker and cultural intelligence coach. School lunch boxes are usually the beginning of our culinary discoveries.That curiosity hasn't waned. It's only got stronger as I've explored culinary cultures, street food and fine dining restaurants across the world. I've discovered cultures and destinations through culinary motifs. I am equally passionate about writing on consumer tech and travel.