So here is the thing I have learnt about Indian desserts. While some of them are best enjoyed as standalone dishes (like rasgulla, kheer and halwas), the rest serve as perfect accompaniments to other dishes elevating the overall experience several notches up. Rabdi or Rabri is a delicious exception to this rule and one that works like a charm in both avatars. Rabdi is a creamy concoction of thickened milk, sugar and nuts with deep layers of creamy malai in it. Laccha Rabri comes flavoured with cardamom, saffron and nuts and is a wholesome treat by itself. Sold in kulhads across the Northern half of the subcontinent, Laccha Rabri is a creamy dessert and can get a little too heavy on your stomach due to its thick consistency, but we are not complaining! Rabri is also enjoyed as a topping over piping hot and crisp jalebis, crunchy and sugary malpuas, melt-in-your-mouth shahi tukdas and delightful kulfis.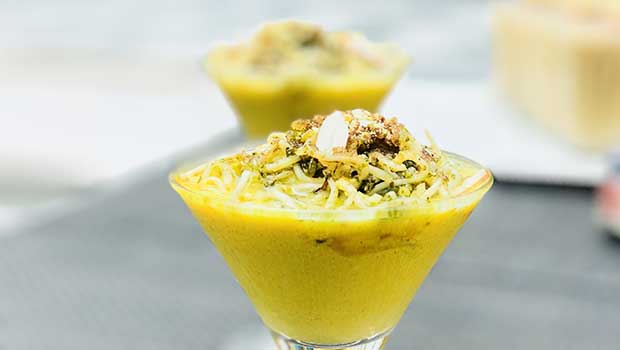 Rabdi is a creamy concoction of thickened milk, sugar and nuts​
India's Love for Thick and Creamy Rabri
Rabri is extensively prepared across North India in parts of Haryana, Punjab, Uttar Pradesh and Bihar. Parts of West Bengal too relish the creamy delight as part of their dessert fare.
Rasabali, chhena kheeri
and
Khira Sagara
are some of the desserts from the Eastern part of the country which are deemed incomplete without a generous helping of thick
Rabdi.
The unbelievably thick and
rich desserts
is made by boiling the milk on low heat for a long time until it becomes dense and starts to change its colour to slightly off-white. The condensed milk dessert is then flavoured with a host of aromatic spices like
cardamom
,
saffron
and nuts like pistachios and almonds.While the preparation of
rabdi
is extremely easy, but it also happens to be rather time consuming and needs a great deal of patience. You can easily end up with burnt milk and or a blackened
kadhai
if you are not cautious with the milk and its temperature. Traditional preparation of rabdi requires milk to be continuously simmered in a
kadhai
and reduced on low flame till it reaches a thick creamy consistency.Kadhai is traditionally used to prepare Rabdi for two very important reasons. First, the broad opening of a kadhai helps thicken the milk faster and allows for quicker evaporation of the milk. Secondly, a kadhai is traditionally meant to have a thick base, this ensures that even after hours of simmering the milk the liquid at the bottom does not get crusty or burn.
Here's a delicious recipe of
Rabri
by Niru Gupta that would help you whip up the simple dessert in the comforts of your kitchen. Get ready for a major slurp-fest!