Amidst all the sweat and chaos, there are still a plenty of reasons to make you fall in love with summer. Bright and flavourful popsicles or ice lollies have to be one of them. These refreshing popsicles are not only a way to beat the heat, but also an ingenious way to make most of your favourite summer fruits, if given a chance. Now isn't that a win-win combination? By making them at home you can also ensure they are healthy for your little fussy-eaters who would not be sneaking out of house to enjoy the sugary and unhealthy ice lollies at the neighbourhood's ice cream vendor. Made with the goodness of fruits and/or yogurt, they could prove to be energy boosters and are so easy-to-prepare too. You just need a handful of summer fruits/veggies/herbs, a blender and a popsicle mould. You could find one at your nearest cookware shops. You can also use shot glasses, chai glasses or kulfi moulds to make your own chilled and peppy popsicles.

Here are some ideas you may love to try.

1. Creamy Watermelon and Yogurt Pops

Did you know about 94 percent of watermelon weight is just water! Which makes it just the ideal fruit to binge on this scorching weather. The sweet, juicy and fleshy fruit is a hit across ages and makes for a delightful ingredient, be it in salads, or smoothies. To make your own watermelon and yogurt popsicle, put some freshly cut watermelon in a blender and blend it into puree. Strain with a fine sieve into a bowl. Put the puree back to the blender or food processor and blend well with fresh yogurt. Add honey. Pour the blended watermelon and yogurt mix into popsicle moulds. Put in a stick. Freeze for four to five hours, until firm. Serve chilled.

(Also Read: Drinking Water After Eating Watermelon: Is it Safe or Not?​)


2. Cucumber, lime and mint pop

Looking for something juicy, zesty and refreshing? Look no further. Refresh your taste buds with this delicious summer popsicle made with the goodness of cucumber, lime juice and mint leaves. In a blender add some sliced cucumber, some lime juice, sugar syrup and mint leaves and puree it until you get a smooth mixture. Pour the mixture in popsicle moulds, put in a stick and freeze overnight. Serve chilled.

(Also Read: 3 Simple Ways to Remove Bitterness from Cucumber​)

3. Mango popsicle

It is not officially summers in India, until the king of fruits are here in all its glory. Juicy, pulpy and oh-so-delectable, mangoes are one of India's best gifts to the world. For all the mango lovers who can never get enough of the pulpy wonder must try the delicious mango popsicles. It is as easy as making mango shake. All you need is to blend some chopped and deseeded mangoes with yogurt in a food processor. Pour the smooth mixture to popsicle moulds, put in a stick , freeze them for five hours and voila your mango pops are ready to be savoured.

4. Berry pop

Freeze the goodness of whole berries like strawberries, blueberries and blackberries in a delightful berry pop. To make this popsicle, you would need a blender, your favourite berries and a popsicle mould. In a blender add blueberries, blackberries, and strawberries and puree them smooth. To this puree add a dash of lemon juice and a dash of simple syrup (sugar water). You can chose to do away with sugar if you want your popsicles healthy too. Pour the puree carefully into the popsicle moulds and freeze till firm.


5. Jamun mint popsicle

The tarty summer fruit is not around for very long time, which makes it all the more essential to make most of it till it's in season. Purple and pretty, you can enjoy these popsicles with some chaat masala sprinkled on it. Here's a delicious recipe of jamun mint popsicle, that will make things easier for you to follow.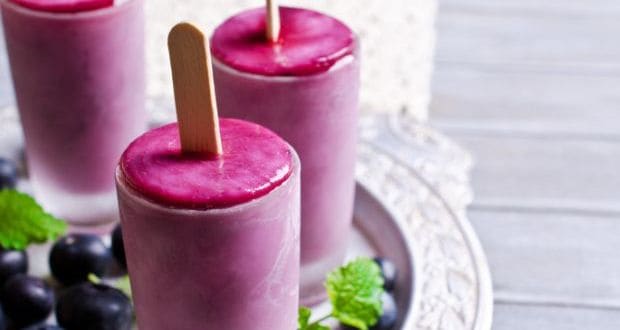 This is a great recipe to be made during the summer season. Phalse must have been enjoyed many times during this time, but these popsicles made from it look quite fun.



Ridiculously easy right? We told you. Now get blending and mixing and make your own summer popsicle at home!