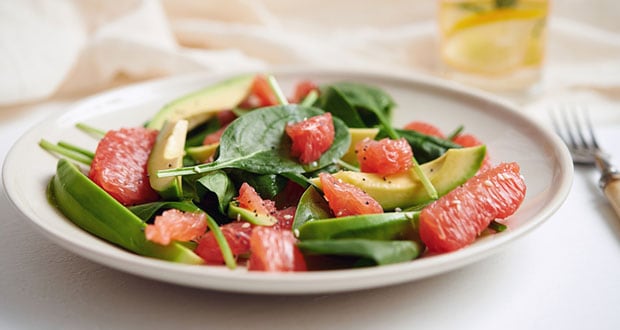 Let's admit it, salads don't enjoy the most affable reputation amongst a majority of people. Mention salad, and you would have a barrage of people either checking up on whether you are okay or scouting the reason for you to 'skip' a meal? Which we think is rather unfair! What if a person really wants to eat light and simply loves his/her salads. It may be hard to believe for a lot many of you, but salads can be a lot of fun, too. It is all about exploring and experimenting, really!

With summers here in all its glory, we have got for you easy ideas for interesting summer salads. Making use of the seasonal veggies, fruits and herbs, you can whip up yourself a light and exquisite salads every day. Here are 5 ideas you would love to try.

1. Summer Melon Salad

Come summers, and we can't help but start thinking about our favourite summer melons and its many cultivars. Cantaloupe, honeydew, sun melon... there, there we saw you slurping. Ever wondered what a delight it would be to have them altogether at once. Think no more! We've got a perfect salad recipe from chef Kunal Kapur made with the refreshing goodness of summer melons and herbs.

How To Make The Summer Salad?

To make this light and lovely salad, you would require a big bowl to make the perfect dressing. For dressing, take a bowl of yogurt and add about 2 tablespoons of honey, 2 tablespoons of pepper powder, 4-5 chopped basil leaves and salt, and mix well. In another bowl, throw in the cantaloupe, honeydew, sun melon and watermelon, and give them a good mix. Pour the dressing on the top of the fruits and mix well. Add some more honey and sprinkle some pepper powder over the platter. At last, garnish with mint leaves. Your summer melon salad is ready! (Also Read: Benefits of Summer Melon Seeds and How to Make the Most of Them​)

2. Raw Mango And Papaya Salad (My Yellow Table)

Looking for something light and easy but don't want to compromise on flavours? Try the delicious raw mango and papaya salad by chef Kunal Kapur. Ready in a jiffy, this healthy raw mango and papaya salad is all things summery, light and good.

How To Make The Summer Salad:

Peel some raw mangoes, papaya and carrots. Chop and blend them well in a food processor. Put it aside. Now for the dressing, take some crushed jaggery, lemon juice, crushed garlic, chopped red chilli and olive oil, and mix them well. Pour the dressing atop and serve garnished with toasted sesame seeds.

(Also Read:10 Best Raw Mango Recipes)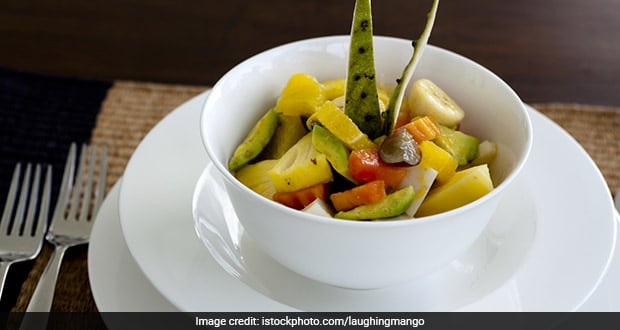 3. Berries And Watermelon Salad

This summer load up on the goodness of berries and watermelons with this delicious fruit salad. What is special about this salad? It is a powerhouse of antioxidants and can be prepared in under 2 minutes. What all would you need for this refreshing salad? Just some fresh cubes of watermelons and your favourite berries. The easy, breezy, healthy treat is treat to the soul.

How To Make The Summer Salad?

Cut some bite-sized watermelon cubes. Put them in a big bowl. Slice in your favourite berries, strawberries, mulberries, blueberries and throw them straight into the bowl with your water melon. Chop up some fresh mint. Sprinkle over fruit in bowl. Squeeze a bit of lemon juice on top. Toss it up and enjoy!


4. Creamy Cucumber With Sour Cream And Dill Dressing

The refreshing cucumber is one staple salad ingredient we can never get enough of. High in water content, cucumber is one of the best veggies you can load up on summers. Cucumber comprises 95% water and two compounds - ascorbic acid and caffeic acid, which prevent water retention. Due to its high-water content, it boosts your body's hydration and flushes out toxins, too.

How To Make The Summer Salad

To make the creamy salad you would need a big bowl to make the dressing. In this bowl throw in about 3 to 4 cups of sour cream, half a teaspoon of lemon juice, 1 or 2 pressed garlic cloves, 1 tablespoon of fresh dill herb and a pinch of salt. Mix the ingredients well. Make sure the dressing has the perfect creamy consistency. Keep this bowl aside. Now, peel and slice two cucumbers and cut them into thin round slices. Mix the dressing with the cucumbers using two wooden spoons. Serve chilled.




5. Mango Mozzarella Salad

It isn't officially summer for us, till the time we don't get our hands on the season's first mangoes. Chef Ajay Chopra's ingenious blend of mangoes and mozzarella is sure makes for a combination that would have you rooting all the way. Here's the recipe.

How To Make The Summer Salad

For the lovely salad you would need diagonally cut mango slices, finely chop basil leaves, sea salt, crushed peppercorns, pesto sauce, lemon juice and balsamic vinegar, orange juice, olive oil and bocconcini (fresh mozzarella). In a bowl place finely chop parsley sprigs. Next, throw in some finely chopped red chillies along with capers. Now, add chopped basil leaves, sea salt, crushed peppercorns, pesto sauce, lemon juice and balsamic vinegar, and mix well. Once you are done mixing, add a dash of orange juice and olive oil and mix again. Finally, place the mangoes on the serving dish. Place torn lettuce on the sides and the bocconcini over it. Serve chilled.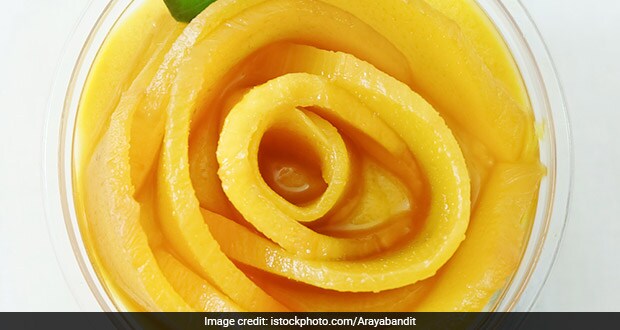 About Sushmita SenguptaSharing a strong penchant for food, Sushmita loves all things good, cheesy and greasy. Her other favourite pastime activities other than discussing food includes, reading, watching movies and binge-watching TV shows.